The moguls were supposed to be busy mulling Middle East peace and hanging out by the pond at Herb Allen's retreat in Sun Valley, Idaho on Thursday, talking Big Thoughts.
But in fact everyone was talking about Rupert and the mess going on half a world away.
Everyone but Rupert, that is. He ducked a gaggle of reporters on his way into the morning session, and made himself scarce for the rest of the day.
The other Murdochs, who were all slated to be hanging at The Lodge, were even more scarce: James was back in England, and Elisabeth was missing in action. Lachlan came, but no one saw him around on Thursday. (And no, I'm not there, but talked to a bunch of moguls and a couple of reporters who are.)
Wendi came, though I'm not sure her personal stylist made it this year.
The annual mogul meet-up featured a gaggle of new billionaires (at least in stock) – Andrew Mason of Groupon, Dick Costolo of Twitter, Mark Pincus of Zynga.
Comcast's Steve Burke arrived on Thursday. Brian Roberts stayed away.
Hollywood showed up in force: Universal's Ron Meyer and CBS chief Les Moonves made it. So did Sony Pictures CEO Michael Lynton and Disney's Bob Iger. Netflix's content chief Ted Sarandos came, and New Media Thinker (and old media veteran) Terry Semel was there for the day.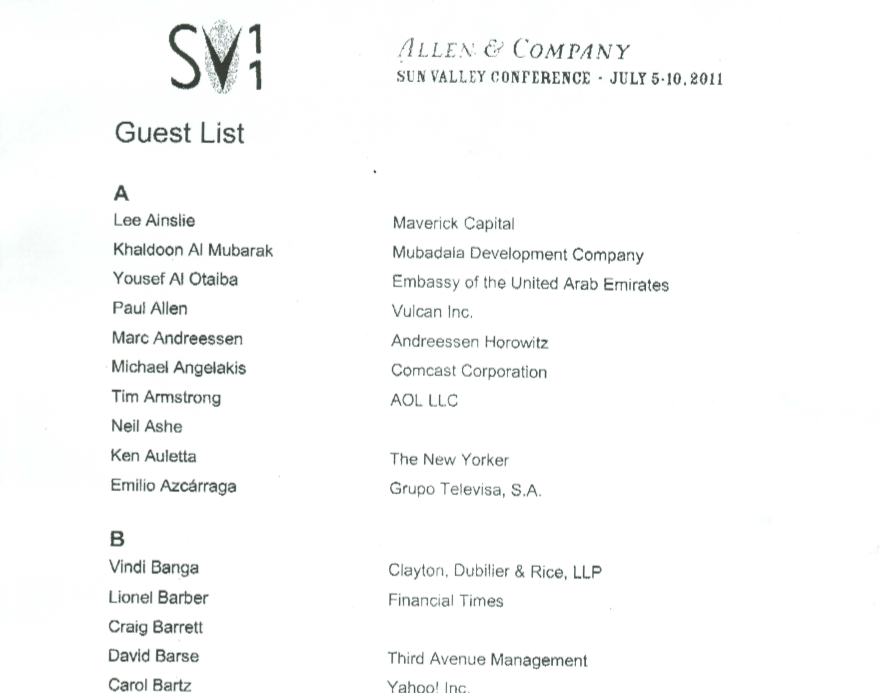 Jeffrey Katzenberg didn't miss the party, neither did Barry Diller.
And everyone was gossiping over whether this scandal would hurt Rupert, and whether in the wake of MySpace and this week's eclipse of Fox News by Nancy Grace he was just having a really bad karma moment.
Nobody was interested in the Middle East.
The News of the World scandal riveted everyone as everyone checked the latest on iPhones and BlackBerries and tried to avoid Rupert's direct gaze.
(Photos by AP)