The media industry is doing its best to sustain itself with a series of staffing moves during the traditional dog days of summer.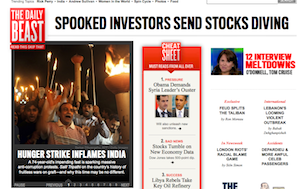 Newsweek-Daily Beast, which lost a prominent editor and an executive last week, announced a number of shifts on Thursday, while Yahoo lost one of its two media reporters — Joe Pompeo — to Capital New York.
Over at Newsweek-Daily Beast, Justine Rosenthal, current editor of the foreign policy journal National Interest, will become a senior editor, and contributing editor Kyle Pope will assume the post of editor-at-large — a title Randall Lane gave up last week to join Forbes. Pope, who only left the New York Observer in February, will oversee special sections for future issues of Newsweek.
Also Read: Forbes Hires Daily Beast's Randall Lane as New Editor
Several Newsweek employees will also be stepping into new positions. Malcolm Jones, who had written about books, music and photogprahy for Newsweek since 1989, will become a Daily Beast editor. Mike Gigilio, with Daily Beast since August of 2010, is off to London as its UK correspondent. Zachary Karabell, who was already contributing to Newsweek and The Daily Beast, will join as a contributing editor on the economy.
Pompeo, who joined Yahoo late last year, rejoins former New York Observer colleagues at Capital, a Gotham-focused website started by former Observer editors Tom McGeveran and Josh Benson.
HuffPost first reported the Pompeo's exit. He is the latest in a series of hires made by Capital, most of them involving former Observer reporters. Capital, which has received a $1.7 million investment, announced yesterday it was hiring Azi Paybarah, Reid Pillifant and Dana Rubenstein.