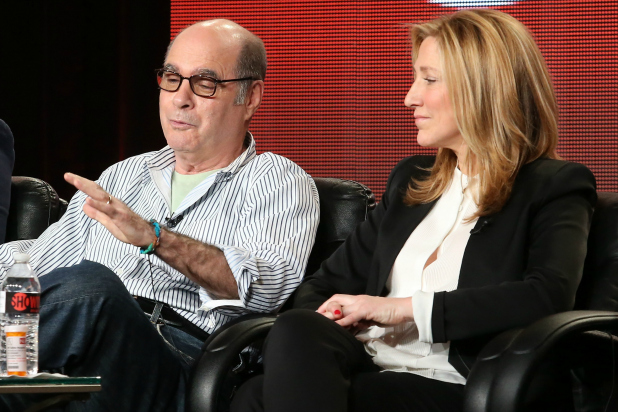 Showtime's "Nurse Jackie" was headed for a fiery ending — literally — at the conclusion of its seventh and final season, Executive Producer Clyde Phillips told reporters Monday at the Television Critics Association Winter Press Tour in Pasadena.
"We were going to burn the hospital down," Phillips revealed, after teasing that he and the writing staff completely changed their minds before the season began shooting.
"Nurse Jackie" is set in a New York City medical center.
Also Read: Inside Golden Globes After-Parties: Jennifer Aniston, Jared Leto, Taylor Swift, Selena Gomez and Gold Trophy 'Plus Ones' (Photos)
Naturally, Phillips wouldn't divulge the new direction that the Edie Falco vehicle is headed now. Though it probably won't be a joyful one, as Phillips said he is not a fan of "happy endings."
"No, I'm not," he said, when asked about his belief in a fairytale-style conclusion. "I'm a believer in authentic endings. I think that the ending of this season is as authentic as it can possibly be and will be really satisfying for viewers."
Also Read: 'Penny Dreadful' Creator Teases Season 2: 'Now We Have a Proper Villain'
The 12-episode so-called "Final Shift" of "Nurse Jackie" kicks off Sunday, April 12.
It will pick up where Season 6 left off: The titular Jackie Peyton (Falco) steps out of her mug shot and into a world of consequences, a Monday press release detailed. Here is the rest of that plot description, in Showtime's words: "Arrested, abandoned by those closest to her, Jackie's nursing license is revoked," the release said. "This season, we watch Jackie fight to reclaim her sobriety, her job, her people, her children and her identity."
Also Read: 19 Best & Worst Golden Globe Awards Moments (Photos)
The Emmy-winning series stars also stars Merritt Wever, Paul Schulze, Dominic Fumusa, Anna Deavere Smith, Stephen Wallem, Betty Gilpin, Ruby Jerins and Mackenzie Aladjem. Phillips is showrunner and executive producer. Tom Straw, Richie Jackson, Liz Flahive and Caryn Mandabach also executive produce.
"Nurse Jackie" is a co-production between Showtime and Lionsgate.