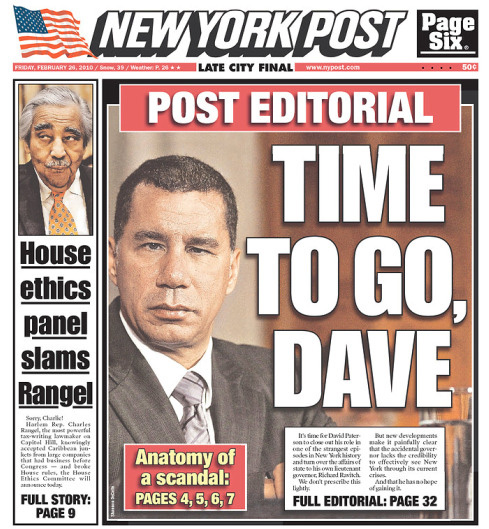 The New York Times was saving its best bullet for last.
The paper published its third story on an abuse case involving New York Governor David Paterson's administration on Thursday.
Unlike the first two, this one drew blood.
Denise O'Donnell, the "deputy secretary for public safety and commissioner of the division of criminal justice services" who oversees the State Police, resigned at 2 p.m. on Thursday, after the Times reported that Paterson and members of the State Police contacted a woman who eventually dropped domestic assault charges against a senior aide.
Then Paterson, who had been mysteriously hard to reach most of the morning, gave a brief press conference in which he said he was seeking advice from state Democrats about his future but would not suspend his campaign nor resign. ("I have no plans to step down," he said.)
Following a series of Friday editorials urging the governor to do just that, Paterson is expected to announce this afternoon that he won't seek election to a full term.
He's not expected to announce his resignation, although the fact that the press conference was pushed back from 11:30 a.m. to 3 p.m. is raising some speculation that he might.
Update: As expected, Paterson announced he won't seek election, saying he's "being realistic about politics."