The New York Times Company is planning to sell its Regional Media Group, a suite of 16 newspapers and related websites, to Florida's Halifax Media Group, the Times said Monday.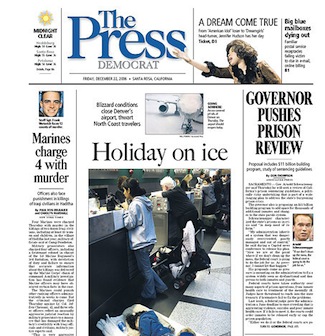 Regional Media Group properties include the Sarasota Herald-Tribune, the Santa Rosa Press Democrat and the Lakeland Ledger. The papers are largely concentrated in the Southeast, which helps explain the buyer –Halifax, which is based in Daytona Beach.
Also Read: N.Y. Times CEO Janet Robinson to Retire
The news broke after Halifax listed the Times' regional papers as its own on its website, which prompted media blogger Jim Romenesko to write about it. The Times quickly responded with a release that pointed out the sale is not complete.
The newspapers on the table have a combined weekday circulation of 433,251 and 1,755 full-time employees. They accounted for 11 percent of the Times' revenue in 2010, though their advertising revenue has declined sharply over the past few years.
This sale does not include the Times' other media properties, such as the Boston Globe and the International Herald Tribune.
News of the planned sale comes less than a week after Janet L. Robinson, the New York Times Company's CEO, announced that she will retire at the end of the year.