When President Obama comes to Los Angeles, the results tend to be a tad messy for the city. Luckily, for his 50th birthday celebration, the Chief Executive is content to bring Hollywood to him.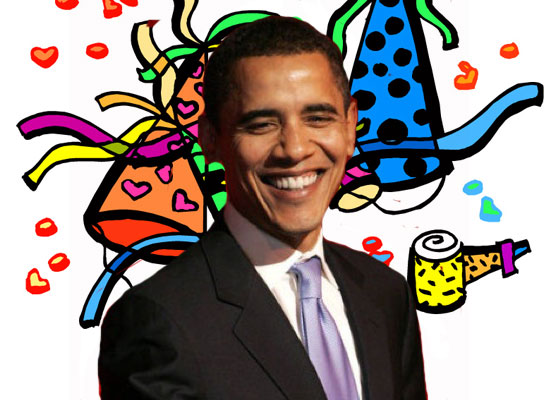 Though Obama doesn't turn 50 until Thursday, he's kicking the milestone off with a pair of events that also serve as fundraisers for his 2012 election campaign.
Also read: Hollywood Reacts to the Debt Deal With Relief
One, at Chicago's Aragon Ballroom, at 4 p.m. Wednesday, will include 1,000 attendees who will shell out up to $35,800 a couple to see the likes of Herbie Hancock, Jennifer Hudson and OK Go perform. A second, more intimate soiree will be held later in the evening, with somewhere between 80 and 100 VIPs. The beleagured Prez will attend both.
Also read: Jon Stewart Blasts Barack Obama, Tea Party Over "Turd" Debt Deal
As for his birthday proper, Obama will celebrate with a small gathering in the White House Rose Garden on Thursday.
While details on the guest list are scant, it's a pretty safe bet that Obama's bashes will be marked by a fair number of famous faces. But while TheWrap's request for guest information to the Democratic National Committee, a beneficiary of the parties, was not answered as of press time, a survey of Obama's most vocal Hollywood supporters suggest that he'll have to reach beyond his traditional circle of heavy hitters.
Obama's A-list pen-pal, Scarlett Johansson, won't be able to attend — she's working on two films back-to-back on location, her representative tells TheWrap. (Obama shouldn't feel too bad about the snub; Johansson was also forced to turn down an invitation to the Marine Corps Ball due to her schedule.)
Also read: Scarlett Johansson Shoots Down Marine — But Sends Him Bubbly
Jamie Foxx, who served as special guest at Obama's April fundraiser in Los Angeles, is likewise indisposed — his publicist told TheWrap that he's working out of the country.
Anne Hathaway, who heaped praise on then-candidate Obama at the 2008 Democratic convention, is busy filming "The Dark Knight Rises" in Pittsburgh and is also not expected to attend — even though it would mean a brief respite from Pittsburgh.
Oprah Winfrey? After all, the talk-show queen — who very well might have tipped the 2008 election to Obama via her support — hails, like Obama, from Chicago. Winfrey's publicist was't talking, but it's likely that Winfrey's CEO duties at the troubled OWN network might curtail her partying — no matter how much the Leader of the Free World might deserve a Big O.
Obama's pals in the media-mogul department are similarly unavailable to help the president cut the cake. A representative for David Geffen told TheWrap that Geffen is currrently out of the country, while Sony Pictures Chairman and CEO Michael Lynton, in the past a donor and fundraiser for Obama, is on vacation. DreamWorks Animation boss Jeffrey Katzenberg was invited to partake in the president's birthday celebration, but was forced to decline due to schedule restrictions.
With his old stand-bys otherwise occupied, which show-biz denizen can Obama turn to for some much-needed star power at his b-day bash?
It's a little last-minute, but might we humbly suggest Charlie Sheen?
After all, the guy has some time on his hands these days. And his partying credentials are top-notch. And if you're looking to drum up enthusiasm for a political victory, who better to enlist than the guy who's currently trying to trademark the phrase, "Duh, Winning"?