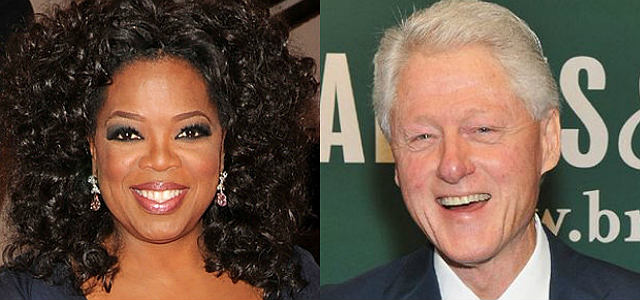 Oprah Winfrey, former Washington Post executive editor Ben Bradlee, Loretta Lynn, Arturo Sandoval and former President Bill Clinton are to be among those honored this year with the Presidential Medal of Freedom, the White House said today.
President Obama named five as among 16 recipients of the medal, which was established by President Kennedy and this year has its 50th anniversary.
Also read: President Obama Doesn't Want Kids Thinking Kim Kardashian, Kanye West Is 'The Mark of Success'
Among other winners are Gloria Steinem, former U.S. Sens. Daniel Inouye and Richard Lugar, Astronaut Sally Ride, Chicago Cub great Ernie Banks and civil rights leader Bayard Rustin. Inouye, Rustin and Ride will be honored posthumously.
Both Winfrey and Lynn have previously been honored with the Kennedy Center medals.
Also read: Obama Dines Privately With His 'Longtime Friend,' Jeffrey Katzenberg – but Who Paid?
The Presidential Medal of Freedom is the Nation's highest civilian honor, presented to individuals who have made especially meritorious contributions to the security or national interests of the United States, to world peace, or to cultural or other significant public or private endeavors. The awards will be presented at the White House later this year but no date has been set