The glittering fundraiser for President Obama at George Clooney's house raised a staggering $15 million Thursday night.
DreamWorks Animation CEO Jeffrey Katzenberg, a co-sponsor of the event in Studio City, was overheard remarking that the sold-out dinner in Studio City had brought in "a record nearly $15 million," according to the White House pool report.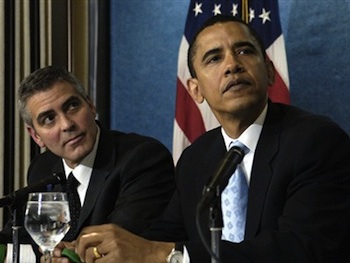 Two-thirds of the tally came from online supporters vying for a chance to join the president and 150 politically minded Hollywood supporters including Barbra Streisand, Stacy Kiebler, Robert Downey Jr., Salma Hayek, Billy Crystal and Diane von Furstenberg at Clooney's home.
Also in attendance were Los Angeles Mayor Antonio Villaraigosa and native Angeleno Congressman Howard Berman, who accompanied the president in his motorcade from the Burbank airport to the event earlier that evening.
In his opening remarks at the dinner, which was held in a clear tent on Clooney's basketball court, Obama referred to his historic endorsement of gay marriage the day before. "And obviously yesterday we made some news," he said.
Also read: Dustin Lance Black Mulls Obama Fundraiser After Shift on Gay Marriage (Exclusive)
"But the truth is it was a logical extension of what America is supposed to be. It grew directly out of this difference in visions. Are we a country that includes everybody and gives everybody a shot and treats everybody fairly and is that going to make us stronger?"
Obama thanked Clooney for letting him use the basketball court, and teased him for having been photo-shopped out of the famous "Hope" poster.
"George had come into D.C. to advocate on behalf of Darfur and to make sure that we were doing the right thing for so many people who were going through such horrific events, and we struck up a friendship. And this is the first time that George Clooney has ever been photo-shopped out of a picture," the president said.
Also read: Obama's Gay Marriage Support a Hit in Hollywood
He added that the artist sent a copy of the original photo of them side by side. "Why he said at the bottom, 'Dope and Hope' I don't know. I don't think that's fair," Obama joked.
In a more serious vein, the president touted the record of his administration in creating jobs. "We're now at a place where we've created 4 million jobs in the last two years, 800,000 in the last six months — or few months alone — almost a million, actually, in the last six months," he said.
He went on to make the case that his administration has taken on a host of difficult issues and made forward strides, arguing that he kept "the basic promise" of the 2008 campaign.
He touted his health care reform, economic legislation, clean energy initiatives and ending the war in Iraq.
But mainly, he told the gathered supporters that winning the fall election was going to be harder than in 2008. "2008 in some ways was lightning in a bottle," he said, concluding, "That passion that we brought to bear in 2008 is going to have to express itself maybe not in such flashy form, it's going to have to be steady, but we're going to have to keep those fires burning all the way through November and beyond."