As President Obama finds himself working harder for Hollywood re-election donations – "You can only be the first African-American president once,'' says a Democratic consultant – the number of Hollywood Republicans appears to be swelling.
"There are lot more than people think," Frank DeMartini, a veteran film producer who blogs at HollywoodRepublican.net, told TheWrap. "It used to be about 80-20, Democrat. Now, I'd say it's closer to 60-40. A majority of Republicans in Hollywood are hiding under rocks."
"There are certainly more conviction conservatives in Hollywood than conviction liberals," agrees screenwriter Lionel Chetwynd, one of the entertainment industry's most visible Republicans for years. Though he thinks the 60-40 ratio may be a bit high, he contends that "a lot of people just say they're liberals because it's good for their career."
Who can say for sure? No one, really. Hollywood Republicans say many of their peers fear employment discrimination in a liberally liberal industry.
Sure, lots of A-list Republicans have stepped into the sunlight – Kelsey Grammar, Gary Sinise, Drew Carey, Patricia Heaton, Bruce Willis, Clint Eastwood, Jerry Bruckheimer and Adam Sandler.
But they are a relatively small subset, and their success inoculates them against job loss. As money-makers, they have far more freedom of political expression than hundreds or even thousands of lesser-known Republican actors as well as above- and below-the-line Republicans.
Still, a growing number of community groups have formed to provide them political safe houses to discuss issues in private without the real or imagined fear of retribution.
One of the biggest is Friends of Abe, as in Lincoln, a social and networking group that meets monthly to hear guest speakers. It was founded in 2004 by actor Gary Sinise and Chetwynd and has hosted such leading Republicans as House Speaker John Boehner, Eric Cantor and Paul Ryan.
Also read: Shhhh … 5 of Hollywood's Secret Social Clubs
The group also hosts weekly lunches at Barney's Beanery in West Hollywood in what Chetwynd (at right) describes as "a job fair."
Just how many Friends of Abe are there? "That's a secret," says Chetwynd, a reflection of how many Republicans who want to remain anonymous. "Let's just say our last event had 1,800 — and we're sold out for the next one."
The Hollywood Congress of Republicans, a grass-roots organization affiliated with the California Republican Party, has been around since 2001. Unlike Friends of Abe, it has a public website that lists nearly 250 members (of about 1,000), founder actress Mell Flynn told TheWrap.
Many of them use only a first name or initials, she said.
Todd Christopher, an agent at Gersh, remembers attending a fund-raiser for John McCain in 2008, where he bumped into a colleague whom he never knew was a Republican.
"It was like, 'Oh, you're a Republican, too?' " he said. "It was pretty funny."
Republican fear of being outed – real or perceived – is likely why so few are contributing to this year's candidates, including Mitt Romney and Rick Santorum.
"There is no worse place for Republicans to raise money," said Rob Long, whose credits as a show-runner include "Cheers" and a new TBS comedy, "Sullivan and Son."They seldom visit for fund-raising because campaign contributions, apart from those to the new Super PACS, require public disclosure.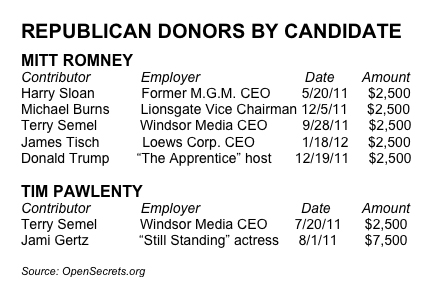 "For Democrats,'' he adds, "Hollywood is like an ATM machine. For Republicans, there's no system in place."
Also read: Election 2012: Hollywood Republicans Mostly Keeping Their Wallets Shut
At this point, it's not entirely clear which Republican has the majority support of Republicans in Hollywood.
"We're definitely split, like other Republicans are split," says DeMartini (below right). "Basically, I think most are either in the 'I hate Romney' group or the "I love Romney group' " with small faction, he adds, favoring Ron Paul.
Flynn said most of her members are supporting Romney or Rick Santorum, adding, "I don't know anybody who's for Ron Paul," and she never even mentioned Newt Gingrich.
Romney has earned the financial backing of moguls such as former Yahoo! chief Terry Semel and former Metro-Goldwyn-Mayer head Harry Sloan, but many prominent Republicans, such as Robert Duvall and Grammer, have yet to crack open their checkbooks, according to a search of donation filings.
That could change if Romney is the Republican standard-bearer, particularly if he takes centrist positions.
"Republicans in Hollywood tend to be on the moderate side," said Long." "Primary voters want someone who is a lot more conservative, but Republicans in Hollywood probably favor Romney. They like him for the candidate he says he isn't."
Chetwynd is not so sure. This year, he says, Republicans in Hollywood have separated into two groups, establishment types, who favor Romney, and conservatives who support other candidates.
For now, he says the conservatives outnumber the establishment types, based on his view that Romney "doesn't have much traction. At the moment, he's not igniting much excitement."
Despite the apparent divided loyalties and the different approaches they might prefer to one issue or another, one thing unites Hollywood Republicans above all else: defeating President Obama.
"There's a great sense of urgency about removing this president," says Chetwynd, who admits to being no great fan of Republican front-runner Mitt Romney. "But if Romney becomes the nominee, I'll vote for him."