Olympic gold medalist and NBC Sports analyst Tara Lipinski is taking her skills and grace on the ice to Equinox Fitness clubs around the country.
The former World Champion has developed a new workout with the luxury fitness chain called "Gold Barre," which is based on the foundations and physical challenges of figure skating.
"It was something I had thought about doing for a long time because of my background as an athlete, I love staying fit and healthy — so I was always trying to find something that gave me that same workout as skating," Lipinski told TheWrap.
Also Read: NBC Sports Chairman Mark Lazarus Endorses LA 2024 Games
Now 33, Lipinski became the youngest Olympic gold medalist in ladies' figure skating history at the 1998 Winter Olympics in Japan at age 15.
The barre-style class will be rolled out over the coming months at different locations, including Los Angeles and New York. "As an athlete, the fitness world is something I always knew I could impact," she said.
Lipinski said she was always looking for something that reflected her workouts on the ice. "I tried a barre class and that was the first time I saw improvements, it was the most similar to skating training," she explained.
Also Read: Special Olympics World Games Bring 'Sense of Pride' That's 'Contagious,' Says ESPN's Kevin Negandhi
Lipinski joined forces with Nicole De Anda (below), Equinox's National Barre Manager, and Amy Dixon, National Creative Manager of Group Fitness, and the trio went into the studio to literally bounce around ideas.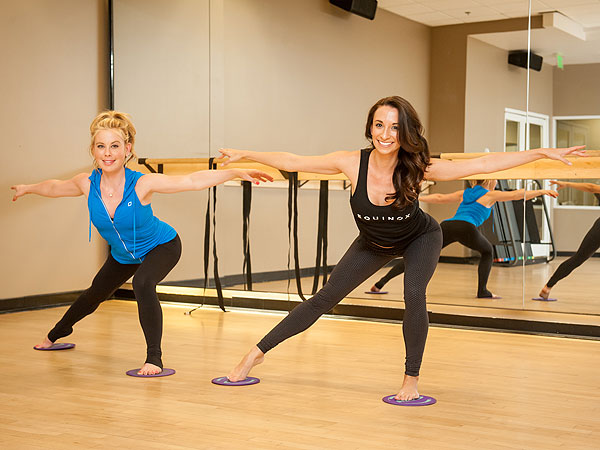 "It took about six or seven months to develop as we kept breaking up the class and going back to the drawing board. It was like falling on the ice and getting back up again — I am a tough judge but this is everything I always wanted and dreamed of," Lipinski said.
The result of their tough training sessions is a 60-minute class that mixes cardio through explosive plyometrics with powerful squats, leg lifts and gliding discs to help mimic the feel of skating. "You target specific muscles like the glutes, hamstrings and calves but also the tiny little muscles that I had always felt on the ice," she explained.
Since retiring from professional skating, Lipinski has also become an analyst for NBC Sports, teaming up with Johnny Weir for colorful coverage from the Sochi Olympics, Kentucky Derby and figure skating Grand Prix events.
Last week, she took part in a panel at SXSW in Austin, Texas, to offer advice for athletes heading to the Olympics in Brazil this summer.
"Making the Olympic team is the best feeling in the world, just enjoy the process. You work so hard for the dream but you can't forget that just getting there is a huge accomplishment," she told the athletes.
"The feeling you will get when you enter the opening ceremonies or walk around the stadium is like nothing else."