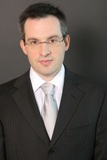 Exclusive: Heads are rolling at the Hollywood Reporter on Monday, under the new regime of editorial director Janice Min.
Digital media editor Andrew Wallenstein is leaving the Hollywood Reporter, TheWrap has learned.
Wallenstein's exit follows the departure of editor Elizabeth Guider, announced earlier in the day.
"After eight years with THR, the time is right to move on," Wallenstein told TheWrap. "I leave with the satisfaction that comes with my extensive reporting on the media business, from technology to television, as well as leading our website to editorial excellence and category-leading traffic numbers."
The Reporter is planning a complete relaunch of its website next month. On the print end, it is jettisoning its five-times-a-week publication in favor of a weekly glossy magazine.
Sincer her arrival, Min has been installing former colleagues from Us Weekly throughout the publication, and has reportedly been squeezing out more veteran staff members such as Guider and Wallenstein.
Wallenstein co-hosted TV Guide Channel's "Square Off" with Variety TV critic Brian Lowry for several years, and he's also a regular commentator on NPR's "All Things Considered." His work has also appeared in the New York Times, Business Week and the Boston Globe.