Oprah Winfrey's struggling OWN network announced on Friday the launch of six new series that will debut during its summer schedule.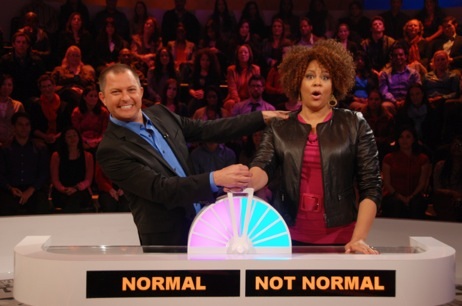 The push for new programming comes amid a prolonged period of tumult for the flegdling network. OWN has seen a number of high-level personnel shakeups, layoffs and disappointing ratings that included Rosie O'Donnell's talk show, which was canceled in March, after just five months. (The network is, however, up 14 percent year-to-date in its key demo of women 25-54, and 9 percent in total viewers.)
First of the new programming to debut, at 9 p.m. June 4, is "Are You Normal, America?" — a game show in which two contestants compete to determine their normalcy. "Along the way, audiences will be entertained, enlightened and ultimately comforted by the fact that we're all pretty abnormal … but that's what makes life fun!" is how the network describes it.
Also read: Oprah's OWN Laying Off 30 in Restructuring
Next to premiere will be "Lives on Fire," which explores " the extraordinary worlds of four remarkable women who risk their lives every day to take command during California's most dangerous disasters." That will debut June 8 at 9 p.m.
Also read: Longtime Oprah Associate Lisa Erspamer Exits OWN
Other additions to the roster include: "Million Dollar Neighborhood" (June 9 at 9 p.m.), in which a debt-ridden town is challenged to increase its net worth by $1 million in three months; "Real Life: The Musical" (June 9 at 10 p.m.), where amateur singers team with a vocal coach and choreographer to stage a live "flash musical" that "surprises someone they love."
"Super Saver Showdown," a July competition reality series that pits " two obsessed bargain hunters competing to see whose coupon clipping, super saving, and DIY skills are THE BEST!"; and "Lovetown, USA" (August), which chronicles Winfrey's visit to Kingsland, Georgia, where she called on the community to holda "love rally" and challenged the populace to "open their arms and hearts to the possibilities of all kinds of love."
Also read: Rosie O'Donnell's Talk Show Canceled by OWN
"Oprah's Next Chapter" and the documentary series "Our America With Lisa Ling" will also be returning. Winfrey's interview show "Oprah's Next Chapter" will feature episodes devoted to Neil Patrick Harris and spiritual healer John of God.
Read the full summer schedule below.
OWN SUMMER SCHEDULE
**New series in ALL CAPS; All Times Eastern
FRIDAYS (beginning June 8)
9:00 – 10:00 p.m. LIVES ON FIRE
SATURDAYS (beginning June 9)
9:00 – 10:00 p.m. MILLION DOLLAR NEIGHBORHOOD
10:00 – 11:00 p.m. REAL LIFE: THE MUSICAL
SUNDAYS
9:00 – 10:00 p.m. Oprah's Next Chapter
10:00 – 11:00 p.m. Our America with Lisa Ling (returns June 10)
MONDAYS (beginning June 4)
9:00 – 10:00 p.m. ARE YOU NORMAL, AMERICA? (sneak preview after "Oprah's Next Chapter" Sun., June 3, 10:00 p.m.)