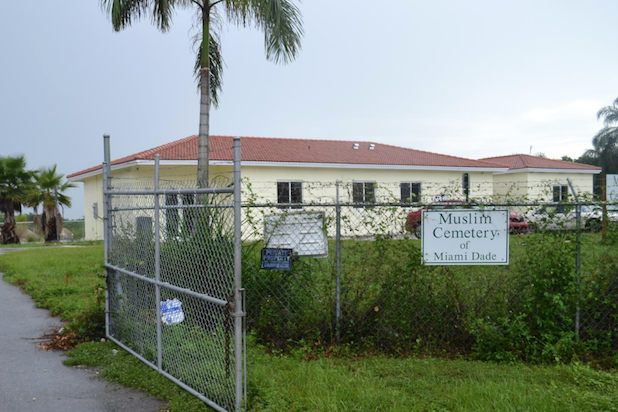 Orlando killer Omar Mateen was buried at the Muslim Cemetery of South Florida, according to a death certificate.
Mateen is responsible for the deadliest mass shooting in American history, in which he killed 49 people and injured 53 others inside Pulse nightclub in Orlando. The cemetery's Facebook page touts it as the "the only dedicated Muslim cemetery in Florida."
"Whatever he did was horrendous. There's no doubt about this," Muslim Cemetery employee Mohammad Dandia told Miami's ABC affiliate WPLG before adding, "He has to be buried somewhere, right?"
Mateen's death certificate also states that he was born on Nov. 16, 1986, in Long Island, New York. It says his death occurred at a "public locations" and marks his race as "white."
The Muslim Cemetery of South Florida did not immediately respond to TheWrap's request for additional comment and it's not-updated answering machine message says it is unavailable for the entire month of March.
Mateen's father, Seddique Mateen, claimed the body and Riyadh Ul Jannah Funeral Home made the arrangements, according to the Sun Sentinel. The grave was reportedly dug under a tent and is currently unmarked.
Also Read: Orlando Medical Examiner Releases Nightclub Shooter's Body
County officials said Monday that the medical examiner was no longer in possession of 29-year-old Mateen's body, but declined to provide further details. Officials also refused to make his autopsy report public.
Mateen opened fire at the nightclub early on June 12. He also died during the siege, though details concerning his cause of death have not been released. It is presumed that Mateen was shot and killed when law enforcement stormed the nightclub, concluding the three-hour standoff.