As of 5 p.m. on Tuesday, the voting is over.
The wave that started with questions over champagne at Cannes, morphed into awards whispers in Telluride, cocktail chatter in Toronto and full-scale debutante balls between October and December at AFI, Academy screenings and holiday premieres, finally crashes out wide to create a festive sea over the next five days.
Here's how to surf your way through the 2013 slate of Oscar parties. Our listing is divided into four categories based on the guest list and tone of each: Nominees, Power Players, The Scene, and The March Through Oscar Sunday
Nominees
These rooms have people who may actually end up on stage at the Dolby Theatre on Sunday with a trophy in hand. But when they toast in the days before, everyone is still a winner.
Vanity Fair's Campaign Hollywood – Dueling Dinners
Chrysler's Toast to "Les Miserables" at Eveleigh (in support of The Los Angeles Fund for Public Education) &
Barney's New York Dinner for "Silver Linings Playbook" at Chateau Marmont (in support of The Glenholme School)
David O. Russell's son, who has become a big part of the media narrative of "Silver Linings Playbook," attends this school in Connecticut. For Russell, Cooper, and De Niro, it's been an emotional campaign, including a triple outpouring of tears on Katie Couric's couch, and this intimate dinner will be one of the most reflective quiet notes in a boisterous week.
The Great British Film Reception
British Consul-General, The British Residence 4 P.M. – 7 P.M.
Consul-General Dame Barbara Hay hosts British nominees at The British Residence downtown.
Women In Film Cocktails
Fig and Olive, 5 P.M.
WIF needed a more spacious venue for their big turnouts, and they got it.
Octavia Spencer and WIF President Cathy Schulman host tons of nominees at this one: Debra Hayward (Best Picture, "Les Miserables"), Jacki Weaver (Best Supporting Actress, "Silver Linings Playbook"), Jessica Chastain (Best Actress, "Zero Dark Thirty"), Lucy Alibar (Adapted Screenplay, "Beasts of the Southern Wild"), Megan Ellison (Best Picture, "Zero Dark Thirty"), Stacy Sher (Best Picture, "Django Unchained), and lots of other producer, writer, and costume nominees of both genders.
Get the giftbag. I hear "The Hobbit's" makeup artist Tami Lane drowned them in M-A-C cosmetics, and there's bottles of the free-flowing Perrier-Jouët champagne from this event to-go in there, New Orleans style.
Agency Parties
Various Locations, Thursday and Friday Night
CAA and WME bring together their respective clients on Friday night. ICM Partners slides up a night with a party at a private residence on Thursday night.
Film Independent Spirit Awards
Santa Monica Beach, Noon
Andy Samberg hosts, and since he co-starred with Rashida Jones in nominee "Celeste and Jesse Forever," don't be surprised if Jones joins her real-life pal on stage at some point.
There's something new on the plate this year. The kitchens from Boa, Katana, Sushi Roku, and the recently added Riva Bella take over the food, with an eye towards counterbalancing the early drinking. It's still a tough task "with a big bottle of Jameson in the middle of the table," as Hitfix's Kris Tapley observed on his "Oscar Talk" podcast. Brancott Estate wines will also be poured for the "Silver Linings Playbook," "Bernie," "Moonrise Kingdom," "Keep the Lights On," and "Beasts" teams on Saturday afternoon.
The real action is in the tents before, during, and after. Inside the heavily fortified corner tent, it's gifting with a tie-in. Mattel Games is making a donation to Film Independent for every talent that plays their movie-guessing game "Pass the Popcorn." While there, talent can snag a trip to a private island (from Caribbean Living Magazine), Jabra Revo headphones, and graze the commissary of last-minute fashion and beauty first-aid from sponsors like Fashion Forms and GKhair.
Weinstein Pre-Oscar Party sponsored by Chopard
Soho House, Saturday, 8 P.M.
Power Players
Hollywood's 1 percent, these partygoers are the ones making decisions about other people's careers.
TheWrap's Award Season Celebration
Culina at the Four Seasons Hotel, Wednesday 6 PM
TheWrap's editor-in-chief Sharon Waxman hosts the key players of awards season and media. Last year, the social circles included Amazon founder Jeff Bezos, Harvey Weinstein, and Ryan Kavanaugh sprinkled amongst nominees in the plush setting.
Weinstein and Lexus' Lexus Short Films
DGA Theatre, 8 P.M.
It's not just Vanity Fair's dinner planners — Harvey's double-booked as well. Weinstein and his COO David Glasser picked filmmakers to create a series of shorts in a branded entertainment crossover tied to Lexus' theme "Life is Amazing." On Oscar week, the theme invariably brings back memories of Roberto Benigni's spastic "Life is Beautiful" celebration in 1999 (right).
"Night Before" Party benefiting the Motion Picture & Television Fund
Beverly Hills Hotel, Saturday Night
"If you're over forty, working at a studio, agency, or production/management company and not at The Beverly Hills Hotel tonight, try harder." This is how the anonymous industry skewering twitter account @AgentTrainee captioned the Night Before party just after midnight last year.
The big news is that The Hollywood Reporter replaces Variety as the partner on this massive roll call of all the industry's power players. Anistons, Clooneys, Spielbergs, Afflecks, Hankses, Witherspoons, Downeys, Stillers, Smiths, Day-Lewises, Diaz, and Timberlakes are all expected.
The Scene
It's the greatest week of the year to be in town. Even without a direct connection to this year's Oscars, young Hollywood and other constituencies still want to piggy-back on the celebratory atmosphere. Here's the best entries.
Art of Elysium Pieces of Heaven Art Auction
ACE Museum, Wednesday, 6 PM
Confirmed art connoisseurs include David Arquette, Justin Bartha, Moby, and Jason Statham. More fitting for art, the event moves from Smashbox studios to an actual museum.
Global Green USA's 10th Annual Pre-Oscar Party
Avalon Hollywood, Wednesday, 6 PM
No stranger to green, Willie Nelson performs for the climate-concerned demographic. Expected: Orlando Bloom, Emmy Rossum, Miranda Kerr, Ed O'Neill, and an actor who performed in two nominated movies, Walton Goggins.
Oscar Wilde: Honoring the Irish in Film
Bad Robot in Santa Monica, Wednesday, 6:30 PM
The US-Ireland Alliance (headed by a former top staffer to the late Senator Ted Kennedy) honors Colin Farrell, Oscar winning make-up artist Michele Burke, and Lionsgate's Michael R. Burns. J.J. Abrams emcees, Paula Wagner presents and Liam Hemsworth is expected.
"Una Notte Verdie" with Fiat
Cecconi's West Hollywood, Thursday
Oscar winners Hans Zimmer and Ron Howard (above left, with Jamie Foxx) do cocktails for the United Nation's International Labour Organization and Green Jobs Programme. Despite all the British spellings, it's one of Vanity Fair's Campaign Hollywood events. There's a legacy on those coordinates on the corner of Melrose and Robertson: As Morton's, it used to be the home of the Vanity Fair post-Oscar party.
Hollywood Domino & Bovet 1822 Pre-Oscar Gala & Tournament
Sunset Tower Hotel, 8 PM
Jon Hamm won the trophy last year…legitimately.
Saying he plays frequently on the "Mad Men" set, he knew the terminology and this was not some fix-job by a publicist hunting for a press angle. Green Bay Packers QB Aaron Rodgers was outside laughing at and loving the outcome.
Gerard Butler, Paul Haggis, Donna Karan, and Adrien Brody (marking 10 years since his "The Pianist" win) will be there. They have repeated this event in Panama later in the year, so schmooze hostess Daya Fernandez on how to earn a seat on that jet.
Chez Andre at the Standard
Standard West Hollywood, Thursday-Saturday, from 10 PM
Hotel and nightlife moguls Andre Balazs and Andre Saraiva sneak their East Village karaoke club in to Balazs' The Standard for three nights only. With a chunk of the week revolving around Balazs' other property (The Chateau) and his neighbor (Jeff Klein's The Sunset Tower), this aims heat towards the corner of Sunset of Sweetzer.
QVC's Red Carpet Style-Live
Four Seasons, 6 PM
The Thursday party where Kardashians and Keiblers roamed the party is no more. Friday night's event is a shoot for a live televised shopping special with Jennifer Hudson, Nicole Richie, and Heidi Klum, so it should be more lucrative for QVC and less of an outright festivity.
OK Magazine Pre-Oscar Party
Emerson Theatre, Friday, 7:30 PM
The March Through Oscar Sunday
This is the varsity schedule. For those with a horse in the race the march through Oscar Sunday includes these A-list stations.
The 85th Academy Awards
Dolby Theatre, Sunday, 5 P.M.
The multi-page instruction booklet that contains actual Oscar tickets asks attendees to patronize the bar on their own floor of the theatre, importing the coach-class/first-class lavatory caste system to the Oscars. Nonetheless, most will congregate at the lobby bar before and during the show. Patron and Ultimat vodka are the official pours and organizers tell me that shots are not banned. Limes are no problem, but good luck finding a salt shaker.
Governor's Ball
Hollywood and Highland Ballroom, Immediately Following the Telecast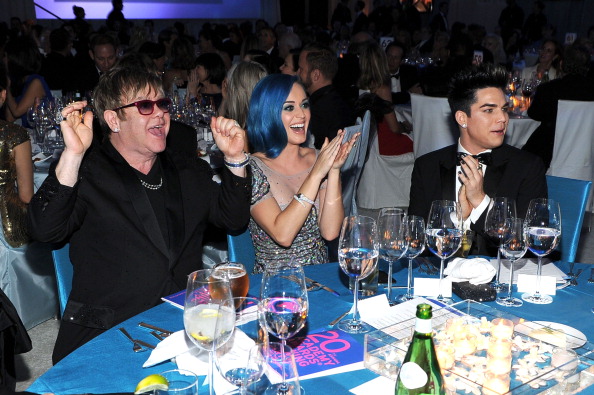 Elton John Aids Foundation 21st Annual Viewing Party
West Hollywood Park, Sunday, 4 PM
The multiple tents are so sprawling, you have no idea you're in a park on San Vicente Boulevard. It's completely disorienting.
After a killer Florence and the Machine performance in 2011 and a hard-to-follow Foster the People set last year, Sir Elton brings Emeli Sande (who just made her industry debut at Clive Davis' party) to the stage after the Oscar telecast.
The dinner is packed, the after party is white hot right after the show, but it peaks just before Elton leaves to go to the Vanity Fair party himself. Deep pockets can bid on the chance to join Sir Elton and David Furnish at the VF bash.
It's the biggest fundraising event on Oscar night and all the money that is raised goes toward the fight against AIDS, which means everyone comes through to support.
Vanity Fair Oscar Night Dinner and Party
Sunset Tower Hotel; TImeslot Arrivals
If you're going to this, Graydon Carter and or Beth Kseniak told you so back in January, around the time of Sundance.
For a party so cloaked in mystery (they don't release the guest list in advance, they erect a multi-story wall blocking looking-loos from seeing the Sunset Boulevard arrivals), they have a robust social media presence in real time spitting out fully edited videos of what's taking place inside.
For winners in smaller profile categories, a little gold man no longer guarantees entry. For a party reporter, it's the pinnacle of the profession and a tough nut that's been cracked only by a few.
Seth MacFarlane's After Party
Private West Hollywood Location, Late
This could just as easily go in the "Scene" category, as MacFarlane's resume of celebrations is impressive. On Sunday, the host of the show will host 500 guests well in to the night.
Two years ago, he performed with a big band on Thursday night at Hollywood Domino. Now, he's bringing a 70-piece orchestra to his own after-party. With an impressive track record (offering to send his neighbors out for a night on the town or join in to his bashes), this will be a high-energy punctuation mark on awards season, especially when/if MacFarlane (or the animated "Ted") kills on the telecast.
All of these events are private, by invitation only. Many will be tweeted in real time by @CelebSightings.