It's mid-February, which means one thing in Hollywood: Almost everybody who has anything to do with the Academy Awards race just wants it to be over.
With the race for key awards seemingly over, people are getting tired of the marathon that Oscar season has become.
At the Directors Guild awards, I asked presenter Jean Dujardin – who has been in Los Angeles for much of the fall and winter, attending parties and doing interviews and making television appearances in a language that is not his own – how he was holding up through it all.
"I'm fine," "The Artist" star said with an easy smile, a few days after landing his Oscar nomination.
"Good," I said, "because you only have a month to go."
"One month still?" he said, with a crestfallen look that belied the fact that he certainly must have known that the Oscars weren't happening until February 26.
A few minutes later, I encountered Best Supporting Actor nominee Nick Nolte (below, with Gary Oldman), who was attending the DGA Awards not because he was participating, but because he'd been told he should.
"The PR people tell you you've gotta get out there like it's a presidential campaign or something," he said with a shrug. "The difference is that we don't get to run the country if we win. We only get a little statue."
Also read: Oscar Luncheon: Hints About the Show and a Standing O for Max Von Sydow
And at the end of the night, I ran into last year's DGA and Oscar winner, "The King's Speech" director Tom Hooper. "Looking at it from the outside this year," he said with a grin, "I now realize that people just write stuff pretending that there's a race going on for the last few weeks.
"They have to keep up the interest somehow."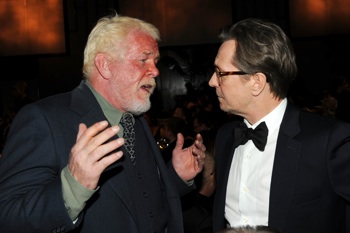 So the smiling, the campaigning, the pretending keeps on keeping on, because that's awards season. And this year, it has been more exhausting than usual, because of new Academy campaign rules that lifted most of the restrictions on parties and Q&As before the nominations were announced.
"From what I read, that turned out to be a good free-for-all," Academy president Tom Sherak told TheWrap recently.
But the Academy also set what Sherak called "some really strict rules" for the post-nomination period: no parties, no receptions, and only two post-screening Q&As for each person associated with a nominated film.
Also read: Uggie Is Top Dog at the Golden Collar Awards, Of Course
The restrictions have stopped the parties — at least the big ones, which Sherak said were the target of the new rules.
"If somebody wants to have a party at their house and invite 12 people, I'm not a policeman and I'm not going to tell you that you can't do that," he said. "But don't have a party for 100 members, because that's gonna get you in trouble.
"And if you have two Q&As in L.A., don't think you can go do one in London and we're not going to find out."
Still, the restrictions have hardly stopped the Q&As, which have remained ubiquitous even as attendance has dropped sharply, according to one studio executive. "We're hearing it from everybody," the exec said. "After the nominations, attendance has gotten really bad, especially from Academy members."
Also read: Meryl Streep Oscar Email Angers Voters, But It's Legal
Of course, Q&As with George Clooney, Brad Pitt and Gary Oldman have still packed them in, as did a couple of screenings in which Paramount trotted out not just "Hugo" director Martin Scorsese, but an army of talent from the film. One included Scorsese, screenwriter John Logan, editor Thelma Schoonmaker, visual effects nominees Rob Legato, Ben Grossman and Alex Henning and cast members Ben Kingsley, Sacha Baron Cohen, Chloe Grace Moretz and Emily Mortimer.
And while the two-per-person rule has restricted screenings to which Academy members are invited, it hasn't stopped public tributes to the likes of Clooney, Pitt and Oldman, which included Q&As but didn't count on the official tally.
"I am still being inundated with offers of screenings, scores, screenplays and Q&As," one Academy member griped the other day.
Also read: Gary Oldman Embraces the Season: 'I'm Determined to Enjoy Every Bloody Minute'
Things are starting to calm down a little, as more and more Oscar voters return their ballots in advance of the Feb. 21 deadline, and as general fatigue sets in. Dujardin, for one, made a Funny or Die video and a "Saturday Night Live" appearance and headed back to Europe, not to return until just before the Oscars.
Still, the campaign trail stretches on. At the American Society of Cinematographers Awards on Sunday night, for instance, Antonio Banderas showed up to present an award and get in a plug or two for Animated Feature nominee "Puss in Boots," while James Cromwell and Penelope Ann Miller picked up the slack for their castmates from "The Artist" who were in London for the BAFTAs.
So when Oscar watchers and Academy members talk of moving the show earlier by a couple of weeks, a proposal the AMPAS Board of Governors will study closely in the coming months, it's because of this long, long final stretch.
It's gotten to the point where I got a call from one Oscar consultant recently, and his opening line wasn't "hello," but "Is it over yet?"
No, it's not. It won't be over for 12 more days.
Twelve endless days.