For all the lore about the late Swifty Lazar's iron-fisted control over his Oscar night viewing party — he reportedly forced guests to stay in their assigned seats and watch the show attentively at his precursor to the current Vanity Fair party — Sir Elton John's crowd needs no direction.
People actually watch the show intently, but it was totally OK for some, like Jim Carrey, to also clown around in costumes.
Some of the fashion wasn't meant to be a costume. Randy Jackson was such a social centerpiece in the middle of the room throughout the night that I didn't think he had a seat. He did.
(Top photo: Bigfoot…found! Jim Carrey wore prosthetic feet and wings on his back to Elton John; Daniel Day-Lewis and Ang Lee at the Governors Ball; and the Vanity Fair scene in full swing.)
The 21st edition of the annual Elton John Aids Foundation Oscar Night Viewing Party and fundraiser cleared $6 million dollars net over eight hours on Sunday afternoon and night, much of it in a wild auction of exotic experiences.
A cross-section of hyper-social captains from glamour industries convened on a multi-tent complex in West Hollywood including musicians (Bono, Miley Cyrus, Russell Simmons, Chris Cornell, Lucian Grange, Quincy Jones and Dave Grohl, seated at Elton's right hand), sports figures (Billie Jean King, Hollywood regular Robert Kraft), comics (Chelsea Handler, Aisha Tyler), fashion icons (Naomi Campbell, Molly Sims, Petra Nemcova, Vogue's Hamish Bowles), and lots of pop culture gossip personalities (all three Kardashian sisters, a post-show arriving Nicole Richie and Britney Spears, below).
Of course, there was a healthy dose of actors in the room from Ian Somerhalder and Lorraine Braco, to John Waters, Andrew Rannells, Jane Lynch, Tim Allen (below right) and the Oscar telecast's opening guest star William Shatner's old friend, George Takei.
Besides Jackson, the most popular guests were the Kardashians, Steven Tyler, and — in a head-scratcher — Chris Brown. The guy had social gravity from both men and women.
As courses arrived from chef Gordon Ramsay throughout and after the three-and-a-half-hour telecast, Sir Elton and David Furnish worked their way to every single table. In the beginning, John worked his way around each table, shaking hands and personally greeting every single "activist," his moniker for guests.
From the telecast, performances by the "Les Miserable" cast ("One Day More") and Shirley Bassey played huge in the room. On the other hand, many in the crowd snarked Anne Hathaway's breathless acceptance for "Best Supporting Actress." in fairness, many claws were out before she started speaking.
Bookending award season, both "Lincoln" and "Life of Pi" premiered at AFI Fest Presented by Audi back in November. On Sunday afternoon, the black Audis were rolling in. Above, breakout "American Idol" judge Nicki Minaj and Heidi Klum arrive to Elton John.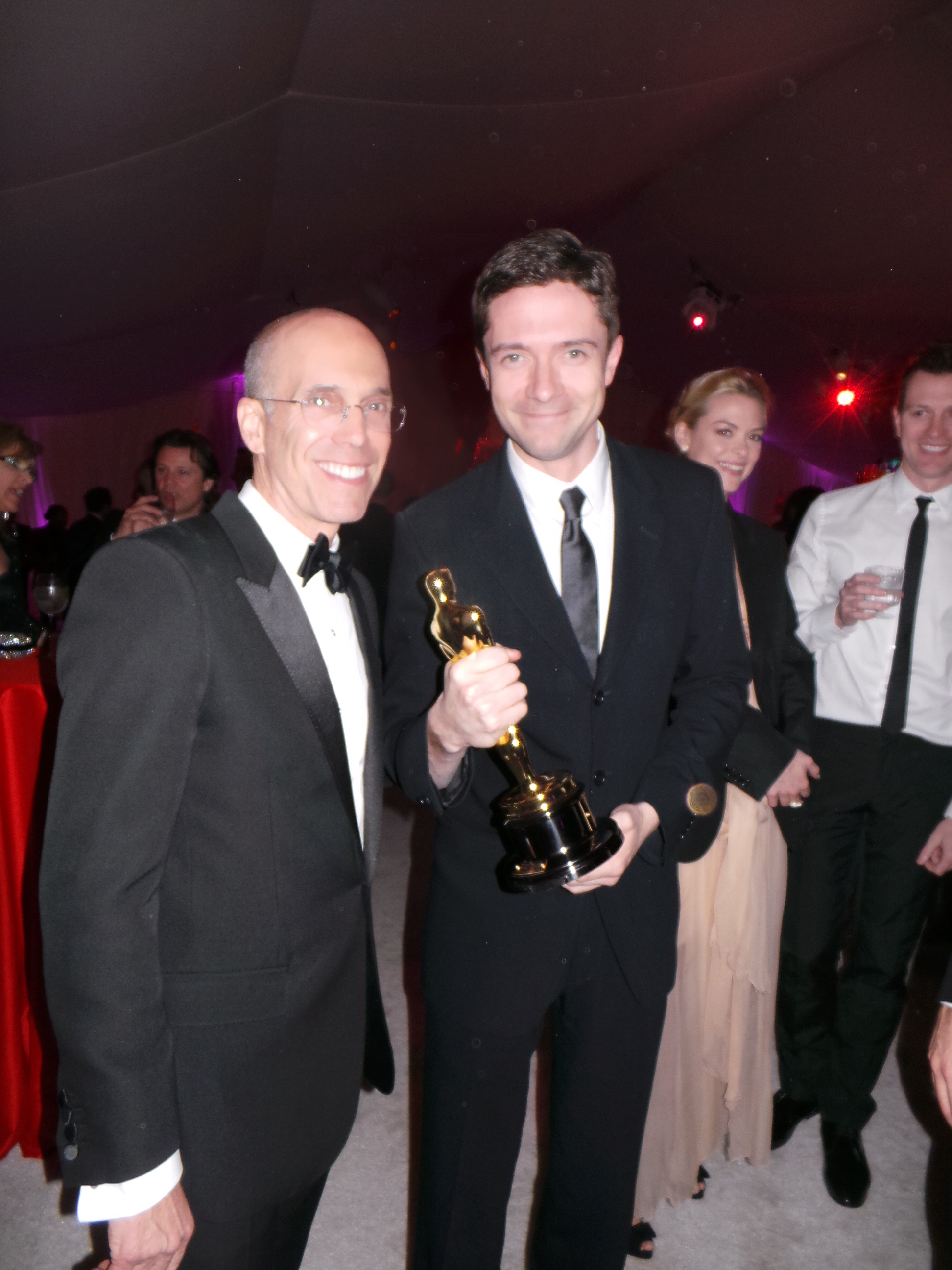 Jeffrey Katzenberg and his Oscar got caught in a fan whirlwind (left, letting Topher Grace polish the gold for a minute).
When one fan jumped in for a photo with Katzenberg, the fan unknowingly handed off his phone to a professional: director Bryan Singer (Above right with Karina Smirnoff
Singer, who will direct Jennifer Lawrence in "X-Men: Days of Future Past," said he will be kidding Lawrence about her fall on the way up to the stage when they start shooting later this spring.
Beyond all the star power in the room, there was also a lot of money. Sometimes, they collided. One of the most hotly contested items was a five day stay in Steven Tyler's hideaway Maui mansion.
"Thanks to Randy [Jackson], I can't go anywhere without getting noticed," Tyler said. "What you all want to know is (it's) four miles away from the Four Seasons."
Both Dave Grohl ($100,000 bid) and Chelsea Handler (a $230,000 bidder) got in to the action, but lost out to a non-celebrity for the house. Two other "civilian" couples paid $150,000 each for the right to go with Sir Elton as his "+4" to the Vanity Fair party immediately.
Others just wanted music. John raised $1 million alone on four donors who each paid $250,000 for a five-song set in their house, on their piano, anywhere in the world.
One bidder approached the stage to talk to John personally and was rumored to be asking if he could request a particular song. While casually walking back to his table, he raised his finger over his back to signify, "I'm good for the $250,000." Ca-ching.
One of the "smaller" wins was $40,000 for an advance private screening of "The Great Gatsby" at Soho House.
At the end of the night, Furnish, the foundation's chairman, announced that the group had now raised $300 million dollars since inception.
The party-with-purpose was clear throughout, as even after the Oscars telecast, John (who hated the teleprompter and got briefly flustered by the font on his backup typed paper) played scenes from documentary nominee "How to Survive a Plague," the film that details the early years of AIDS activism.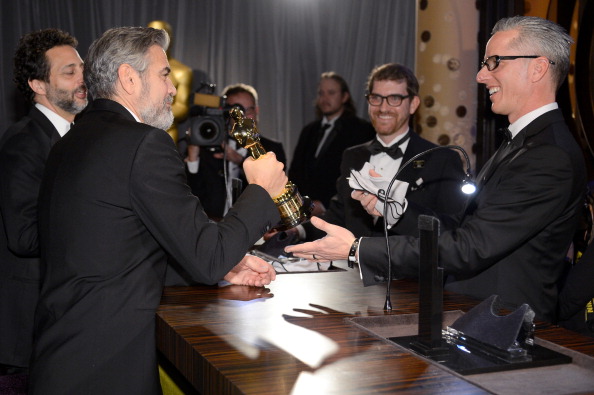 George Clooney gets his "Argo" Best Picture Oscar engraved at the Governors Ball.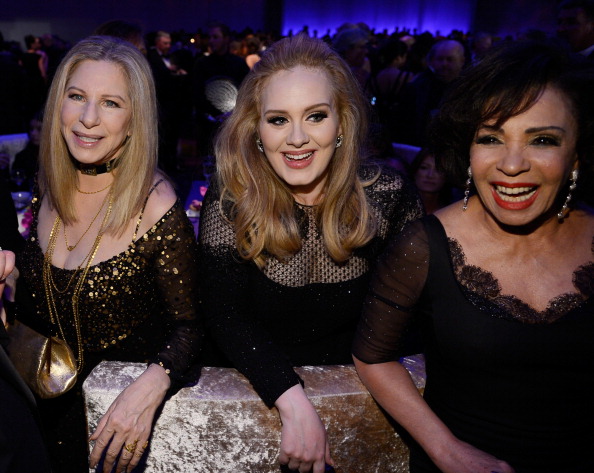 A supergroup in the Making: Barbra Streisand, Adele, and Shirley Bassey at the Governors Ball.
Harvey Weinstein and two of his winners: Best Actress Jennifer Lawrence and Best Original Screenplay winner Quentin Tarantino.
Ben Affleck arrives at Vanity Fair at the Sunset Tower Hotel.
Brother Casey Affleck made the cut on the guest list, and Jimmy Buffett, Tom Freston and Minnie Driver were unexpected guests who had not been around awards season this year.
Elsewhere, Seth MacFarlane sang with a 70-piece orchestra over at "The Lot" in West Hollywood.
Madonna's party at Guy Oseary's house was many's last stop. "It goes late," one producer told TheWrap.
Around 2:30 a.m., the Chateau Marmont still had a full crowd with winners like "Life of Pi" Visual Effects artist Bill Westenhofer (right) arriving to cheers and hugs at a patio table.