The explosive reaction to Nate Parker's slavery drama "The Birth of a Nation" at Sundance last month suggests that the two-year drought of major black nominees could end at next year's Academy Awards.
When this year's Oscar nominations were announced, revealing 20 white acting nominees for the second straight year, a global controversy re-ignited that sent the hashtag #OscarsSoWhite trending on social media once again.
Over the past few weeks, everyone from Spike Lee to President Obama have weighed in on Hollywood's diversity problem, which led to the Academy speeding up its voter reform initiative A2020.
While newcomer Jason Mitchell was certainly overlooked this year for his powerful turn as Eazy-E in "Straight Outta Compton," to name just one example, the truth is that there simply wasn't a large pool of non-white candidates to choose from. Fortunately, Hollywood is cyclical, and the coming year offers no shortage of high-profile roles for non-white actors who could end up being strong awards contenders.
Here is TheWrap's 25 worthwhile predictions for how next year's Oscar nominees could reverse the recent all-white trend.
BEST DIRECTOR
J.A. Bayona, "A Monster Calls"
Lee Daniels, "Richard Pryor: Is It Something I Said?"
Antoine Fuqua, "The Magnificent Seven"
Ang Lee, "Billy Lynn's Long Halftime Walk"
Nate Parker, "The Birth of a Nation"
The Breakdown: Two-time Oscar winner Lee will surely return to the Oscar conversation for "Billy Lynn's Long Halftime Walk," which will see him pushing the technological envelope by shooting in 3D at the ultra-high frame rate of 120 frames per second. Parker established himself as a director to watch at the Sundance Film Festival, where Fox Searchlight shelled out a record-breaking $17.5 million for his slavery drama about Nat Turner. Reaction out of Sundance, where the film won both the Grand Jury Prize and the Audience Award, indicates a bright future come awards season. Based on the beloved book by Patrick Ness, "A Monster Calls" has the chance to be something special under the direction of Bayona, whose tsunami drama "The Impossible" made waves back in 2012. Daniels has been nominated for two Oscars and could find himself back in the mix with the Weinstein Company's Richard Pryor biopic, which is expected to hit theaters this year, according to insiders. Finally, Fuqua takes on the classic Western "The Magnificent Seven" armed with his "Training Day" stars Denzel Washington and Ethan Hawke, as well as a fresh take on the material.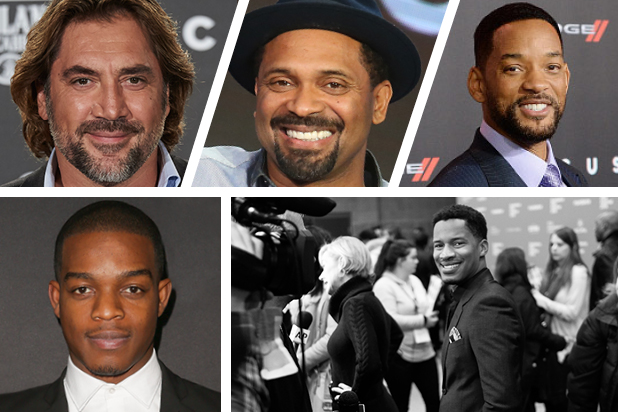 BEST ACTOR
Javier Bardem, "The Last Face"
Mike Epps, "Richard Pryor: Was It Something I Said?"
Stephan James, "Race"
Nate Parker, "The Birth of a Nation"
Will Smith, "Collateral Beauty"
The Breakdown: Parker, Epps and James are all playing real-life people — Nat Turner, Richard Pryor and Jesse Owens, respectively — and true stories often resonate with the Academy. While Parker's praises have already been sung at Sundance, Epps will be out to showcase his range and prove the doubters wrong as the controversial comedian, while James is a relative newcomer whose performance as the Olympic legend could make a strong impression on Hollywood if audiences run to see "Race" during Black History Month. Meanwhile, Bardem plays a doctor who falls for Charlize Theron while working in Africa in a romantic drama directed by Sean Penn. Smith will be creating an original character in "Collateral Beauty," a man who suffers a personal tragedy. The film is expected to hit theaters around Christmas, according to insiders, though New Line has yet to set an official release date.
Also Read: 'Race' First Teaser Sees Jesse Owens Begin the Sprint of His Life (Video)
BEST ACTRESS
Viola Davis, "Custody"
Naomie Harris, "Our Kind of Traitor"
Gugu Mbatha-Raw, "Free State of Jones"
Ruth Negga, "Loving"
Tika Sumpter, "Southside With You"
The Breakdown: "Custody" feels like the kind of future Toronto selection that could shake up the Oscar race, a la "Still Alice" and Julianne Moore in 2014. Davis plays a judge who presides over the custody case of a Latina woman who is desperate to keep her children. It's a position of power that could usher Davis into the awards conversation. Sumpter drew strong reviews for her turn as a young Michelle Obama in the sweet Sundance movie "Southside With You," which boasts a high-profile hook — her first date with future President Barack Obama. Mbatha-Raw, Negga and Harris are all part of interracial marriages this year, which is an interesting trend. Mbatha-Raw plays the love of Matthew McConaughey's life in Gary Ross' Civil War movie "Free State of Jones," while Negga stars opposite Joel Edgerton in Jeff Nichols' "Loving." Both period films deal explicitly with race. Finally, Harris appeared on this list last year, but the film never came out. We have a sneaking suspicion she'll be the one to watch in the John le Carré adaptation "Our Kind of Traitor," in which she and Ewan McGregor play a couple who tangle with a Russian mobster and the British Secret Service.
Also Read: Matthew McConaughey Leads Rebellion Against Confederacy in 'Free State of Jones' Trailer (Video)
BEST SUPPORTING ACTOR
Mahershala Ali, "Free State of Jones"
Tadanobu Asano, "Silence"
John Boyega, "The Circle"
Eddie Murphy, "Richard Pryor: Was It Something I Said?"
Edgar Ramirez, "Gold"
The Breakdown: Eddie Murphy hasn't been an awards contender since "Dreamgirls," but that could change with his turn as Richard Pryor's father in Lee Daniels' upcoming biopic. Of course, Murphy will find himself contending with Tracy Morgan, who plays Redd Foxx in the film, but his role is more likely to be nominated. Best known for "House of Cards," Mahershala Ali is a rising star who wears a collar-like contraption around his neck as a slave opposite Matthew McConaughey in "Free State of Jones." The actor also has a key role in Barry Jenkins' "Moonlight," which could be a stealth contender. Elsewhere, "Star Wars: The Force Awakens" hero John Boyega plays a mysterious figure in "The Circle" alongside Tom Hanks and Emma Watson. The film hails from James Ponsoldt, who has built a strong reputation as an actor's director. Edgar Ramirez is poised for a breakout year in 2016 with a trio of movies on tap (including boxing movie "Hands of Stone" and thriller "The Girl on the Train"), though his part opposite Matthew McConaughey in "Gold" could bring him some gold of his own. Finally, Tadanobu Asano appeared on this list last year, and his turn as the interpreter in Martin Scorsese's "Silence" isn't likely to be met with silence from critics and awards experts.
BEST SUPPORTING ACTRESS
Aja Naomi King, "The Birth of a Nation"
Catalina Sandino Moreno, "Custody"
Lupita Nyong'o, "Queen of Katwe"
Octavia Spencer, "The Shack"
Oprah Winfrey, "Richard Pryor: Was It Something I Said?"
The Breakdown: Oprah Winfrey is a strong possibility in this category, where she was previously nominated for "The Color Purple." She plays Richard Pryor's grandmother, who ran a brothel and had a complicated relationship with the young comedian. Spencer and Nyong'o are past Oscar winners who return to this category with two very different roles. Nyong'o will look out for a young chess prodigy in Disney's inspirational drama "Queen of Katwe," while Spencer plays Papa, the embodiment of God, in the faith-based film "The Shack," based on the best-selling Christian novel by William P. Young. She also has an intriguing supporting role alongside Chris Evans in Marc Webb's "Gifted." Moreno is also a past nominee for "Maria Full of Grace," and this time around, she plays a mother fighting for her children in "Custody," which may provide the actress' juiciest movie role in years. Last but certainly not least is King, who earned strong reviews for her role in "The Birth of a Nation."
Also Read: Don Cheadle Brings Attitude in First 'Miles Ahead' Trailer (Video)
13 More Actors of Color Who Could Be in the Awards Conversation Next Year
Uzo Aduba, "American Pastoral"
Don Cheadle, "Miles Ahead"
Chiwetel Ejiofor, "Doctor Strange"/"Triple 9"
Lily Gladstone, "Certain Women"
Andre Holland, "Moonlight"
Oscar Isaac, "The Promise"
David Oyelowo, "A United Kingdom"
Dev Patel, "Lion"
Denzel Washington, "The Magnificent Seven"
The Supporting Cast of "Rogue One: A Star Wars Story" – Riz Ahmed, Diego Luna, Forest Whitaker and Donnie Yen