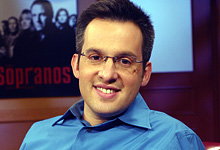 (Updated: 2:55 p.m. PT) That didn't take long. Just a week after leaving the Hollywood Reporter, Andrew Wallenstein has been named senior editor for paidContent
Wallenstein will cover the digital-entertainment business and will be based in Los Angeles, the website announced on Tuesday.
In his new post, Wallenstein will help develop editorial features for the sites.
"Andy's job will be to shine a bright light on the revolution in distribution that is changing film and television," Ernie Sander, paidContent managing editor, said in a note announcing the hire.
At the Hollywood Reporter, Wallenstein was editor of digital media. His exit came on the heels of editor Elizabeth Guider's departure — collateral damage in newly appointed editorial director Janice Min's overhaul of the trade publication.
For the past six years, Wallenstein has served as a frequent commentator on media issues for National Public Radio. He was also co-host of the TV Guide Network primetime series "Square Off" in 2006-07.
Wallenstein has also written for The New York Times, Boston Globe and BusinessWeek.