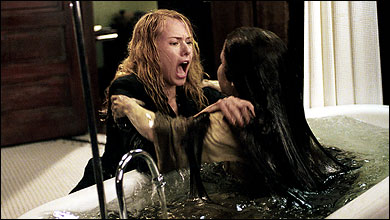 Remember DreamWorks' guerilla marketing campaign for "The Ring?" I do — I was one of the "lucky" folks who found one of the unmarked videotapes.
It was my freshman year at NYU and I was leaving a screenwriting class at the Tisch School of the Arts. The elevator was full of fellow nerds so I took the stairs. That's when I saw it; An unmarked videotape, lying innocently enough on one of the stairs, just waiting to trip and subsequently injure someone. Naturally, my 18 year-old mind went straight to the gutter and assumed the unlabeled video was some kind of homemade porno, so I picked it up, brought it home and popped it in the VHS player.
I was immediately visually assaulted by weird imagery including a branch coming out of a man's throat, a giant centipede walking through a kitchen, a bleeding 3-legged animal, squirming maggots, a burning tree and a finger pushing down on a rusty nail. Needless to say, it freaked me out, and when I eventually learned it was all a clever promotion for Gore Verbinski's English-language adaptation of Hideo Nakata's "Ringu," I immediately circled "The Ring's" release date on my student calendar.
While the film went on to become a game-changing hit, spawning a successful sequel and a slew of similarly-themed imitators, the title was left behind at Paramount following the studio's split from DreamWorks and the franchise was thought to be dead. However, like its ghoulish antagonist Samara (Daveigh Chase), the series has found a way to return, and by that I'm referring to the 3D craze currently sweeping Hollywood.
With dollar signs in its glasses-covered eyes, Paramount has hired David Loucka to write "Ring 3D," according to the Hollywood Reporter.
Though the logline is being kept under wraps, Paramount hopes to reinvent the franchise by fashioning "Ring 3D" as more teen-centric than the first two films, which may actually be a good idea — a rare instance when the phrase "teen-centric" is involved. The story doesn't mention Naomi Watts' involvement, but my guess is that she's moved on from this series and if she returned, would only appear at the beginning to pass the torch to a group of younger characters.
THR reports that one potential scenario involves teens finding a VHS player that still works, which sounds like a joke, but raises a good point. Will Samara communicate through a dead medium, or will she upgrade to DVD, and possibly Blu-ray depending on her budget. Maybe the teens find a pirated copy of the video online?
The original 2002 film followed a young journalist (Watts) investigating a mysterious videotape that seemed to cause the death of anyone who viewed it within a week. It performed well enough to earn Verbinski a gig directing Disney's big-budget tentpole "Pirates of the Caribbean," and propelled Watts into highly-anticipated remakes such as "King Kong" and the still-in-development "The Birds."
Over the next half-decade, Hollywood was bombarded by PG-13 J-horror adaptations including "The Grudge," "One Missed Call," "Pulse" and "Dark Water," but "The Ring" was by far the best of the bunch, earning nearly $250 million worldwide on a production budget of $48 million. Its breakout success lead to an inevitable sequel, which earned "only" $161 million worldwide while likely costing more than the first film. Between "The Ring" and "The Ring 2," Jonathan Liebesman ("Darkness Falls") directed "Rings," a scary short film starring Ryan Merriman and Emily Van Camp that linked the two films.
While "The Ring 2" had its moments (such as the CG-deer attack), it simply failed to duplicate the success of the original, both creatively and financially. I preferred Martin Henderson to Simon Baker, I didn't like Sissy Spacek's character, I thought the David Dorfman stuff came too easy, and with Nakata himself behind the camera, I felt that something in general was lost in translation.
Producers Walter Parkes and Laurie MacDonald are in negotiations to return to the franchise, while Vertigo and Benderspink will exec produce "Ring 3D." There is currently no director attached to the project, but if I were Paramount, I'd think about bringing back Liebesman, whose "Battle: Los Angeles" is drawing strong buzz. I also really liked the incendiary idea behind his indie psychological thriller "The Killing Room," which genre fans should seek out on Netflix.
Coincidentally, Loucka wrote Jim Sheridan's upcoming thriller "Dream House," toplined by Watts, Daniel Craig and Rachel Weisz. Loucka has also written the most recent draft of FilmNation's horror-thriller "The House at the End of the Street," (as someone who grew up on a Dead End, I'm curious why bad things always happen in the last house on the street) which is scheduled to start shooting this summer.