Paramount Pictures wants to expand and upgrade its lot over the next 25 years and is filing documents with the city of Los Angeles this week to begin the process, the studio said Tuesday.
The $700 million project would take down four 5,000-square-foot soundstages and build five new, 20,000-plus square-foot soundstages. When the project is complete, Paramount will have 27 soundstages. It has 30 now.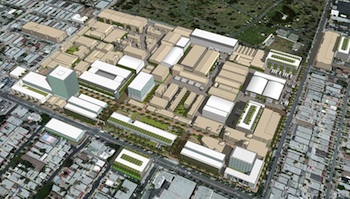 According to Paramount, the project is designed to bring production and support facilities closer together and "to improve collaboration and streamline operations." The facilities will include up-to-date soundstages and high-tech post production facilities and a Leadership in Energy and Environmental Design (LEED)-certified headquarters building.
It also aims to upgrade amenities such as gathering spaces for employees, parking facilities and production "basecamps."
In the illustration above, the white buildings are new and the tan buildings are existing. The green space behind the lot is the Hollywood Forever Cemetery.
Before work begins on the 56-acre lot — and six smaller, surrounding parcels, Paramount must get city approval.
The process includes an environmental impact report, which must address how the project will affect land use, traffic, access and parking, public services, noise, employment, housing and population.
Paramount already is building a case for the project. It says it will create 12,600 jobs and generate $3.1 billion.
Paramount is the only major studio still in Hollywood and is, according to the studio, Hollywood's biggest employer, with about 5,000 people.