Jon Stewart and Stephen Colbert have been purposely vague on specifics about what they have planned for this weekend's "Rally to Restore Sanity and/or Fear" in Washington.
Comedy Central has been, too. (The network isn't even saying how many people it's expecting to attend Saturday's event on the National Mall — and would only disclose that they indeed, finally, have a permit.)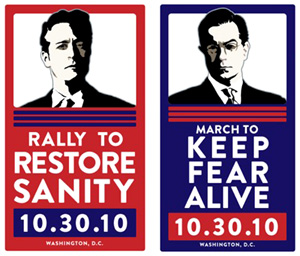 But the National Park Service, apparently exhausted from all of the media interest, has leaked what was on Comedy Central's 60-page permit application.
It amounts to a preliminary lineup — the Roots, Jeff Tweedy and Sheryl Crow are listed among the scheduled musical acts — though I'm sure there have been plenty of additions and subtractions since it was filed in September.
One person who isn't expected to attend is President Obama. On Saturday, Obama — who is slated to appear as a guest on Wednesday's "Daily Show" — is scheduled to appear at a real political rally at a minor league baseball stadium in Bridgeport, Connecticut.
Here's the Park Service leak (via CSM):
10:00 a.m.: The pre-pre-show begins with videos and music on the jumbotron to keep the gathering crowd friendly and entertained.
Noon: The pre-show starts with a performance from the Roots.
12:40: A comedian (to be determined) warms up the audience.
12:57: A video countdown with a show introduction.
1:00: The show kicks off with the national anthem by a musical guest (to be announced).
1:05: Mr. Stewart welcomes the crowd.
1:20: Mr. Colbert enters, and two actors — Don Novello and Sam Waterston — perform readings.
1:40: Jeff Tweedy and Mavis Staples perform for 10 minutes, followed by Stewart and Colbert until 2 p.m.
2:15: Sheryl Crow performs for five minutes, followed by speakers and guests (to be determined).
2:30: Musical guests (also still being lined up) come on.
2:40: The show turns to a pre-taped sequence — The Sanity and Fear Awards.
[More details can be found here.]