"Note" the 2 Mouseketeers
She's vibing more Snooki than her "Mouseketeer" tee, but did they have to leave the anti-theft cord on?
Christina Aguilera (left, with Matt Rutler) checked out Dr. Dre's new savior of hip hop Kendrick Lamar and the new Samsung Galaxy Note II mini-tablet at the West Coast launch party.
The same week that Apple unveiled it's iPad mini, the "next big thing" proved it's already here (and there) with back-to-back launch parties in NYC and Beverly Hills.
The event team arrived at Thursday night's party on no sleep from a companion Kanye West-headlined event in New York City the night before. (Right, the NYC event drew 400 press.)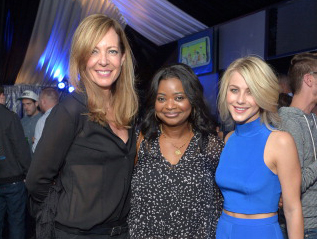 Despite a big screen, the batteries were still alive, as PMKBNC's Brent Mullins tucked the still glowing "phablet" in his shirt pocket on the grounds of designer Kelly Wearstler's on-the-market mansion ($39 million asking price).
Right: Allison Janney, Octavia Spencer and Julianne Hough in the brand's official color.
Vanessa Hudgens showed off a glam take of "Disney alum" status.
Everybody Loves Peter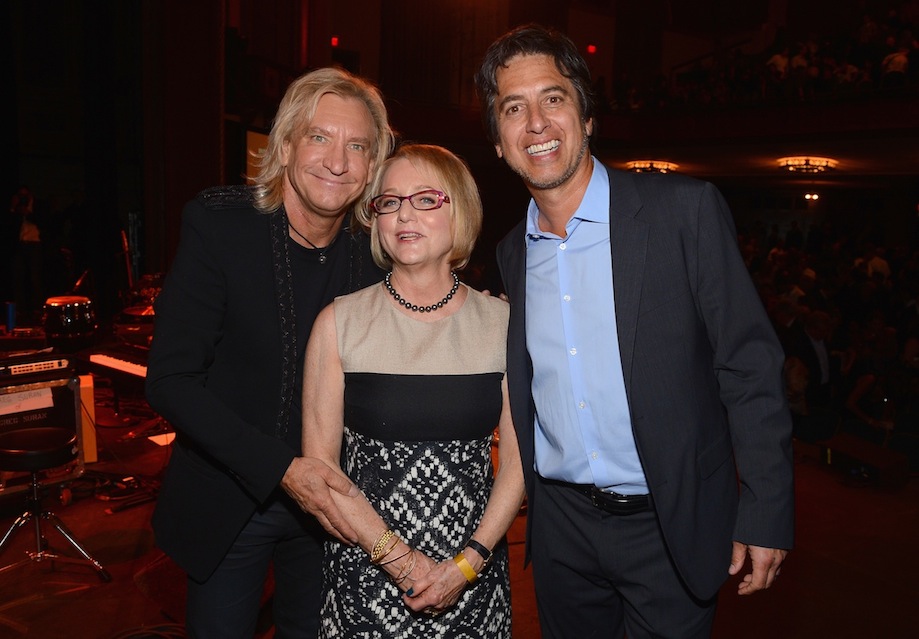 At the Wilshire Ebell Theatre in Hancock Park on Saturday night, Ray Romano returned as host — 6th year in a row — for the International Myeloma Foundation's Comedy Celebration.
Left: Joe Walsh, Peter Boyle's widow and event chair Loraine Boyle, and Romano.
Walsh was the odd man out as the non-comedy performer in the crowd that included Jeff Garlin, Gilbert Gottfried and Fred Willard amongs others.
The night also served as a tribute to the late "Everybody Loves Raymond" star Peter Boyle. His widow Lorraine Boyle put together the annual night of laughs in his memory and to support global collaboration on blood cancer research.
Right: Blythe Danner and "American Horror Story's" Lily Rabe.
Pink Season
Meanwhile, over at Hangar 8 in Santa Monica, Michelle Pfeiffer hosted the "Pink Party" helping to haul in $1.6 million for the Cedars-Sinai Women's Cancer program, also on Saturday night.
Before October ends and the sea of pink for Breast Cancer Awareness month that has appeared everywhere (including the Las Vegas Speedway turning pink and pink accents on NFL uniforms) recedes, designer Elyse Walker put the message front and center one more time.
With Olivia Munn, J.J. Abrams, and a crowd heavy on style, there was an 80s-look fashion show including Stella McCartney and Valentino.
Home Bass
Hometown hero Jack White (The White Stripes) hit the field during batting practice in Detroit before Fox's broadcast of World Series Game 3 on Saturday afternoon, as tweeted by the Sports Business Journal's Eric Fisher. (Photo by @EricFisherSBJ)
"Funny or Die" to Marriott: Can we Water Your Lawn?
At first glance, "Funny or Die" choosing the Marina del Rey Marriott to be their host-partner for a comedy showcase felt like a joke everyone was missing.
Turning a new page, the relatively conservative hotel chain welcomed headdress-wearing dick joke-tellers (Kristen Schaal, left) and comics who copped to self-watering the hotels' lawns (TJ Miller) on October 24.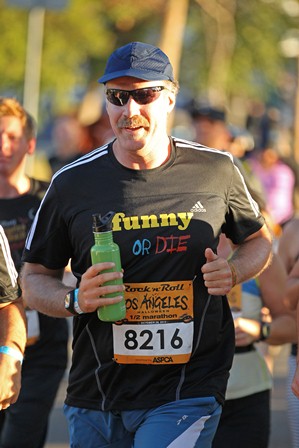 Meanwhile, "Funny or Die" sovereign Will Ferrell completed the L.A. Rock 'N' Roll Half Marathon (13.1 miles) in 2:03:49 on Sunday. His Ron Burgundy mustache finished a half-second quicker.
Downtown (Gravy) Train
As promised by HSN CEO Mindy Grossman at TheWrap's media conference "TheGrill" earlier this month, Rod Stewart's live concert/sales "experience" on the network broke records Friday night.
They sold seven albums a second to HSN's predominantly female audience, topping 25,000 in one hour.
Finally, a week before "Wreck-it-Ralph" premieres, lead voice John C. Reilly went live-action ready to say "awesome" and "great job" to Tim Heidecker ("Tim and Eric Awesome Show, Great Job") at an advance screening of Heidecker's "The Comedy".
Vince Gilligan also got early eyes on the film.
Photo credits: Christina Aguilera, Vanessa Hudgens – Jason Merritt / Getty Images for Samsung. Janney/Spencer/Hough and Hudgens/Aguilera by Charley Gallay/Wireimage. Funny or Die courtesy of Marriott. Will Ferrell courtesy of Andrew McClanahan / PhotoRun.net.