George Clooney and Neil Diamond's Duet
Neil Diamond took his show to the people, including man-of-the-night George Clooney at the 26th Carousel of Hope Ball at the Beverly Hilton on Saturday night, the prototype "charity-ball" thrown every other year for childhood diabetes.
Earlier in the night, Clooney introduced girlfriend Stacy Keibler to the belle-of-the-ball, host Barbara Davis.
Clive Davis, no relation, served as music director alongside Quincy Jones (left).
With Berry Gordy in the mix (second from right), and a performance by Kenneth "Babyface" Edmonds, there was career-altering producer power pitching in.
Jay Leno emceed the night, at which Davis oversaw a distinctly more upbeat atmosphere at the Beverly Hilton than his pre-Grammy party that was held in the same space, during the investigation of Whitney Houston's death upstairs.
Christina Hendricks: Drinks Before Work
It's back to work on "Mad Men" this week for Christina Hendricks, who was heard saying she had just gotten the first script Wednesday night.
The next day, Hendricks (with a "whiskey-master," left) slipped in to another role as the global ambassador for Johnnie Walker at the House of Walker in Bel-Air.
Maria Shriver on Being "Humbled, Brought to My Knees."
"When I've been humbled and brought to my own knees, it's been (honoree Rob Lowe's) friendship, loyalty, and spirit that lifted me up," Maria Shriver said while making an unannounced appearance at Anti-Defamation League Entertainment Industry Awards Dinner.
"He's someone who knows what it's like to be knocked down, maligned, and misunderstood."
"Rob loves his sons so much," Shriver continued, "that when his son went off to college, Rob had to be reminded that he didn't go to Afghanistan, he went to Duke."
Right: ADL's Amanda Susskind, Lowe, host Janina Gavankar, co-honoree David Weil and the ADL's Seth Gerber.
Speaking to the ADL's mission beyond anti-semitism as the No. 1 non-governmental law enforcement trainer (for hate crimes), Lowe copped to being a bullying victim growin up in Ohio. "This was before 'Glee' made kids like me cool."
Anschutz Film Group CEO Weil followed Lowe by quipping, "We're both Santa Monica High School grads and twins separated at birth – he got the higher profile career, I got the looks."
One guest joked to Fox boss Jim Gianopolus, "You're the only greek guy allowed in here."
11 Years Canceled, But Still #1
"Christopher Gorham and his wife raised $4,000 in twenty minutes," an organizer of AIDS Walk LA tells TheWrap of how he and Leslie Bibb's plan earned the long-canceled "Popular" the top spot in competitive industry fundraising at the industry-heavy event on October 14.
Above, Sophia Bush hugs Bibb, as Michael Urie and Andrew Rannells look on.
Gorham and Bibb hijacked the cause for a "Popular" reunion, the short-lived Ryan Murphy WB series from the Y2K era in which they starred. It was the first time many of the cast had been together in over 11 years.
"Popular" topped all industry teams to raise over $31,000, part of the $2.9 million Sunday morning haul. The cast of MTV's scripted "Awkward" tried to hang in by personally auctioning off Skype chats.
There were teams from NBC Universal, DreamWorks Animation, Paramount, ABC 7, Getty Images, Sunshine Sachs, Team "Price is Right."
LA City Councilman Dennis Zine with "Price is Right" host Drew Carey at the walk.
Brunch Table for 800, Ron Burkle-Style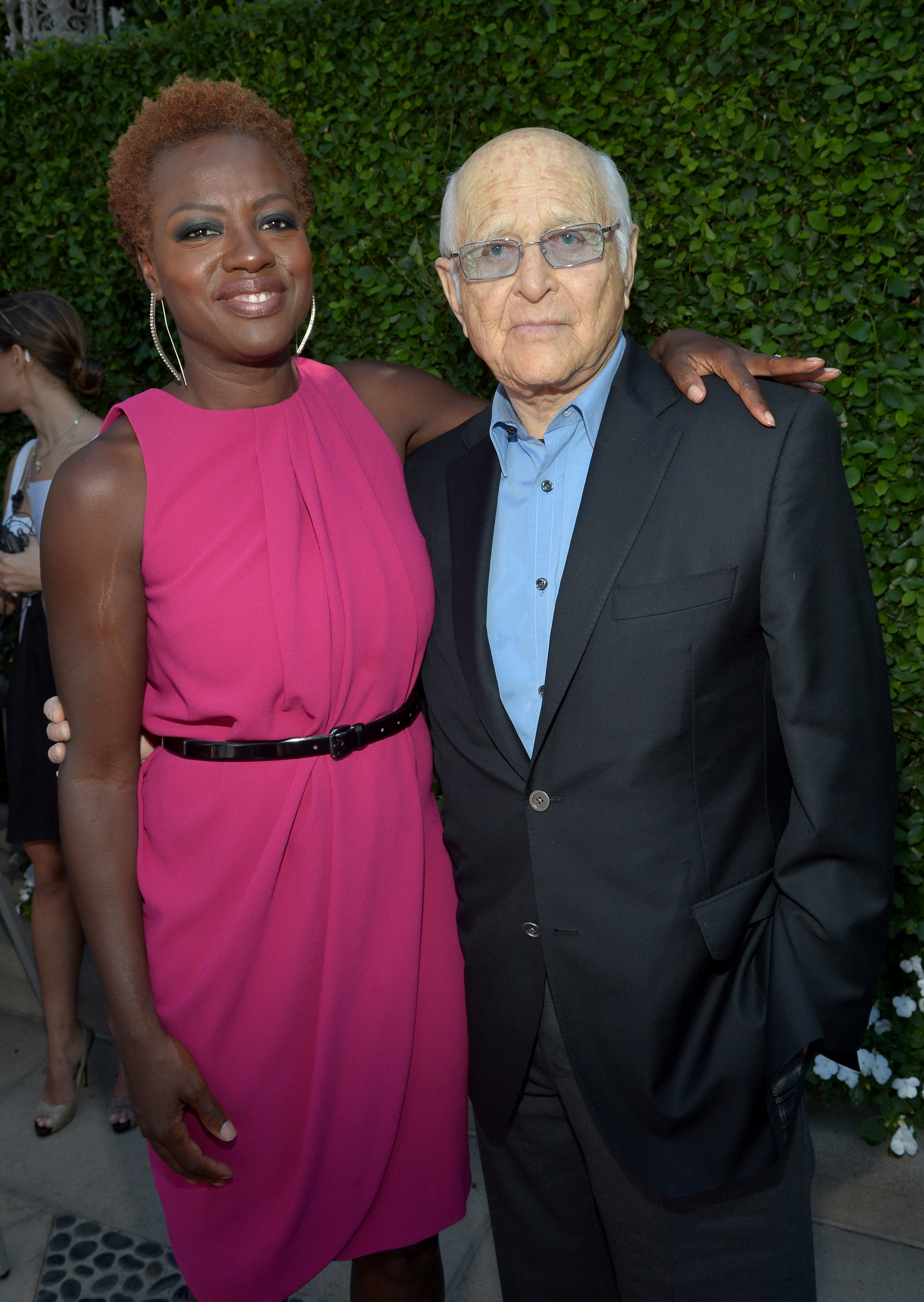 Ron Burkle opened the gates to his Bel Air mega-estate Green Acres for an 800-person brunch, benefitting the Rape Treatment Center.
(The LA Times referred to the powerhouse this way: It is "to contemporary political fundraising what Versailles was to European royalty.")
Viola Davis hosted the tribute to Norman Lear (left, together), building on her relationship with the Santa Monica-UCLA-based center that began when she prepared to play a victim's counselor in the David Schwimmer-directed "Trust."
It was Sophia Bush's second event of the morning after AIDS Walk, as she serves on the board alongside Schwimmer and Eric McCormack (right), John Varvatos, and Jayma Mays among others.
Tough Guys Need Dance Too
Two tough guys — Nester Serrano and "Breaking Bad's" Dean Norris — at the CoachArt performances at the Beverly Hilton, as Molly Ringwald buddied up with one of CoachArt's youth beneficiaries on Thursday night (below).
Photo Credits: Carousel of Hope by Christopher Polk/Getty Images. AIDS Walk photos by Todd Williamson/Invision/AP. ADL by Michael Kovac. CoachArt photos by Invision.