Jimmy Kimmel welcomed his Thursday night guests Zach Galifianakis and Nicole "Snooki" Polizzi out to his annual Feast of San Gennaro, an Italian carnival and food festival in the concrete backyard behind his studio. Adam Carolla and Precious Cheese co-hosted the event.

As "The Office" premiered on NBC, John Krasinki took over the celeb corner where David Arquette (and a giant white teddy bear he won for his daughter Coco) had been planted earlier. Arquette hung with his business partner, showman Jeff Beacher, in the shadow of the Roosevelt Hotel. The two are curiously producing Beacher's live show as a Vegas-style headliner at the hotel under a five year deal.

Screenwriter Aaron Sorkin and "The Social Network" stars Jesse Eisenberg and Armie Hammer hit the Harvard campus for a special advance screening on Wednesday. As Facebook emerged from founder Mark Zuckerberg's dorm room on the campus in 2004, Sorkin discussed visiting the campus and consulting Natalie Portman (Harvard '03) for accuracy, according to Eric Newcomer who was on scene for the Harvard Crimson.

Down in New York, Oliver Stone was blinded by the star power – both affiliated and out in support – at the premiere of "Wall Street: Money Never Sleeps" at the Ziegfeld on Monday. At left, the director with Carey Mulligan.


Co-stars Josh Brolin and Susan Sarandon, and Fox chairman Tom Rothman were joined by famous fans Catherine Zeta-Jones, Brett Ratner, Brian Williams, and Barbara Walters.

Meanwhile seven blocks down in Times Square, NBC premiered the new action series "The Event." Based on the strong reception nationally, NBC could afford the few hundred viewers siphoned off the ratings. They even sprung for popcorn. (Photo courtesy Brian Friedman.)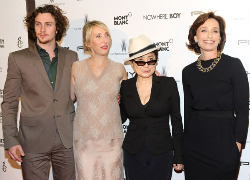 Yoko Ono supported The Weinstein Co.'s premiere of "Nowhere Boy," a story of John Lennon's childhood in Liverpool. At left, young Lennon (Aaron Johnson), director Sam Taylor-Wood, Ono, and Kristin Scott Thomas at the Tribeca Performing Arts center on Tuesday.
Back in L.A., Aisha Tyler proudly celebrated her 40th birthday at the Vibiana downtown last weekend, site of the "Entertainment Tonight" post-Emmy party. At left, Rebecca Mader made the Grey Goose hosted bash that ended up doubling as a welcome-home party. Tyler had been shooting in Toronto — separate from the festival – and making appearances at New York's Fashion Week.

As we flip the calendar to October, Esquire returns its eye-catching house and event space from New York to "the bird streets" neighborhood above Sunset. This year's nine-bathroom "Ultimate Bachelor Pad" features a $200,000 flight simulator created by Luxurious Animals and a $500,000 recording studio. Top sponsors include Hugo Boss, Ferragamo, rum maker DonQ, and Heineken. Sienna Miller, Jude Law, and Felicity Huffman host the kick-off event on Oct. 15, a benefit for the International Medical Corps.