The cast of "Jersey Shore" were ubiquitous at MTV Video Music Awards events across town this weekend, but when they were running on empty late Sunday night and wanted to unwind after the show, they all hit In Touch magazine's "Icons and Idols" party at Bar Marmont.

"I think that whether or not we were having this party, a lot of the celebs would just come naturally to the Chateau anyways, so this is the perfect venue to have this," the gossip weekly's editor in chief Michelle Lee (pictured at left with Nicole "Snooki" Polizzi) told TheWrap. About 12 paparazzi already knew that, and were waiting separately at the hotel entrance around 12:25 a.m. The gift bags inside contained a promotional tee-shirt for Adrien Grenier's doc "Teenage Paparazzo" starring their colleague Austin Visschedy, a discovery that drew laughs from the shooters cooling their heels and barred from sampling the complimentary Fatburger truck nearby.

Neither Lee, nor fellow attendees Dane Cook, Craig Robinson, and Mark Salling (among others) were at all surprised by the tidal wave of fascination with reality personalities, even within the industry community. "Nowadays consumers are savvy to the fact that Hollywood stars, some of the A-list stars, have this 'spin' that they give on things. Whereas (with) reality stars, sometimes they open their lives so much more and its so raw and so real that people really appreciate that now," Lee said.

One cross-over couple in attendance has a foot in both genres –actor Michael Clarke Duncan and girlfriend Omarosa Manigault-Stallworth – also weighed in on the genre's pop culture dominance. (Omarosa was a two-time contestant on NBC's "The Apprentice," who fought constantly with fellow contestant Piers Morgan.) "I think it shows the power of 'The Apprentice' franchise that folks can go from that and take Larry King's job. But in true Piers form, he will self destruct, and I am going to watch with popcorn," Omarosa told TheWrap.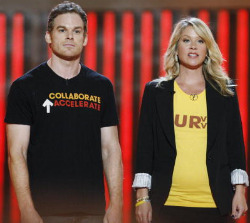 There was a different caste (and cast) of big names at Sony for the "Stand up to Cancer" telethon on Friday night. The 18-network simulcast drew talent as diverse as the networks and cable channels that simulcast the fundraiser. Neil Diamond, Tony Hawk, MLB commissioner Bud Selig and Vanessa Hudgens on one hand, a virtual celebrity medical wing with Drs. Drew Pinsky, Mehmet Oz, and Sanjay Gupta in another, and Jon Heder, Kareem Abdul-Jabbar, and Ryan Seacrest finding common ground at the event that gave 100% of donations directly to accelerating cancer research. At right, Michael C. Hall and cancer survivor Christina Applegate.

North of the border, countless TIFF events kept talent and festival goers out late. "The Conspirator" was one of uber-sponsor BlackBerry's hot tickets over the weekend. Director Robert Redford and cast members Robin Wright, James McAvoy (with Redford, at right), and Kevin Kline celebrated at the Vitamin Water backyard on Saturday night. The night before, Bill Murray, Vanity Fair editor Graydon Carter, Jon Hamm, and Jennifer Westfeldt were at Buca for the Mickey Rourke-Megan Fox film "Passion Play" after-bash.

Meanwhile back in L.A., a music heavy crowd including Mary J. Blige, Timbaland, Drake, and Jimmy Iovine crammed in to the elusive (and exclusive) back room at Trousdale for Taraji P. Henson's birthday on Saturday night.

Also on Saturday night, after returning to the field after a long injury recovery, David Beckham made it in time to make Esquire's "Power Player" dinner. Beckham naturally skipped the shuttles for the massively crowded, massively popular House of Hype (that other celebs had to ride) and got the hard-to-come-by drive-on for his Range Rover.

After the slight over-run on Sunday evening's MTV VMA telecast, host Chelsea Handler held her own encore at Teddy's at the Roosevelt. Aziz Ansari (who handled June's MTV Movie Awards) met fellow comic Dane Cook for the first time at the late-night party, while Florence Welch (of Florence and The Machine) played DJ for fellow musicians Jared Leto and Ryan Cabrera.

Some chummy texting between skater/TV personality Rob Dyrdek and teen pop sensation Justin Bieber led to the teenager making a surprise appearance at the Halo: Reach premiere party on Wednesday night.

After hip hop artist B.O.B. performed a cover of "The Kids Don't Stand a Chance" for a few hundred guests inside "The Fantasy Factory" (Dyrdek's indoor skatepark/corporate HQ) the mop-topped singer ducked in quietly. However, his blatantly huge security guards gave him away and led to a lot of craned necks. Michelle Rodriguez remained obliviously glued to the game, perhaps because some of the graphics looked just like the CGI planet Pandora in "Avatar." All guests got an advance copy of the sought-after prequel that goes on sale to the general public Tuesday.