It's been a packed seven days of all sorts of "Parties & Premieres" here in Hollywood, as Oscar Week is finally here, after what seemed like a full year of studios campaigning via special events for Academy Award glory. Ironically, two of the biggest things that happened were TV events as the casts of both "Ted Lasso" and "House of the Dragon" hit Tinseltown to remind everyone that movies are definitely not the only thing people watch these days. Fabulous women were feted all over town, fashion was at the forefront and the Irish contingent partied hard in the name of Oscar Wilde, one of history's all-time party lovers.
"Ted Lasso" Season 3 Premiere
Village Theater, Westwood
Apple TV+ transplanted the "Ted Lasso" cast from London to L.A. and had a huge bash in the heart of Westwood to commemorate the Season 3 drop (on March 15). Everyone (except Juno Temple) jumped at the chance to hit Hollywood as Oscar week began, including gorgeous Hannah Waddingham, who dressed to kill, along with Jason Sudekis, whose white tie and track jacket ensemble had us slightly mystified.
Brett Goldstein sported his habitual black-on-black suiting, Brendan Hunt went with a brown suit paired with an Aloha shirt and Cristo Fernandez looked especially sharp, as he happily quoted his mantra, "Futbol is life!" while sporting a monochromatic cranberry suit and shirt.
Apple chief Tim Cook hosted the bash, as they unspooled a sneak peek at the new season, joined by many of the rest of the leading cast, including Jeremy Swift, Phil Dunster and the absolutely adorable Toheeb Jimoh.
For our thoughts on the new season, read TheWrap's review here.
"House of the Dragon" Special FYC Screening
DGA Theater, Los Angeles
"House of the Dragon" roared into Hollywood this week with a special FYC screening at the DGA Theater, officially getting an early start on its Emmy Awards campaign – a week before Oscars!
The packed-to-the-gills audience delightedly took in the show's first season episode "The Lord of the Tides" on the big screen and then the real fun began. "House of the Dragon" co-creator and showrunner Ryan Condal gave a hot teaser for what's to come in the fantasy series' Season 2 installments. Living up to its namesake, he said there are more fire-breathers on the way
"You're going to meet five new dragons," he teased at the end of a sprawling Q&A, amusingly moderated by "Frozen" star Josh Gad. (And yes, the actor did slip in a reference to his beloved Olaf.) 
Joining Condal and Gad were "Game of Thrones" scribe and "House of the Dragon" executive producer George R.R. Martin and a jaw-dropping lineup of the series' top-billed cast: Rhys Ifans (Otto Hightower), Eve Best (Rhaenys Targaryen), Steve Toussaint (Corlys Velaryon), Fabien Frankel (Criston Cole), Matt Smith (Daemon Targaryen), Olivia Cooke (Alicent Hightower), Paddy Considine (King Viserys/Targaryen) and Emily Carey (young Alicent Hightower).
So while it may seem early to launch "Dragon" into its Emmys flight, it was a particular treat to see the main cast and creatives together in L.A. before Season 2 production (which begins "very shortly," Condal promised) packs their schedules.
Martin, meanwhile, assured that he's hard at work on the franchise's next fantasy novel. "The pressure of trying to follow the original series is nothing compared to the pressure of trying to finish the novel," Martin said. "That has me sleepless at nights. The show? That's Ryan's problem." – Benjamin Lindsay
"Bono & The Edge: A Sort of Homecoming, with Dave Letterman" World Premiere
The Orpheum Theater, Los Angeles
Whether you're a fan of U2 or a fan of David Letterman, it's exhilarating to watch Bono and The Edge fangirl out on Dave; and Dave fangirl out right back at them.
At the Orpheum Theater World Premiere of "Bono & The Edge: A Sort of Homecoming, with Dave Letterman" it was a total lovefest when Bono, The Edge, Letterman and Academy Award-winning director Morgan Neville took to the stage to the standing ovation and cheers of the fan-filled audience.
"This started in such a funny way," Neville explained of his special. "Justin Wilkes called me said, 'Bono and The Edge want to do something unusual with David Letterman, are you interes–' Yes! Yes. It took about that long. We didn't know where it was going to take us, but we knew it would be meaningful and deep, funny – and it took us to Dublin. It delivered on all those things."
Letterman, who was visibly emotional after seeing the completed Disney+ "docu-special" for the first time, had a lot to say. "Let me wax or perhaps wane poetic here. I've been in television since I was 18 and at this stage of my life to have been a part of this, what a gift. What a lovely piece of work. I'm so pleased, so proud. I don't know how it happened exactly, I don't know why it happened, but this kinda makes the first 35 years of being in television well worth the effort. It's a remarkable achievement."
Bono in turn waxed ecstatic about collaborating with the late-night comedy king. "The thing that Dave brought, he brought the comedy to the tragedy. There's a reason Willy Shakespeare loved that form. Our music is just better with him around, I thought. The music was better itself just by him being in the room taking the piss out of us," Bono said with a laugh.
At the tented after party, producer Brian Grazer, musician Herbie Hancock,
impressionist Matt Friend, model Eugenia Kuzmina (in a magnificent Sue Wong gown), comedian Steve Glickman and a abundance of young Disney+ stars hobnobbed over Shepard's pie, Irish whiskey and Guinness, lots and lots of Guinness.
Viewer tip: Watch until the very end of this wonderful film to see Dave's prodigious proboscis take on Dublin's Forty Foot swim challenge! – Jeff Peters
TIME Magazine's 2nd Annual Woman of the Year Gala
The Four Seasons Los Angeles at Beverly Hills
In the words of TIME magazine's newly minted CEO Jessica Sibley, "the world's most influential disruptors, defenders, activists, advocates, artists, creators, philanthropists, athletes and executives" joined together at the Four Seasons Los Angeles hotel for the second annual TIME Women of the Year Gala.
"You are all driving change and making history," Sibley told the well-heeled crowd over a beautifully plated meal of compressed watermelon and feta cheese salad and a miso-marinated black cod entree. The occasion brought out not only Hollywood's biggest names – among them 2023 honorees Cate Blanchett, Angela Bassett and Quinta Brunson – but the world's most exciting and fearless activists leading the way toward gender equality.
Rounding out the Women of the Year honorees for TIME's centennial were musician Phoebe Bridgers, soccer star Megan Rapinoe, professional boxer Ramla Ali, activist Ayisha Siddiqa, Iranian journalist Masih Alinejad, activist Olena Shevchenko, Suntory Beverages CEO Makiko Ono, reproductive rights activist Verónica Cruz Sánchez and Brazil's minister of racial equality Anielle Franco.
"I must admit, I am completely and utterly humbled and overwhelmed to be in this room, to be in a room with so many heroes, heroines," Blanchett said as she took the mic for a moving, nearly 10-minute speech – which she preceded by exclaiming that she was "so stressed I even took off my bra!"
Blanchett was the last honoree to speak prior to Bridgers' stirring performance of "Kyoto" and "Emily I'm Sorry"; all those in attendance were asked to make a toast, with Brunson raising a glass to laughter, Rapinoe to the trans community and so on.
Reflecting on the speakers before her and the hope she holds for the future, Blanchett concluded that her next move is to continue listening.
"My job really is as a storyteller," she said. "And to be a good storyteller, you really need to listen to the stories that are not being told." – Benjamin Lindsay
ESSENCE 16th Annual Black Women in Hollywood Awards
Fairmont Century Plaza Hotel, Century City
What a celebration of Black female excellence! ESSENCE Magazine celebrated its 16th Annual Black Women in Hollywood Awards with a luncheon honoring Gina Prince-Bythewood, Tara Duncan, Danielle Deadwyler, Dominique Thorne and Sheryl Lee Ralph. Hosted by Boris Kodjoe, it drew a multitude of powerful Black women and men, from Quinta Brunson, Viola Davis, Ryan Coogler, Daniel Kaluuya, Storm Reid, Yara Shahidi and Marsai Martin to Niecy Nash-Betts, Lena Waithe, Beverly Johnson, Karrueche Tran, Teyana Taylor and more.
Los Angeles mayor Karen Bass took the stage and spoke about the beauty and power of Black women. "We are powerful, and have fought to be seen," she said. She also gave the audience an update on her tackling the unhoused crisis in Los Angeles that especially affects the Black community.
Next up with impactful speeches were Danielle Deadwyler and Viola Davis, who both had something to say about their Oscar snubs – in subtle ways. Deadywler was pretty forthright, saying, "Black women are overlooked, and we have seen that this awards season," while Viola Davis also subtly addressed her Oscar snub for the film "The Woman King."
"This film has power and as we can see this awards season, we had to fight a lot of battles as Black women," she said. Host Boris Kodjoe joked on stage about the Oscar snubs, adding, "If I had an Oscar, I'd give it to you right now, Danielle!"
The music at the event brought people out of their seats to have fun, mingle and dance. The house DJ played iconic hip hop and R&B songs from past and present, but the biggest musical moment of the afternoon was when singer Chloe Bailey debuted a new song that one guest deemed "Inspiring."
The celebration ended with an awe-inspiring speech from Sheryl Lee Ralph that erupted with a standing ovation. Including other attendees like Lisa Anne Walter, Vivica A. Fox and Tina Knowles. We caught up with Tina Knowles (who is also Beyonce's mom) and asked her when fans will be getting a new Beyonce music video. She just smirked and sarcastically gave a playful shrug, so sadly no scoop on that. – Elijah Gil
17th Annual Oscar Wilde Awards
Bad Robot, Santa Monica
You didn't have have Irish blood to make the jam-packed scene at the 17th Annual Oscar Wilde Awards, one of Oscar Week's most popular awards parties, but it certainly didn't hurt, as Gaeilge was definitely spoken throughout the night's festivities. Held at J. J. Abrams' Bad Robot production offices, where the non-Irish producer-director also hosted, the place was packed with familiar faces who sipped Writers Tears Irish Whiskey (our favorite whiskey moniker ever) and pints of Guinness, which helped keep them warm on the distinctly chilly rooftop where the main party raged, especially after the awards presentation, when The Coronas played a lively set.
The awards, which celebrate the U.S.-Irish Alliance that works to keep film productions and other collaborations happening between the two countries, went to three talented Irish women this year – Oscar nominees Jesse Buckley ("Women Talking") and Kerry Condon ("The Banshees of Inisherin") and star of "Bad Sisters" Eve Hewson – and to director Colm Bairéad and producer Cleona Ní Chrualaoí of "An Cailín Ciúin" ("The Quiet Girl"), Ireland's first Irish language film nominated for the Best International Feature Film Academy Award this year.
And in the most honest speech we've heard in this long awards season run-up to Oscar Sunday, Jesse Buckley made the sardined-in crowd laugh as she cracked, "I find these things a bit bewildering. I usually get kind of squashed like some kind of sausage into a dress and can't wait to get home and have chips and tequila, and put my pajamas on!" For the record, she wore a lovely white ensemble that looked pretty comfortable.
Unlike past years, many of the celebs who made the scene – think presenters like Charlie Hunnam, Rhea Seehorn and Sarah Polley, along with U2's Bono, Courtney B. Vance, Roma Downey, Mamie Gummer and more – spent their time cordoned off in private areas, making for an elite scene that didn't quite feel like the Irish egalitarianism we're used to at this longstanding pre-Oscar bash.
Australian Oscars Nominees Reception
Chateau Marmont Penthouse, Los Angeles
A bevy of Gold Coast-kissed blondes fleshed out the swanky Chateau Marmont penthouse Thursday evening to toast the top-tier Australian nominees going into Sunday's 95th annual Academy Awards.
With 12 nominees across nine categories, the Aussie reception was headlined by a head-turning, glittery appearance from "Tár" nominee Cate Blanchett (nominated for Best Actress). But the bulk of the film industry heavyweights in attendance were celebratorily imbibing to the success of "Elvis," the latest from filmmaker Baz Luhrmann. Luhrmann himself was in attendance with wife and creative partner Catherine Martin, who personally helped corral the crowd flowing out to the penthouse balcony back inside the suite for an event-capping toast from Jane Duke, Consul-General Los Angeles.
She proclaimed that the purpose of projects like "Elvis," "Tár" and Lachlan Pendragon's Oscar-nominated short "An Ostrich Told Me the World Is Fake and I Think I Believe It," is "to expose and to explain and represent our external worlds, real or imagined with the power to move hearts and minds.
"The Australian government and I . . . are committed to a domestic screen sector and nurturing our homebrand talent," she continued, adding that the nation values "the enormous uptick in international screen production in Australia over the last number of years, which has given local practitioners the opportunity to forge long-lasting careers and international success."
Passed hors d'oeuvres and an open bar kept the crowd loose and chatty into the night, and all guests parted with a gifted copy of the "Red Carpet: Oscars" book from Aussie fashion writer Dijanna Mulhearn, featuring a foreword by Cate Blanchett and an introduction by Giorgio Armani. – Benjamin Lindsay
Green Carpet Fashion Awards
Neuehouse Hollywood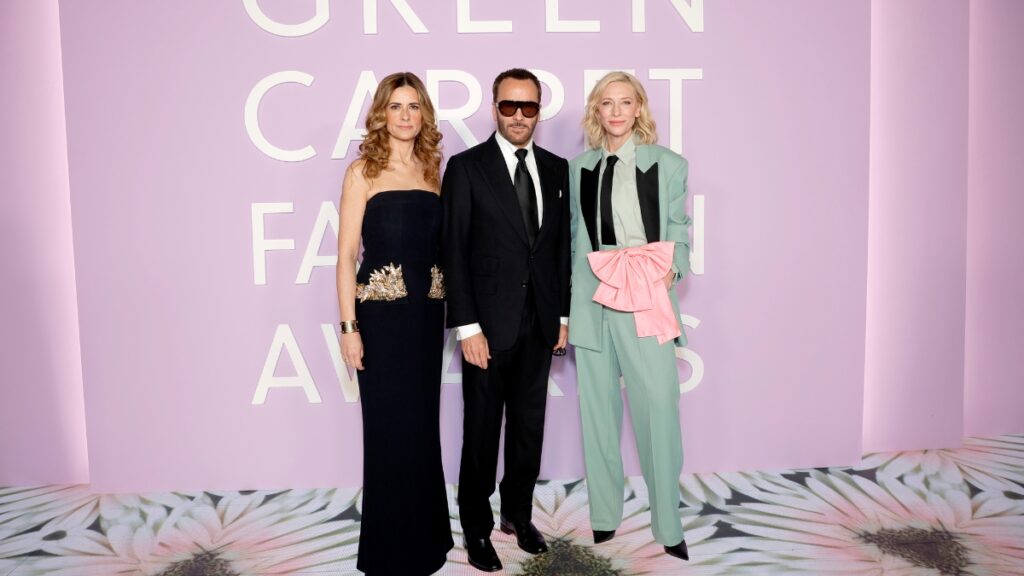 The Green Carpet Fashion Awards (GFCA) descended on Nuehouse Hollywood and brought out a host of exquisite fashion-forward looks. Honoring fashion titans like Tom Ford and British Vogue editor in chief Edward Enninful, this was one party where everyone brought their sartorial A-game. From glittery long golden gowns to lime green pantsuits with big pink bows (Cate Blanchett), the evening was celebrating the unification of the power of fashion and entertainment to create positive transformation for the environment.
Fashion powerhouses like Heidi Klum, Jodie Turner-Smith, Halima Aden and Naomi Campbell mingled with some of the biggest names in entertainment including honoree Alicia Silverstone, Cate Blanchett and Leonardo DiCaprio. DiCaprio presented an award to Sônia Guajajara, the minister of Indigenous Peoples of Brazil, who gave an inspiring speech via a translator and spoke about protecting the earth, rightfully insisting, "The fight for mother earth is the mother of all fights."
Alicia Silverstone was pleased with the all-vegan menu of the evening, going so far as to say, "If events don't offer vegan options, I will most likely decline – especially if they are green events!" She exhorted the actors in the crowd to join her in requesting their film and TV costumers to style them in recycled clothing to help protect the environment. "They love it when I ask this, because one, they know it's good for the earth and two, it saves them money!"
The evening ended with Annie Lennox taking center stage to celebrate "The Young Leaders," young women from all over the world who each gave a sentence to describe what protecting the earth looks like for them. The almost 20-minute segment concluded with a standing ovation and one guest saying what everyone was thinking: "Those young girls are the future in fashion." – Elijah Gil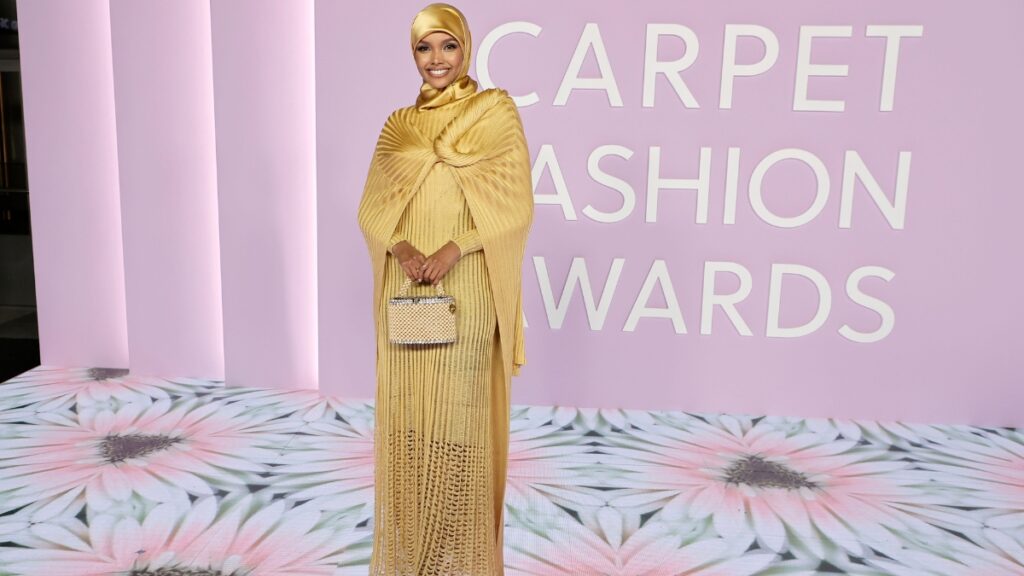 Please send all party/event invites to Jenny.Peters@TheWrap.com.