Who knew that Prince William was the president of BAFTA? If you didn't get that memo, he and Princess Catherine attended those glittery British film awards this week to remind us all, where mostly white people took home the top prizes and kept the status quo intact. Elsewhere, Jennifer Garner joined the cast of "Party Down" Season 3 after 13 years away; James Marsden did, too, and he also hit more big parties all over Hollywood; the Daniels kept rolling with the DGA prize; and new filmmakers were given a huge step up by Sony Entertainment.
75th Directors Guild of America Awards
The Beverly Hilton Hotel, Beverly Hills
The 75th Annual Directors Guild of America Awards celebrating directing in film, television and more rolled into Beverly Hills this week and brought out many of the biggest auteurs in the industry. Steven Spielberg, Daniel Kwan, Daniel Scheinert, Helen Shaver, Jason Bateman and Ben Stiller were just some of the nominees who attended the ceremony hosted by Judd Apatow.
Ben Stiller chatted with TheWrap, telling us what it meant to be nominated and recognized by his peers. "It's the best when your fellow directors acknowledge your work, so for me to have a chance to be around fellow directors that I admire, it's really fun and I love this," the "Severance" director explained.
Stiller lost out to "Euphoria" director Sam Levinson, while Bill Hader took home the TV comedy award for his work in "Barry." The big winners of the night were the Daniels (Kwan and Sheinert) for "Everything Everywhere All at Once," seeming to continue their charmed run toward Oscar night.
Chloe Zhao, Regina King, Paul Dano, Aubrey Plaza, Stephanie Hsu, Michelle Williams and James Marsden where also part of the glittery crowd, many of whom were presenters of the coveted awards.
We couldn't resist asking James Marsden if he would ever reprise his role as Cyclops in any "X-Men" multiverse films and he says he's ready for the right story.
"Yeah! That family, I miss it dearly and we created something special with the first couple of 'X-Men" movies, so yeah, I'd love to explore that." – Elijah Gil
EE British Academy Film Awards
Royal Festival Hall, London
Edward Berger's harrowing German-language war film "All Quiet on the Western Front" was named the best film of 2022 by the British Academy of Film and Television Arts (BAFTA), which presented its annual EE British Academy Film Awards at the Royal Festival Hall this week in London.
The film was a commanding winner at the BAFTAs, winning seven awards overall, including Best Director for Berger and Best Film Not in the English Language, as well as honors for its adapted screenplay, cinematography, sound and Volker Bertelmann's score. Martin McDonagh's black comedy "The Banshees of Inisherin" and Baz Luhrmann's "Elvis" each received four.
For much of the show, the BAFTAs appeared to be a showdown between "All Quiet" and "The Banshees of Inisherin," which was named Best British Film and also won awards for its screenplay and two of its supporting performers, Kerry Condon and Barry Keoghan.
In the lead acting categories, Austin Butler won for "Elvis" in a category that included his four fellow Oscar nominees: Brendan Fraser for "The Whale," Colin Farrell for "The Banshees of Inisherin," Paul Mescal for "Aftersun" and Bill Nighy for "Living." Cate Blanchett, who is on a nearly unparalleled winning streak this season, won the Best Actress award for "Tár." [For the complete list of winners, click here.] – Steve Pond
Sony Future Filmmakers Awards
Cary Grant Theatre at Sony Studios, Culver City
At the Sony Future Filmmaker Awards in Culver City, the heat lamps outside the Cary Grant Theatre were literally the hot spots of the night as neophyte nominees, Sony executives and industry powerhouses gathered around them to stave off the February L.A. chill.
But it was the exuberence and excitement surrounding these brand-new awards that really warmed up all the attendees. Created by Sony and Creo to recognize emerging talent in short films, Scott Gray (Creo CEO and founder) explained their goals, saying, "It was clear we needed to build a platform for filmmakers that genuinely provided them with an opportunity like no other, but one that also reached across divides, broke barriers, embraced diversity and pushed boundaries, rewarded creativity and ultimately gave access and understanding to the inner workings of this industry."
The process began with 4000 entries, which were shortlisted to 30 nominated films in six categories, with all nominees being flown from around the world to attend the awards as part of a bespoke three-day program including intensive workshops with Sony executives. Winners took home cash prizes, Sony video cameras and a sleek black ingot-like trophy.
Filmmaker Dan Thorburn, Fiction category winner for "Salt Water Town," was completely gobsmacked. "This is fecking bonkers! We have said all along we wouldn't win," he told us. "When we entered, when we were shortlisted, we said, yes but we'll never win. Now we've won. It's fecking bonkers!"
Unsure on the cold red carpet beforehand, the new award winners were all warmed up and ready to embrace each other and their new found recognition at the lively on-the-lawn after party catered by Wolfgang Puck.
Other award winners (and names to remember): Pedro Furtado (Brazil, "The Good Dolphins"), Daniela Lucato (Italy, "The Things You Don't Know About Me, Mom"), Seonghoon Eric Park (Republic of Korea, "In Cod We Trust"), Mateo Salas (Colombia, "The Sun of the River") and Pan Tianhong (China, "Homework for Winter Vacation").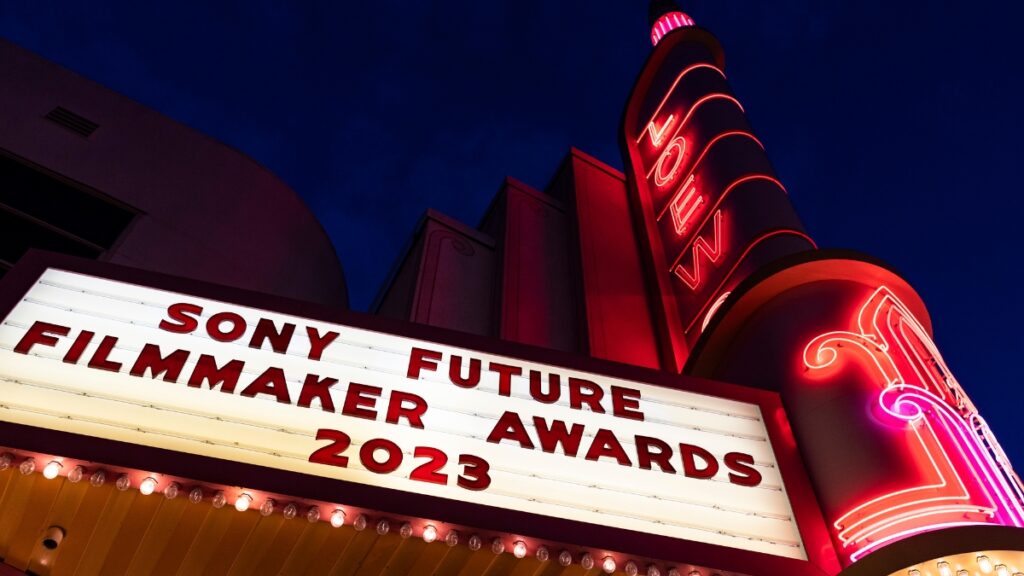 "Party Down" Season 3 Premiere
Regency Bruin Theatre, Westwood
The party is back on! The cast and crew of TV's cult classic "Party Down" got together for the show's Season 3 premiere. The cast showed up to the premiere (minus Adam Scott who is filming the second season of "Severance") and all talked about how great it was to be back.
Jane Lynch admitted to TheWrap that she's been trying to make this happen for over a decade. "I've wanted to come back for 13 years, we all have," she told us. "We had several aborted missions, we tried to make a movie, but it just didn't work out, but finally the stars aligned – no pun – and it all worked out."
James Marsden and Jennifer Garner have joined the cast for this new season, and Garner told us her three key essentials to a good party. "Good food, good people and good fun!" she laughed.
Happily returning to the "Party Down" fold are Megan Mullally, Ken Marino, Ryan Hansen and Martin Starr, who all hit the pink carpet along with former cast members Kristen Bell, Joe Lo Truglio, Ed Begley Jr., Andrea Savage and Daniel Franzese.
Everyone trooped off to the posh after party, too, held at Palazzo di Amore, the larger-than-life mansion in Beverly Hills. At the reception, cater waiters decked out in pink bowties served delectable treats, while guests also discovered a massive seafood tower, a pizza-oven station and (of course!) specialty themed "Pretty in Pink" cocktails. – Elijah Gil
"Daisy Jones & The Six"
TCL Chinese Theater, Hollywood
In 2018, Riley Keough came into Hello Sunshine President of Film & TV Lauren Neustadter's office and told her that she was born to play the fictional 70s rock singer Daisy Jones.
"That was the truth," Neustadter recalled, simply and admiringly, speaking to a sold-out audience of nearly 1,000 attendees at the "Daisy Jones & the Six" premiere in the heart of Hollywood. As were the rest of the cast, apparently, all born to play in a rock band. "When they began this journey, they were a group of actors. By the time cameras started rolling, they were a real band," she added.
Keough is best known for "The Girlfriend Experience," but she has the rock 'n' roll lineage (Elvis Presley was her grandfather) and leading-lady charisma to back up that claim. Making her first public appearance since the sudden passing of her mother Lisa Marie Presley last month, Keough and her husband, stunt performer Ben Smith-Petersen, were the night's center of attention, along with the other members of the new Amazon Prime Video original series' standout ensemble cast.
Based on Taylor Jenkins Reid's 2019 rock novel, the new series from showrunner Scott Neustadter co-stars Sam Claflin, Camila Morrone, Suki Waterhouse, Sebastian Chacon, Josh Whitehouse and Timothy Olyphant, who all made the scene styled in wardrobes that nodded to '70s glam rock.
All the guests were encouraged to partake in the throwback dress, causing more bellbottoms, cowboy boots, sequins, afros and Chelsea collars to stomp down Sunset to the after party than the Strip has seen since Whisky a Go Go's heyday.
Everyone was welcomed into the penthouse afterparty at the Andaz West Hollywood where the crowd formed in the luxurious space's two rooms designed with Laurel Canyon-meets-disco-diva decor. The cast and creatives, including Jenkins Reid and Neustadter's Hello Sunshine partner Reese Witherspoon, celebrated along with Hollywood notables including playwright Jeremy O. Harris and an incognito Robert Pattinson, along for the fun with girlfriend Suki Waterhouse. Everyone dined and twirled with themed cocktails like the tequila-infused "Aurora" and espresso martini riff "Up + Down" in hand as the party went on late into the night. – Benjamin Lindsay
"Sex/Life" Season 2 Premiere
Netflix Roma Theater, Los Angeles
On the day that hailstones hit West Hollywood, the stars of Netflix's erotic series "Sex/Life" braved the elements (it actually cleared up in time for their Season 2 Premiere event) to remind the world that the show is back with more steamy stories. They made their way across rain-soaked streets and downed palm-tree fronds to the Netflix Roma Theater, along with a VIP crowd invited for a first look.
Star Sarah Shahi, who's got the bonus of having found her real-life steady boyfriend in her co-star Adam Demos, is thrilled to be back. "It takes a lot of guts to create a show that centers on female stories and sexuality," she said. "What a privilege to be reunited with the creators and cast. I am forever grateful to have been the voice of [her character] the indelible Billie Mann."
Other sexy cast members joined in the celebration, including handsome newcomer to Season 2 Cleo Anthony, along with series regulars Margaret Odette, Wallis Day, Jonathan Sadowski and Karn Kalra, and everyone agreed that Season 2 is just as hot as the first one. You'll have to hold on until March 2, however, when Netflix drops the next installments.
Please send all party/event invitations to Jenny.Peters@thewrap.com