First in a four-part series on the day that changed America.
Do you remember where you were on the morning of Sept. 11, 2001?
TheWrap queried a number of actors, filmmakers, producers, writers and bloggers, some New Yorkers and others not even U.S. citizens, to remember where they were on that fateful day, and how it changed them.
PAUL McCARTNEY
"I was on my way back to England, and we were at JFK on the tarmac, and the pilot just suddenly said, 'We can't take off. We're going to have to go back to base.' And out of the window on the right‑hand side of the airplane, you could see the twin towers. You could see one plume of smoke, and then you could see two shortly thereafter.
I said, 'Well, that's an optical illusion, you know.' Then one of the stewards came to me and said, 'Look, there's been something really serious happened in New York, and we've got to get you out of here.'
I ended up in Long Island watching it on TV, watching the whole story unfold ‑‑ like everyone else in the world ‑‑ wanting to go into New York, but nobody was allowed back in.
So while I was kind of sitting out there twiddling my thumbs thinking of what to do, was there any role I could play in this, the idea came to me that maybe we could do a concert, maybe get something together. And that thing grew into a conversation with Harvey Weinstein, who said that MTV was putting one together and maybe we should all get together on that.
[At the concert] it was a kind of post-fear. We were emerging from the fearfulness of the immediate impact, and now you were seeing the emotion releasing through music, which I always think is a great thing. You could see particularly the firefighters and the volunteers and their families and victims' families were able to release this emotion that had been pent up. It was a great feeling. It was a really great feeling."
– Jordan Riefe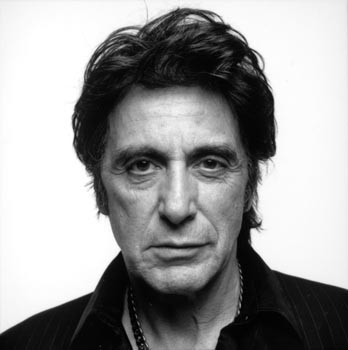 AL PACINO
"It was the most terrifying, the most heartbreaking day. I was on a plane the evening before it happened, September 10.
I was in Los Angeles, and all I wanted was to get back to my home — New York.
I couldn't get back, the planes wouldn't move. It was devastating."
– Mikey Glazer
MATT DAMON
"I lived in lower Manhattan at the time. So I just remember walking out of my apartment and seeing it and then going back in and watching CNN 'cause I was so hungry for information, trying to figure out what's going on.
I just remember being glued to my television despite the fact that it was happening kind of right outside my door."
– Jordan Riefe
JANE ROSENTHAL (Founder of Tribeca Productions and the Tribeca Film Festival)
I had just dropped my daughter off at school for second grade, and I was driving to the office. I was supposed to meet with Spike Lee and Harvey Weinstein to talk about "Rent," which we'd been trying to put together.
When I heard the noise, I thought it was a car crash. I turned around in my car, and went further into Wall Street, and around that time I heard the second plane hit. I was listening to New York One. My first reaction was that it was a terrorist attack.
I was on South Stree Seaport going north. To get to 30th Street it took almost three hours. I called my husband from a payphone and told him to pick up my daughter. I heard the Pentagon had been hit. At that point, I thought the end of the world was coming. I was probably in a state of shock — complete disbelief.
When I think back to that day, to how my first instinct was to get out and get to my kids, versus all the fire and police who chose to run in and save people. I think, 'What makes you run in versus run out of a disaster? That has been something I've thought about quite a bit.
That feeling has propelled me to do as much for downtown as I can. Certainly, what we've done with the film festival and the dinners downtown. In a period of duress, what's your instinct, and what does that say about you as an individual?
For me, it's been personally doing everything I can for downtown. Bob (De Niro) and I are on the national 9/11 Memorial Museum board, and the opening will be quite spectacular on September 11.
– Sharon Waxman
TOM HARDY
"I was at a wig-fitting. I was doing a French Foreign Legion film, and I was going out to North Africa, Morocco. We'd just done 'Black Hawk Down,' and they shelved that immediately. There were a lot of war films that year being made. A lot of work was being done in North Africa. Everyone had started panicking. And I was executing holy men in a scene three days later in a mosque in Morocco. It was a thing called 'Simon, French Foreign Legion Deserter' it ended up being called. So it was a very odd situation to be in because there I was playing a soldier in North Africa. We had a plane on standby to get us out if anything kicked off.
Immediately, it was a life-changing event. I have friends who serve, I have a lot of friends in special forces, I have very, very close friends who deal in very serious operations all over the Middle East that were affected post-9/11 … I'm still really thrown by the loss and the amount of people on that day, and that whole situation, to be honest. I'm a bit thrown. I've got friends who were in the building, in the twin towers. I have friends who are servicemen, what can you say?"
– Jordan Riefe
GUS VAN SANT
"I was living on Canal Street and out my window I could see the towers, and I heard an explosion and eventually realized that one of them was on fire. Our office was even closer, so we were eight blocks away on the roof looking at the towers falling.
And we evacuated away from the dust and smoke that was coming our way. I was sort of typical of some reactions where I wasn't really aware of how big a moment it was, which was something that happened with other people in the Tribeca area and Wall Street area. Some people continued working.
We travelled uptown from where we were, and we were on 57th Street, and we realized that people uptown felt it was a downtown problem, and people upstate felt it was a, like, a Manhattan problem.
And elsewhere it was a national problem — I think if you were in Delaware, you saw it more objectively, like, 'This is a national emergency. This is an amazing, horrible, historical event.' But if you were there, there were many different reactions, and mine was probably one as a result of some kind of shock."
– Jordan Riefe

BRYCE DALLAS HOWARD
"I was on Christopher Street, below the 14th Street line, which is kind of like the cut-off, and I heard all this noise and opened my windows. I remember my husband, who was my boyfriend at the time, saying, 'Where's the other tower?' The first tower had already fallen and we were just looking at one tower.
I was so used to seeing the twin towers, I couldn't even understand, really, what I was seeing. I remember it took me awhile to figure out, 'Oh my God, one of the towers is missing!' cause it's just unthinkable. And then we saw the second tower fall, and my husband was sobbing and I was like, 'Oh my gosh, I'm going to be late to class!' I was getting ready to go outside and my husband was like, 'Are you out of your mind?! You're not going outside right now!'"
– Jordan Riefe
ROSANNE CASH
"My daughter Carrie was in seventh grade, and I took her to school in a taxi because there was a meeting that morning. [At the school], I went into the cafeteria and she went up to her classroom. At about 8:45, I heard a rumble overhead. The plane went right over the school, and shook the building.
I looked around the room, and one of the mothers said, 'That plane is going to crash.' About five minutes later, somebody came to the door and said a plane had just crashed into the north tower.
And I said to one of the teachers who was sitting with me, 'I bet it was that plane that just went over.' At first we thought it was just a commuter plane that had gotten lost. We couldn't conceive that an airliner had actually done it. We stopped the meeting and walked out in the hall, and a woman was out there crying. She said it was a passenger jet, and then we freaked.
I started to walk out the building to go look at the towers, because there was a straight view right down the street. Another mother was coming in, and she was as white as a sheet. She said a second plane had just hit, and I said, 'What are you talking about?' I thought that she was confused.
So I went around to the corner, and you could see both towers burning. There were these black holes, and smoke. A lot of smoke. We were standing there, and my friend Robin Rue, who's a literary agent, said, 'All this in the name of god.' That's when I really realized what had happened, that it was a terrorist attack.
– Steve Pond
NICK NOLTE
"I was watching TV when it happened. I didn't see the first plane. I saw the second plane. And then on the [first] anniversary of 9/11, I was drunk and picked up for drunk driving.
The reason that [mug shot] picture got on television was, all the cameras were pointing at the place where the terrorists were supposed to hit.
And then there was no news, so they picked that picture up and sent it back."
– Jordan Riefe
JOEL EDGERTON
"I was at record launch at a Chapel Street in Melbourne, at a place called Revolver. I'd just finished shooting a movie and one of the locations was a place called The Twin Towers, in Melbourne. And my brother sent me a text message saying, 'A plane has just landed in the Twin Towers.'
And I was just imagining a two-seater plane landing in this very small building in Melbourne, thinking, 'What is he talking about?' Then the reality of what happened hit and this poor guy was on stage in the second set of his LP launch, and the room just started clearing one by one.
And I remember on my way home thinking, 'That poor guy thinks he's the worst musician in the world.' And then I spent all night watching TV. I remember feeling it was the most worried I'd felt ever in my life, just in general about humanity and about the world, even though it was something so far away from me."
– Jordan Riefe
PEREZ HILTON
"I woke up, went upstairs to the roof of my building in the West Village, and saw the World Trade Center with a big hole in it. Then I fell to my knees. I went downstairs, went running to the bank on Christopher Street, got all my cash out, went to the supermarket, and got in hurricane survival mode because I'm from South Florida. I thought it was the end of the world; I didn't know what to think.
"At first, I kept getting phone calls, [and] because I was right out of college and didn't have a full-time job yet, I was so annoyed that people kept calling me early in the morning. I'm like, 'Let me sleep!' And then finally I picked up the phone and then I went upstairs and I saw and it was unbelievable.
Being in New York after that was just crazy because you were reminded of it daily for years after, but especially what I remember most vividly about that time was the smell in the air stayed for about six months or more, and then even longer because whenever it would rain there was this very specific smell from the World Trade Center disaster.
– Mikey Glazer