People Magazine named awards-season hopeful Ruth Negga, "This is Us" lead Chrissy Metz and Jimmi Simpson ("Westworld") to its class of 2016 "Ones to Watch," but it wasn't the first to spot their infectious talents.
Michelle Obama beat the celebrity publication to the punch when she invited musical sisters Chloe x Halle (below left and right, with Hailey Knox)  and Daya (top), to perform on the South Lawn of the White House at the annual Easter Egg Roll last March.
Proof positive that the First Lady will always be a trendsetter, no matter who is president.
Seven months later, the lone digital star in People's roundup (boy beauty vlogger Manny MUA), "The Night of's" young lawyer Amara Karan and Luke Hemsworth joined Daya at People's bash on the roof of hotspot E.P. & L.P. in West Hollywood.
DJ Michelle Pesce pumped Run DMC, drinks flowed across the rooftop, and the line of talent queued up for the carpet was so long that it did not thin out until the event was almost over.
"A year ago I never though this would be happening," 17-year-old Daya told TheWrap. "We recorded ('Don't Let Me Down') almost a year ago today, right around Thanksgiving."
This week, she found out she's nominated for an American Music Award.
After a quick wardrobe change ("in the car," she admitted), by 11:45 p.m. she was belting out her album's title track at another magazine party — namely Nylon's "It Girl" issue at the Doheny Room a few blocks away.
On the same day that People's intramural news — reporter Natasha Stoynoff's harrowing first person account of an alleged sexual assault by Donald Trump — resonated throughout the country, the publicaton kept the focus on this long-planned event and their talent honorees.
Also Read: People Mag Reporter Says Donald Trump 'Physically Attacked' Her Around Time of Billy Bush Interview
As Editor-In-Chief Jess Cagle's written declaration of support for Stroynoff trended Thursday night, they let the posts speak for themselves. Cagle did not do interviews, as is customary at recent People and EW events.
Also Read: Melania Trump Demands Retraction From People Regarding Reporter's Claims About Donald
In doing so, Cagle and Team People did what few others have this week — look away from Trump's growing list of scandals and gave it an amount of attention (read: small to none) proportional to the merit of the defamation claims flowing from the candidate and his wife, Melania.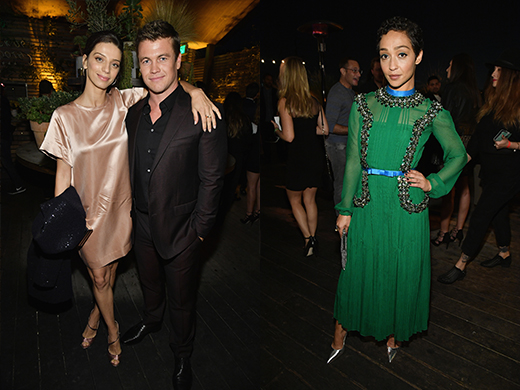 "You grow up reading People all the time," Colt Prattes (Patrick Swayze in ABC's upcoming "Dirty Dancing" movie) told TheWrap. "My mom always had it around the house."
"And it's on the Snap," social media star Hailey Knox added, referencing the brand's prime position on SnapChat.
Using the barometer of peer-review amongst new talents, Chrissy Metz was a popular "meet" at the bash. She related that she never expected Mandy Moore to (spoiler alert) play her TV mother.
"It's bizarre. Especially when I see her in her prosthetic makeup," Metz told TheWrap. "Something emotionally happens to me and I can't explain it. I always get a bit choked up. Plus, we're Florida girls."
After 10:30 as People wound down, Metz made her way over to Nylon's party, where Jaden Smith, Tinashe, and a younger sect of "Young Hollywood" packed the Doheny Room beyond capacity.
Meanwhile, on a thumping Thursday across town in Beverly Hills, Rashida Jones, Milla Jovovich and Rachel Zoe helped "What Goes Around Comes Around" cut the ribbon to open their west coast flagship store.