Rosamund Pike and Christopher Plummer have joined Simon Pegg for director Peter Chelsom's dramedy "Hector and the Search For Happiness," producers Judy Tossell and Christine Haebler announced Thursday in Toronto.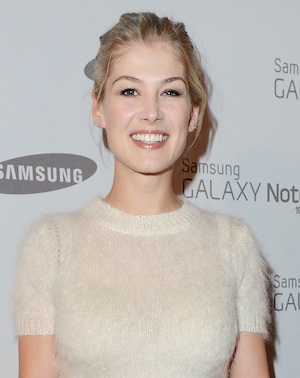 Adapted for the screen from the bestselling novel of the same name by François Lelord, the film is a German/Canadian co-production from Egoli Tossell Film and Screen Siren Pictures. It is in pre-production and set to begin shooting in January, 2013.
The Solution Entertainment Group is handling international rights to the film and will be selling it to buyers in Toronto. United Talent Agency is representing U.S. rights.
Also read: Christopher Plummer, Frank Langella Join HBO Muhammad Ali Film
Wild Bunch Germany is co-producing and distributing in German-speaking Europe. Entertainment One have acquired all rights for Canada.
In the film, Simon Pegg plays Hector, an eccentric yet irresistible London psychiatrist in a crisis. He's going nowhere, and his patients are just not getting any happier. Then one day, Hector breaks out of his sheltered vacuum of a life into a global quest to find out if happiness exists.
Pike, who shot to fame in 2002 as a Bond Girl, has been cast as Hector's girlfriend. Plummer will appear as a UCLA professor who is a leading guru for Happiness Studies. Plummer's 60-year acting career includes many hits on stage, in movies and on TV, plus an Oscar for best supporting actor at age 82.