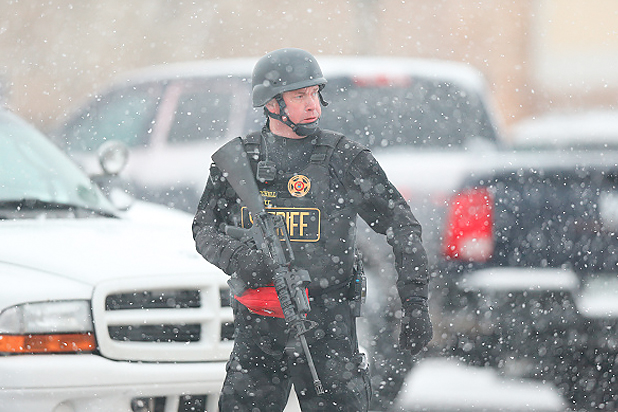 Three people, including one police officer, were killed in a five-hour-plus rampage at a Planned Parenthood building in Colorado Springs, Colorado, on Friday.
A city official confirmed the deaths, including police officer Garrett Swasey, 44. The civilian victims were not immediately identified.
"It is with great sorrow that we must report that one of the officers shot today the active shooter incident in Colorado Springs has died," read a tweet from the Colorado FOP.
The suspect was apprehended and placed into custody, according to Colorado Springs Police spokewoman Lt. Catherine Buckley. He was later identified as Robert Lewis Dear, 59.
Also Read: 11 Tragedies at Theaters and Concerts, From The Who Stampede to Paris Massacre (Photos)
Photos from the scene showed Dear being taken away in handcuffs.
Colorado Springs Mayor John Suthers said police were able to make contact with Dear, who then gave himself up.
Buckley told media during the 7 p.m. ET press conference on site that 11 victims were transported to various local hospitals, but there was no confirmation yet of the severity of their injuries.
Five of the 11 victims were police officers who were fired upon by Dear during the hours-long standoff.
Also Read: Shooting Reported Near Planned Parenthood in Colorado, At Least 9 Injured (Updating)
With the situation marked as "resolved," police searched the building with the Planned Parenthood clinic at 3480 Centennial Boulevard, looking for anyone who may still be inside as well as evidence.
Authorities were also actively investigating suspicious items Dear had brought with him to the location.
At an earlier press conference, Buckley would not specify if those items are explosives, though she acknowledged to a reporter that one possibility they are investigating is whether or not propane tanks are counted among the items in question.
Also Read: Video of Chicago Police Officer Shooting Teen 16 Times Sparks Social Media Outcry
The original "shots fired" call came in at 11:38 a.m. local time. A gun battle between the suspect and police went on for hours. The suspect was finally
taken into custody at 4:52 p.m.
As of the latest press conference, police declined to speculate on a motive for the gunman's actions. However, Planned Parenthood has been under fire by anti-abortion groups as an organization that provides abortions for women. More recently the group was been criticized because of videos made by anti-abortion activists depicting officials appearing to discuss using fetal organs for research.
It is with great sorrow that we must report that one of the officers shot today the active shooter incident in Colorado Springs has died

— Colorado FOP (@ColoradoFOP) November 28, 2015