A Pennsylvania branch of Planned Parenthood raised eyebrows Tuesday after tweeting that Disney should widen its animated princesses to include one "who's had an abortion" and "an undocumented immigrant."
"We need a Disney princess who's had an abortion. We need a Disney princess who's pro-choice. We need a Disney princess who's an undocumented immigrant. We need a disney princess who's actually a union worker. We need a Disney princess who's trans," the account for Planned Parenthood of Keystone, Pennsylvania tweeted on Tuesday morning.
The tweet was deleted about two hours after being posted  — but of course the Internet never forgets.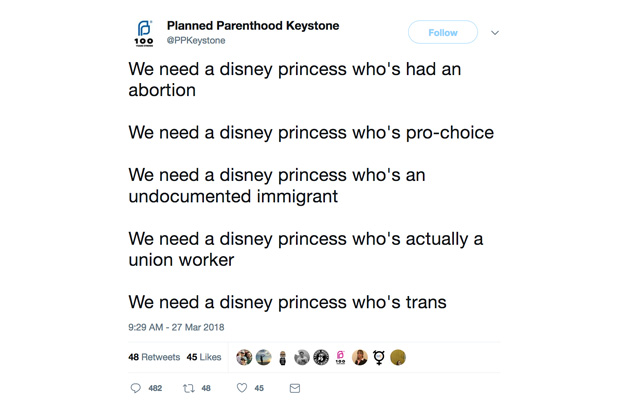 Also Read: 'Morning Joe': 'The President Has Difficulty Reading, I Know That for a Fact' (Video)
"Today, we joined an ongoing Twitter conversation about the kinds of princesses people want to see in an attempt to make a point about the importance of telling stories that challenge stigma and championing stories that too often don't get told," Melissa Reed, President and CEO, Planned Parenthood Keystone told TheWrap.
"Upon reflection, we decided that the seriousness of the point we were trying to make was not appropriate for the subject matter or context, and we removed the tweet."
Despite its brief life online, the aborted tweet still came in for withering mockery, with screenshots rollicking around conservative media types.
We need a Disney princess who stumps for sex-selective abortions on the taxpayer dime then lectures us about what small children they would have killed should watch for entertainment https://t.co/957a8YQAly

— Ben Shapiro (@benshapiro) March 27, 2018
https://twitter.com/coreyedunbar/status/978657727097470976
https://twitter.com/MrNashington/status/978651273502261248
https://twitter.com/HashtagGriswold/status/978666546447953920
https://twitter.com/PfeifferDC/status/978655918614249473
https://twitter.com/Chet_Cannon/status/978658769293910017
In case you missed @PPKeystone's atrocious tweet about Disney princesses having abortions, here you go. Happy Tuesday. pic.twitter.com/C5v6inY8V7

— Brittany Hughes (@RealBrittHughes) March 27, 2018
Though Planned Parenthood says its focus ison women's health, it's not the first time one of its local affiliates have waded into more divisive cultural issues.
Earlier this month, a Kentucky branch drew scorn from actor James Woods and others for asserting that "some men have a uterus."
No. They do not. pic.twitter.com/fVhebtnE7v

— James Woods (@RealJamesWoods) March 3, 2018
In the Trump era, Planned Parenthood has come under increasing political attack for providing contraception and abortion services, and has been the subject of a sustained campaign to discredit and defund the organization.
Last year, the organization was the subject of legislation giving individual states the ability to withhold funding from its programs.