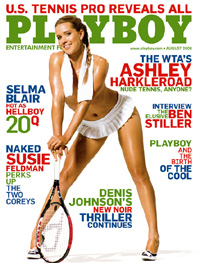 Playboy Enterprises had its third quarter earnings call today. The company reported a quarterly net loss of $1.1 million – far better than its third quarter last year, when it lost $6.2 million.
But revenue from its print business is disappearing faster than a bikini top at the Playboy Mansion.
Raw numbers: Total print and digital revenues fell about $10 million during the quarter to $22.9 million, down from $32.7 million in 2008 (this was due, in part, to Playboy combining its July and August issues).
Meanwhile, net licensing revenue was $8.7 million, down from $10.4 million last year. But this part of the business will probably be up year-over-year, executives said – and there are interesting projects in the works, like a partnership with Coty to develop a Playboy scent. (Just what dude would admit to using Playboy cologne is yet to be determined.)
The problem is the magazine itself.
Scott Flanders, Playboy's chief executive, said the magazine "will remain the flagship of this company," but it needs to "operate more efficiently" and more restructuring is needed (read: hint: more layoffs).
Later, during a conference call with investors, Flanders said: "We will remain a magazine publisher. But we cannot continue to lose significant sums of money in this business."
It was once hard to imagine a newsstand without Playboy magazine. But it's getting easier and easier to imagine. The company said today that it will move ahead with plans to cut its guaranteed rate base next year, and will hold its printing schedule at 10 issues per year in 2010 after reducing frequency in 2009.
Just how desperate sounding has it gotten for Hugh Hefner's empire? Flanders said the company is "working on a plan to leverage its 'million-plus' Facebook fans, as well as mobile and online game initiatives," such as Playboy Manager, an online game that allows you to manage a Playmate.
That scent you smell may not be from the branded fragrance project – it may be magazine oblivion.