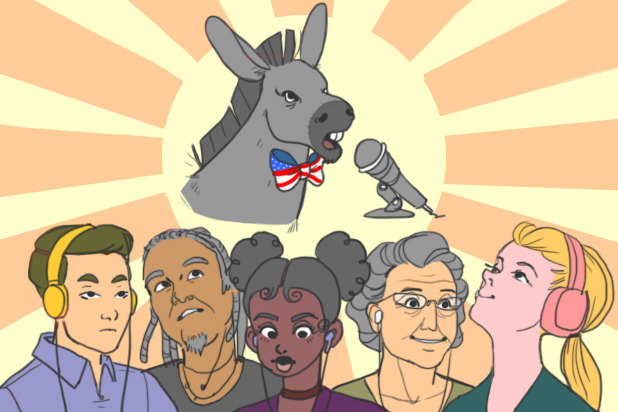 Tamara Keith and Scott Detrow never know when they might need to record a new episode of the "NPR Politics Podcast." Just as listeners might listen to the podcast anytime or anywhere, Detrow and Keith regularly assemble episodes on the run, whenever news breaks, as fast as they can.
Long gone are the days when you could only get your news at a certain time, by sitting in front of your radio or TV. And podcasts aren't just smashing barriers because they're available anytime, anywhere — they're also informal in ways that encourage hosts to let down their guard.
"In way that we aren't always on the radio, on the podcast we are people," Keith told TheWrap. "We aren't just, like, voices with knowledge. We're people with quirks and knowledge. And I think that that makes what we're doing more accessible and more entertaining. Politicians are humans and so are we."
Also Read: 20 Podcasts to Make Your Run or Road Trip 300 Percent Less Boring, From 'S-Town' to 'Good One' (Photos)
Donald Trump, the president of pre-dawn tweets, has ushered in a much more casual era of disseminating news, information, and political gripes. Podcasts are one way reporters and pundits have matched him.
Trump has fueled the podcasting industry the way the first Iraq war helped power the rise of 24-hour cable news. And the anger toward him has inspired commentary-driven podcasts the way anger at President Clinton helped AM radio hosts like Rush Limbaugh break out in the 1990s.
But podcasts often have lower production values and often quicker turnaround times than radio or TV shows. With help from technology like Skype, hosts can quickly interview guests and post their episodes on iTunes, Soundcloud, Google Play, or countless other platforms. Fans can download onto their phones to listen while they work out, walk the dog, clean the bathroom, sit in traffic — or do anything else.
That creates a more intimate relationship between host and listener than exists in the traditional news format of "voices with knowledge" imparting a bit of it in quick soundbites during regularly scheduled programs.
Also Read: 13 Podcasts That Should Be Turned into TV Shows (Photos)
Here's how easy podcasting can be: "The Sit and Spin Room," a Michigan-based podcast focused on grassroots progressive organizing, is hosted by Eclectablog publisher Chris Savage and Jason Sattler, who writes commentary for USA Today and tweets as @LOLGOP. They use a small handheld digital device to record their own analysis, banter and jokes, and sometimes Skype in guests. They once recorded an episode in the home of former Rep. John Dingell and his wife, current Rep. Debbie Dingell.
"The weirdest place we've recorded is at the living room table of the longest-serving member of Congress in U.S. history as his wife, a current member of Congress, started on the laundry," Sattler told TheWrap.
The podcast is edited on Garageband now, but an upgrade is coming soon thanks to user contributions, Sattler said. He estimates the completely independent podcast has up to 10,000 listeners a month.
Far larger podcasts often use a similar record-on-the-run approach. On the day in May when Robert Mueller was named special counsel to investigate Russia and the Trump campaign, Detrow raced back to work to record a new episode. Every episode of the "NPR Politics Podcast" begins with someone explaining when it was recorded, in case there's been a big story in the hours since.
Crooked Media, named for one of Trump's insults for journalists, hosts several podcasts a week — but sometimes stories develop too fast for them to keep up. The main show is "Pod Save America," hosted by former Obama staffers Jon Favreau, Jon Lovett, and Tommy Vietor, who often joke about news breaking right after they record an episode.
The podcast and its spinoffs make a point of talking "the way actual human beings talk," as Crooked Media states on its website. "We're not journalists, we're not unbiased, we're not always serious and we're certainly not always right," the site explains.
The Crooked hosts admit they were very wrong, for example, about their cocky pre-election predictions of a Hillary Clinton victory. And their podcasts are filled with personal touches like jokes about the etiquette of shushing dogs during "Game of Thrones," and the many uses of the Cash App, one of their sponsors.
The hosts have appeared on shows like "Chelsea Lately," "Late Night with Seth Meyers" and "The Late Show with Stephen Colbert."
Also Read: An 'S-Town' Mystery: Did Anyone Find the Gold?
"I don't even like podcasts, but I listen to you guys all the time, because you actually explain all of the political stuff that I don't understand, you break it down, and it's funny," said Chelsea Handler when they appeared on her Netflix show in July.
Also Read: Trump's 'Loser Terrorist' Tweet After London Attack Sparks Harsh Response From Theresa May
Podtrac, which counts podcast listeners, has held the "NPR Politics Podcast" and "Pod Save America" in its monthly Top 20 Podcasts ranking for several months, along with shows like "This American Life," "Up First" and "Wait Wait Don't Tell Me" that frequently delve into politics.
NPR currently owns eight of the top 20 spots, thanks to the built-in advantage of airing shows on public radio, as well as in podcast form.
No conservative podcast company has arisen so far to rival the liberal Crooked Media empire, just as liberals never found an AM radio rival to Rush Limbaugh. There are no conservative political podcasts in Podtrac's top 20.
The "NPR Politics Podcast" reports an average of 600,000 weekly listeners, and the pod currently sits at number 13 in Podtrac's August report. A survey of NPR Politics users shows 58 percent of listeners are under 35 — younger than NPR's typical podcast or radio audience. Detrow noted that many teachers assign podcasts as homework.
The Crooked media shows and activist podcasts like "The Sit and Spin Room," encourage listeners to get involved in progressive politics. The "NPR Political Podcast," meanwhile, takes pride in its original reporting and explaining of the issues.
Also Read: Trump Steps Up Attack on ESPN for Jemele Hill Comments: 'Apologize for Untruth!'
Keith recalled a recent sit-down with a high school listener who "appreciated… that we don't sort of assume a level of knowledge, like we try to start at the beginning, and then dive into the political analysis," she said. "But we always want to start at the beginning."
"I think we're as relevant as ever, if not more relevant," Keith said. "I mean, there's the bonus that now if there's a slow week in political insanity, there is actual policy to discuss."