Some of Hollywood's most powerful women gathered to discuss "The Power of Women in Media 2.0" Tuesday morning at Cecconi's in West Hollywood.
Presented by TheWrap and hosted by CEO and editor-in-chief Sharon Waxman, the gathering focused on the book "Womenomics: Write Your Own Rules for Success," by Claire Shipman and Katty Kay.
The event was sponsored by Lifetime Networks, BlackBerry and Cecconi's. (View the slideshow from the event.)
The book's subtitle tells the story: Women are trying to figure out ways to restore balance in their lives, to address the out-of-control feeling engendered by demanding jobs and to find creative solutions that give them more time.
"We're all exhausted!" Waxman told the crowd, kicking off the discussion. "Good Morning America's" Shipman agreed, saying her book was "born of exhaustion in a way."
Shipman (pictured below; photographs by Jonathan Alcorn) said she and co-author Kay, of the BBC, would huddle in corners at parties and "give each other counterintuitive advice, like how not to be on TV."
After turning down promotions, they realized there was "a real need to have this conversation" about a new model for working women.
"The key is you have to figure out what success is for you," Shipman said. "That's the hardest thing."
Mixing anecdotal evidence with hard numbers, Shipman and Kay discovered some interesting things.
For instance, Shipman said, the more women in a company's top positions, the more money the company makes. And the presence of just three or more women on a corporate board indicates a company that outperforms its competition.
Claiming that women are more conciliatory and collaborative than men — and less prone to risk-taking — she suggested the current financial crisis could have been avoided or ameliorated were there more women in top positions in the banking world.
"What if, instead of Lehman Brothers, it had been Lehman Brothers & Sisters?" Shipman asked. "The lack of diversity at the top does not help a company to flourish."
With time becoming as valuable as money, or perhaps even more so, women are seeking less responsibility and power in exchange for more freedom. And some companies are responding, Shipman said.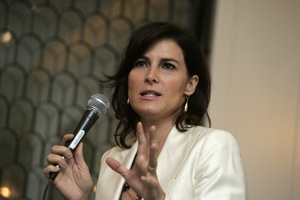 For example, Best Buy has shifted to a "results-only" environment, where scheduling is flexible and the measure of success is results, rather than merely showing up for work; Capital One is experimenting with a similar scheme.
Wal-Mart, too, is finding success by giving workers more of a say in their work hours, Shipman said. While they may work the same amount of time, they feel they have more control and that the company is responsive to their needs.
Waxman, however, pointed out that Hollywood is a business where "there are no hours, we're always working." Also, she said, in the relationship-based industry, face time is of paramount importance.
At this point, Lifetime president Andrea Wong introduced several more panelists, who joined the discussion: Willow Bay, senior editor at the Huffington Post; Kim Moses, principal in Sander/Moses Productions and executive producer of "Ghost Whisperer"; and Diane Nelson, president of DC Entertainment.
Nelson agreed with Waxman about relationships, saying women's great strength as executives is "being in the room, building relationships."
Her particular concern, she said, is that after finding her own path — which she described as having had "entrepreneurial opportunities within the safety of a big company" — she's struggling with the idea of implementing flexibility as a manager.
"Time Warner and Warner Bros. have done a compelling job of talking about it," she said. "I'm just not sure how we've implemented it."
It's the same problem facing the industry as a whole, she said: "How do you keep one foot in the business you know while moving the other into a new business?"
Shipman said she and Kay talked to lots of managers at lots of companies in the course of researching "Womenomics." "They admit it's much harder to manage this way," she said. "They have to rethink the whole idea of management, figure out exactly what each employee is supposed to be doing and how to quantify it. Everyone who has been part of it says the only way it works is if everyone is flexible."
She said Deloitte Touche has implemented a "mass career customization model," and as part of the process discovered that only about 10 percent of employees want something radical at any time.
"Ghost Whisperer's" Moses described the challenges and advantages of her "bifurcated" business: On the traditional side is the TV series, where everyone has to be on set at the same time for as many hours as they're needed. The other part of Sander/Moses is Slam, a digital content producer, where there are set goals and deadlines but more flexibility on how they get met.
Moses said there is some crossover between the two. "On the digital side, we have them work with a roadmap," she said, which is unusual in that arena. "But on the TV side, we have brought in some flexibility and even some technology from the digital side, to alter that environment."
Bay said, "I have lived this trend in making career choices and changing careers and moving the puzzle pieces."
She also said there is currently a tremendous amount of momentum behind the ideas in "Womenomics," given the interest and support from First Lady Michelle Obama and White House adviser Valerie Jarrett.
"We have to figure out how to change this from a trend to a revolution," Bay said, without devaluing achievement or depriving women of the inspiration and motivation that drive them to the top.
Shipman agreed: "We do need women at the top. If we don't have women at the top pushing this ethos down, it won't work."
However, she said, it's important not to focus only on the very top. There is a large concentration of powerful women in the middle, she said, that carries a lot of weight.
Nelson urged women not to forget how much impact they can have, and how widely felt that impact can be. "Being in the top job is not just about power and financial success," she said. "You have the ability to influence people's lives," not only through the product you produce but through direct contact with those who work for and with you.
Lifetime's Wong took that suggestion a step farther: "The women in this room need to pull each other up and give each other opportunities." That was greeted by warm applause.
Among the women in attendance at the event were Amy Baer, CEO of CBS Films; Toni Howard, head of the motion picture department at ICM; Rena Ronson, co-head of independent film at UTA; Dawn Hudson of Film Independent; Rose Kuo, artistic director of the AFI Film Festival; Mary Rose, president of the Costume Designers Guild; Valerie Van Galder, former co-president of worldwide marketing for Sony Pictures Entertainment; Paula Mae Schwartz, CEO of Chockstone Pictures and a producer of "The Road"; Hannah Minghella, president of production at Sony Pictures Animation; Orly Adelson, president of Dick Clark Productions; and entertainment attorney Linda Lichter of Lichter, Grossman, Nichols, Adler and Feldman.