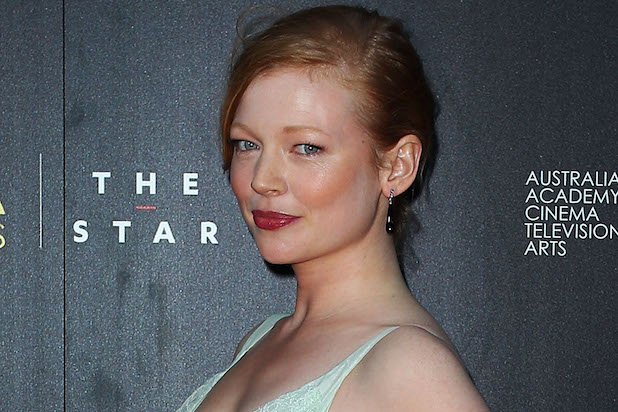 "Predestination" star Sarah Snook is in negotiations to play Steve Jobs' trusted publicist Andrea "Andy" Cunningham in Danny Boyle's "Steve Jobs," TheWrap has learned.
Michael Fassbender will star as Jobs, while Seth Rogen and Kate Winslet will co-star as Apple co-founder Steve Wozniak and Mac marketing chief Joanna Hoffman, respectively.
The cast also includes Jeff Daniels as former Apple CEO John Sculley, Michael Stuhlbarg as Andy Hertzfeld, Perla Haney-Jardine and Ripley Sobo as Jobs' daughter Lisa Brennan (at different ages) and "Inherent Vice" breakout Katherine Waterston as her mother, Chrisann Brennan.
Also Read: Ethan Hawke Travels Through Time to Prevent Crime in First 'Predestination' Trailer (Video)
Universal is planning an awards season release for "Steve Jobs," which finds the misanthropic Apple genius struggling for perfection as he launches a series of visionary tech products, all while stumbling through troubled interpersonal relationships with his friends, co-workers and his unacknowledged daughter Lisa.
Cunningham began working with Jobs on the launch of the Apple Macintosh in 1983. She continued to work closely with Apple as a client and recounted her experiences at the company for Jobs' official biographer Walter Isaacson and "Steve Jobs" screenwriter Aaron Sorkin.
The film will feature Cunningham fighting to turn off the emergency exit lights in the presentation halls at Jobs' behest so that he could display his new products in complete darkness.
Also Read: Steve Jobs Movie: Jeff Daniels Eyed to Play Former Apple CEO John Sculley (Exclusive)
Several other roles in the film remain uncast including GQ's tech reporter Joel Pforzheimer, software designer Avie Tevanian, creative director George Coats and the owner of a restaurant Jobs frequents who may or may not be his biological father Abdulfattah Jandali.
Scott Rudin is producing with Mark Gordon, Guymon Casady and Christian Colson. Snook has been on Rudin's radar for several years now, as the Australian actresses was among the finalists to star in "The Girl With the Dragon Tattoo," which he produced. She has also worked with Gordon before on the ABC pilot "Clementine."
Also Read: Steve Jobs Movie: Jeff Daniels Eyed to Play Former Apple CEO John Sculley (Exclusive)
Snook has earned rave reviews for her dual performance as both a man and a woman opposite Ethan Hawke in the sci-fi movie "Predestination," which is currently in release.
Snook, who previously starred in Blumhouse's "Jessabelle," has several projects on the horizon including "The Dressmaker" with Kate Winslet and "Oddball" with Alan Tudyk. She's represented by UTA, Principato-Young Entertainment and Shanahan Management.