The Oscar nominee "Un Prophete" (or "A Prophet") nearly swept Saturday's Cesar Awards, the top film honor given out in France. The film won nine awards, including Best Film, Best Director, Best Actor, Best Supporting Actor, Most Promising Actor, Best Original Screenplay, Best Art Director, Best Cinematography and Best Editing.
The film's star, Tahar Rahim, was named both Best Actor and Most Promising Actor for his role as a young convict who navigates the gang world inside a prison to which he's sent. He is the first actor to ever win two Cesars in a single night.
"Up Prophete" was France's official entry in the Oscars' Foreign-Language Film race, where it was nominated alongside "The White Ribbon" (Germany), "Ajami" (Israel), "El Secreto de Sus Ojos" (Argentina) and "The Milk of Sorrow" (Peru).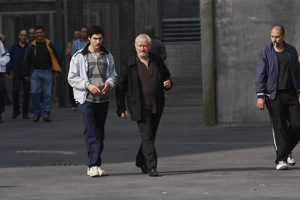 Isabelle Adjani was named Best Actress for "La Journee De La Jupe," while Emmanuelle Devos was named Best Supporting Actress for "A L'Origine." Melanie Thierry won the award for Most Promising Actress for "Le Dernier Pour La Route."
Clint Eastwood's "Gran Torino," ignored in last year's Oscar race, was named Best Foreign Film over other nominees "Avatar," "Milk," "I Killed My Mother," "Panique au Village," "The White Ribbon" and "Slumdog Millionaire."
The complete list of winners:
Best Film: "Un Prophete"
Best Director: Jacques Audiard, "Un Prophete"
Best Actor: Tahar Rahim, "Un Prophete"
Best Actress: Isabelle Adjani, "La Journee de la Jupe"
Best Supporting Actor: Niels Arestrup, "Un Prophete"
Best Supporting Actress: Emmanuelle Devos "A L'Origine"

Most Promising Actor: Tahar Rahim, "Un Prophete"
Most Promising Actress: Mélanie Thierry, "Le Dernier Pour la Route"
Best First Film: "Les Beauz Gosses"
Best Original Screenplay: "Un Prophete"
Best Adapted Screenplay: "Mademoiselle Chambon"
Best Music: "Le Concert"
Best Sound: "Le Concert"
Best Art Direction: "Un Prophete"
Best Costumes: "Coco Avant Chanel"
Best Cinematography: "Un Prophete"
Best Editing: "Un Prophete"
Best Foreign Film: "Gran Torino"
Best Documentary: "L'Enfer de Henri-Georges Clouzot"