New Media showed some impressive muscle in this year's Pulitzer Prizes, which honored the Huffington Post and Politico in addition to legacy organizations such as the New York Times.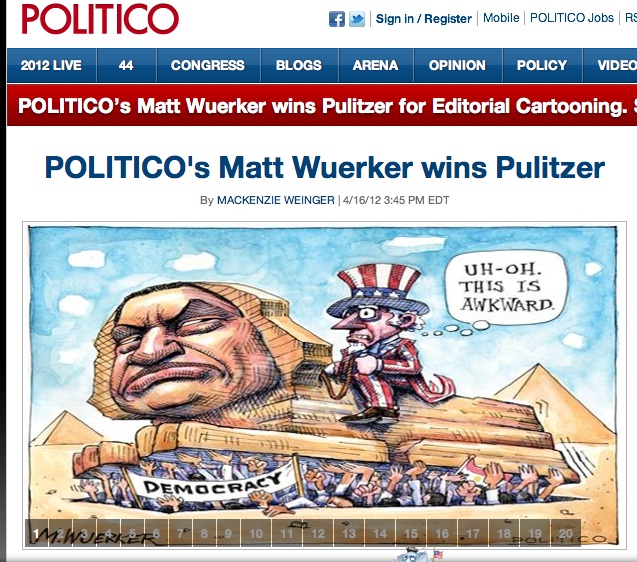 The Huffington Post picked up its first Pulitzer for its 10-part investigative series on wounded veterans, "Beyond the Battlefield."
The award for National Reporting went to former Time and Los Angeles Times contributor David Wood. It is a sign of institutional legitimacy for a site that has become an online traffic giant, but has been a lightning rod for media criticism for its aggregation policies.
Also read: Business Insider Grows the Way of the Huffington Post
The other major new media winner was Politico's Matt Wuerker, who won for Editorial Cartooning. It is the first Pulitzer for the 5-year-old political site.
Online news organizations have only been eligible to receive Pulitzers since 2009, when the organization changed its submission policies.
One media upstart, The Onion, will have to go back to skewering journalism awards having found itself outside of the winner's despite launching a yearlong campaign aimed at earning the satiric newspaper its first prize.
In a series of fake ads and articles, The Onion spent months calling on the Pulitzer Board to "to stop the bias, stop the ignorance, and stop the neglect."
To be sure, more established publications, such as The New York Times, the Boston Globe and the Chicago Tribune, also collected awards, but usual suspects like the Washington Post, Wall Street Journal and the Los Angeles Times were not among the honorees.
The Times won two Pulitzers for International Reporting and Explanatory Reporting. It was the only news organization to win more than one prize.
Also read: Joe Paterno's Sex Abuse Mess: What Took the Media So Long?
The Philadelphia Inquirer won the prestigious Public Service prize for its seven-part series, "Assault on Learning," which argued that violence in urban schools was underreported.
In the local news category, Sara Ganim and members of The Patriot-News Staff won the prize for revealing one of the most explosive news stories of last year — the sexual abuse allegations against Penn State coach Jerry Sandusky. The media firestorm that greeted Ganim and the tiny paper's work led to the ouster of the legendary Joe Paterno as head coach of the Penn State Nittany Lions.
Winners in the arts and drama category include Quiara Alegría Hudes' play "Water by the Spoonful," John Lewis Gaddis biography "George F. Kennan: An American Life" and Tracy K. Smith's poetry collection "Life on Mars."
In a rare move, the Pulitzer committee did not honor any work of fiction.
Full list of winners:
JOURNALISM
Public Service – The Philadelphia Inquirer
Breaking News Reporting - The Tuscaloosa (Ala.) News Staff
Investigative Reporting - Matt Apuzzo, Adam Goldman, Eileen Sullivan and Chris Hawley of the Associated Press
and
Michael J. Berens and Ken Armstrong of the Seattle Times
Explanatory Reporting - David Kocieniewski of the New York Times
Local Reporting - Sara Ganim and members of the Patriot-News Staff, Harrisburg, Penn
National Reporting - David Wood of the Huffington Post
International Reporting - Jeffrey Gettleman of the New York Times
Feature Writing - Eli Sanders of the Stranger, a Seattle (Wash.) weekly
Commentary - Mary Schmich of the Chicago Tribune
Criticism -Wesley Morris of the Boston Globe
Editorial Writing - No award
Editorial Cartooning – Matt Wuerker of Politico
Breaking News Photography – Massoud Hossaini of Agence France-Presse
Feature Photography - Craig F. Walker of the Denver Post
LETTERS, DRAMA and MUSIC
Fiction - No award
Drama - "Water by the Spoonful" by Quiara Alegría Hudes
History - "Malcolm X: A Life of Reinvention," by the late Manning Marable (Viking)
Biography - "George F. Kennan: An American Life," by John Lewis Gaddis (The Penguin Press)
Poetry - "Life on Mars" by Tracy K. Smith (Graywolf Press)
General Nonfiction - "The Swerve: How the World Became Modern," by Stephen Greenblatt (W.W. Norton and Company)
Music - "Silent Night: Opera in Two Acts" by Kevin Puts (Aperto Press)