A member of the feminist punk group Pussy Riot has been denied parole that her lawyers had requested so she could care for her five-year-old daughter, USA Today reports.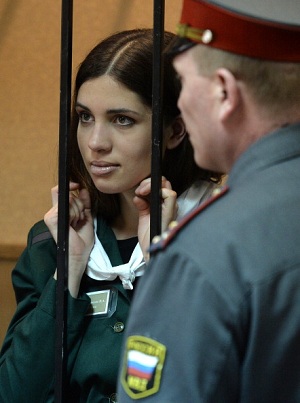 According to the paper, a Russian court shot down Nadezhda Tolokonnikova's request for parole on Friday, after the penal colony she's incarcerated in told the court in a deposition that Tolokonnikova is "decisive, insensitive to ethics and conscience and thinking only about herself."
Also read: Sundance 2013: 'Pussy Riot — A Punk Prayer' to HBO Documentary Films
The musician (pictured at left) claimed that the penal colony didn't back her appeal because she "didn't repent," the paper said.
Tolokonnikova, 23, and her two bandmates were sentenced to two years in prison last August after being convicted of hooliganism for protesting  against Vladimir Putin, then-Russian prime minister and current Russian president, during an impromptu, profanity-laced performance in Moscow's main cathedral.
One of Tolokonnikova's bandmates, Yekaterina Samutsevich, received a suspended sentence on appeal. However, the third member, Maria Alyokhina, was shot down in her effort to have her sentence suspended in January.
The plight of Pussy Riot became a cause celebre last year, with musicians such as Paul McCartney and Madonna publicly coming to their defense.
It also inspired a documentary, "Pussy Riot — A Punk Prayer," which was sold to HBO Documentary Films at the Sundance Film Festival in January.