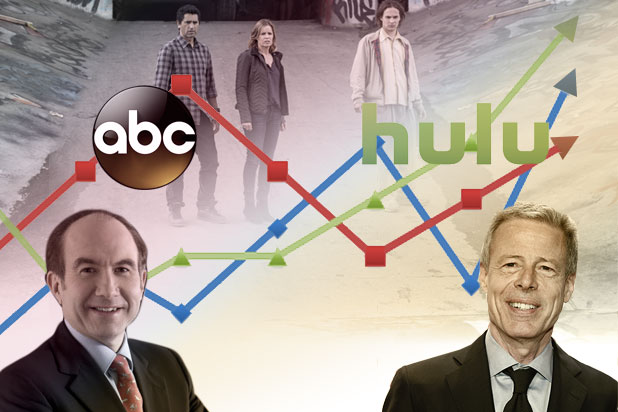 The 2015 calendar third quarter was supposed to see national ad sales decrease slightly on average. The anticipated slip turned out to be a pleasant surprise instead.
Counting the four major English-language broadcast networks and eight top cable channels, national TV advertising actually grew 1 percent over the most-recent quarter. The 1 percent change wasn't a shocker, but the direction it went in sure was. The analysts at MoffettNathanson expected a 1 percent loss from national TV ads across the board.
Recent trends in television and video advertising certainly appeared to point toward linear ad-sales declines and a trend toward direct-to-consumer content models. Live TV ratings have been in decline for years, though Q3 2015 had some solid sports and "must-watch" programming, helping to turn around — or at least slow down — that negative trajectory.
On earnings calls this month, CBS CEO Leslie Moonves and Disney chief Bob Iger talked at length about the importance of subscription-video models to their companies' futures. Considering the boost media companies got this quarter from advertising that is monetized but not yet necessarily "counted" in traditional ratings, the top execs appear to be on the right track.
That 2 percent overall swing from expectation to reality represents 170 basis points, per a Tuesday research paper. Broadcast led the way with 1.4 percent growth; Cable networks brought down the average, but still rose 0.8 percent.
Also Read: 'Fear the Walking Dead,' 'Doctor Who' Deliver Strong Revenue, Earnings for AMC Networks
Disney's ABC was the big mover on the broadcast side, while AMC Networks pushed the positive momentum on cable. ABC has been asserting itself as a ratings contender, showing strength in entertainment programming without benefit of the big boosts that NFL broadcasts bring to its competitors. AMC, meanwhile has "The Walking Dead" and now prequel "Fear the Walking Dead." Enough said.
Of the 11 national advertising line items reported to-date, only two actually missed MoffetNathanson's forecasts. That means nine get pats on the back.
That said, Viacom is set to report its earnings on Thursday morning before the U.S. stock markets open, and the company could drag down the average. MoffettNathanson expects an 8 percent advertising decline for the media company that owns MTV and Comedy Central, among other channels.
Also Read: Tribune Media's TV and Digital Revenues Tick Up - But Not Enough for Wall Street
Forget basis points for a moment. Let's talk dollars and cents. Overall, national TV advertising came in at $140 million better than expected in the three-month period, with broadcast accounting for 60 percent of that.
Ratings across cable are down, but high scatter pricing helps counter that. (Scatter advertising is a last-minute media-selling and purchasing strategy. It tends to get higher rates than upfront pricing, and is often less targeted to a specific demographic than the May buying method.) Plus, there are those multiplatform dollars that count to the bottomline, even if they don't make it to Nielsen's spreadsheets.
"We will wait to see if TV advertising in 4Q can build upon this trend to signal any real lasting improvement and advertising budgets returning to television, but the days of mid-single digit TV advertising growth seems to still be a thing of the past," the MoffettNathanson's research stated.
Also Read: Time Warner Beats Earnings Expectations Off of HBO, Warner Bros. Growth
The changing TV environment provides plenty of challenges and disadvantages. So many, in fact, that getting creative with ad models is more important now than ever. The struggling Viacom is experimenting with cutting back commercial clutter and charging premium rates across its portfolio, as is Time Warner's TruTV.
MoffettNathanson is not declaring Viacom dead in this landscape. It actually still has the Philippe Dauman-led company listed as a buy — but at a specific price, of course. That dollar amount happens to be $57 per share, something Viacom hasn't seen since mid-July.
"We believe that if ratings continue to trend in a positive direction and scatter demand continues to be as robust as the company commentary suggests, there could be a series of positive revisions that might create a temporary relief rally for the most beaten up names," analysts stated. "We would put Viacom on the top of that list."
We'll see soon enough.
MoffettNathanson also has a buy rating for Disney, 21st Century Fox, and Time Warner. It sees AMC Networks, CBS, Discovery, Netflix, and Scripps as neutral stocks right now.