In the series for which he's best known, Scott Bakula's time-traveler character kept zapping into different times and places out of his own control. Now, after memorable turns on both "Quantum Leap" and UPN's "Star Trek: Enterprise," Bakula is set to co-star with Ray Romano and Andre Braugher in what could be another long-running series, "Men of a Certain Age," which premieres Dec. 7 on TNT.
He spoke with Eric Estrin about driving the "Shenandoah" tour bus, auditioning long-distance and getting beat out for "Moonlighting" by some other guy.
I was doing things on stage from pretty much the fifth grade on, but I grew up in St. Louis — and it's not like growing up in a town that's full of the industry, so I never really considered it an option.
I did theater all the way through high school, and I was doing it in summer in St. Louis when I came home from college. Finally I quit school and I went to New York to try my luck there.
I'd never been to New York. I had a friend in St. Louis, and he was kind of advising me, because he had been to New York. He said, when you get to New York, you've got to buy a Backstage, because that's where they have all the auditions.
He also said there's a new show opening soon in New York called "Shenandoah," and there are lots of male singing roles in it, so that might be a good show for me.
So I go to New York on a Wednesday. I think I had saved up $750, and I did that whole thing where I was staying with a friend of a friend. I open the Backstage the day I get there, and lo and behold, on that Friday, there's a non-union dinner theater audition for "Shenandoah."
So on Friday evening I was calling my parents saying, I'm gonna be playing the role of Sam, the Gentleman Caller, for a hundred bucks a week, room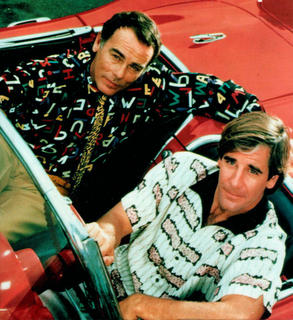 and board, in a dinner-theater circuit down in North Carolina.
That was way cool. But even better, there was an agent had come to see our final run-through before we left to go to North Carolina; he said, "Call me when you get back to town." I did, and he became my agent for the next 12 years or so. So that was kind of remarkable.
The next kind of break I got was I auditioned for a TV show called "On Our Own," which I think lasted for about one season, then I did a couple of little days on a soap here or there, but it didn't really lead to much. There wasn't much television being done in New York back then — for network stuff, you had to audition on video and hope that you got interest in California.
I did a fabulous audition on video for the lead in "Moonlighting" and sent it off to L.A.
I didn't get that part — some other guy got it.
My actor friends in New York were always saying, "You're never gonna get a part from this; it's stupid; you've gotta be out there …" But ultimately, I did. I got a Disney Sunday Night Movie called "I-Man," the Indestructible Man — the beginning of my sci-fi career. That brought me out to L.A. But, of course, as soon as I came out here I got a part in a Broadway musical, so had to go back.
The show was "Romance/Romance," a big hit. I got a Tony nomination, and the show was doing well, but I had a contract that said I could get out any time. So when the end of the summer came, it just felt like it was time to go back to L.A.
Everybody said, you're crazy, why would you go back to L.A., you're a Broadway star. But I said, no, I just need to go back. And within two or three weeks of being back, I got an audition for "Quantum Leap."
I was very green in terms of hour television. I think I'd done a "Matlock" and maybe that was it. So I was really on a fast learning curve and just hoping to hang on.
I knew who Don Bellisario was, I knew what his track record was, and then all of a sudden Dean Stockwell comes on board, and I'm thinking, Holy cow, this is amazing! I was just trying to keep my head above water and not screw it up, to be quite honest.