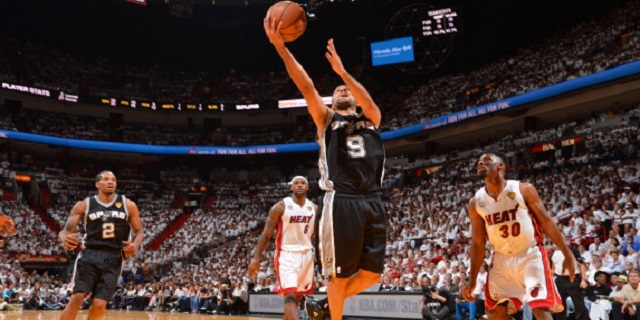 Basketball was very, very good to ABC on Thursday night, with Game 1 of the NBA Finals pushing the network to a decisive win in both the key demographic and total viewers. Meanwhile, NBC's "Hannibal" dipped to a series low, according to preliminary numbers.
While the nature of live sports renders ABC's numbers for the night approximate, as it stands right now the network far and away holds first place in the advertiser-sought 18-49 demographic with a 4.0 rating/12 share and in total viewers with 10.4 million.
See video: NBA Finals Faceoff: Can Lebron James Deliver a Ratings Slam Dunk?
"Jimmy Kimmel Live Game Night" at 8 p.m. scored a 2.1/7 — up a whopping 110 percent from last year's comparable telecast, drawing 6.5 million total viewers. The "NBA '13 Finals Pre-Game" show the following hour ticked up from last year's comparable broadcast for a 2.5/8 with 6.9 million total viewers.
Despite the gains for its lead-ins, the game itself between Miami and San Antonio was down 23 percent from the primetime portion of last year's Game 1, but it still drew the night's top numbers with a 4.9/14 and 12.3 million total viewers.
Again, those numbers are approximate, since the game started before primetime in the Pacific time zone and after primetime in the Eastern time zone. Adjusted numbers will be released later.
Fox was a distant second place in ratings and third in total viewers with a 1.6/5 and 4 million. "Hell's Kitchen" at 8 ran even with last week for a 2.1/7 and drew 5.1 million total viewers, while the reality offering "Does Someone Have to Go" the following hour climbed 20 percent from last week for a 1.2/3 and took 2.8 million total viewers.
CBS, which aired repeats throughout the night, tied Univision for third place in ratings with a 1.3/4 and was second in total viewers with 6.6 million, compared to fourth-place Univision's 3.3 million.
NBC took fifth place in ratings and total viewers with a 0.7/2 and 2.3 million. Two consecutive episodes of "Save Me" at 8 and 8:30 posted a 0.7/2 and 0.7/3, respectively, up 17 percent from last week. The 8 p.m. airing drew 3 million total viewers while the 8:30 episode had 2.7 million. Following repeats of "The Office" and "Parks and Recreation," the freshman drama "Hannibal" dipped 10 percent to a series low of 0.9/3 and had 2.3 million total viewers, though the series has grown considerably when "live plus three day" viewings are taken into account.