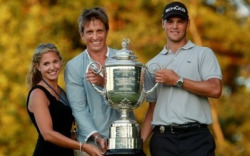 German golfer Martin Kaymer won the PGA Championship Sunday thanks to a controversial foul call and the continuation of Tiger Woods' post-sex scandal slump.
The PGA action spilled over onto CBS' primetime lineup and led the network to a ratings win along with Orwellian summer reality show "Big Brother."
ODD COUPLE "Big Brother" and PGA golf probably don't share too many of the same viewers, but the pair worked well for CBS, leading the network to first place with an average 2 rating/6 share in the key adults 18-49 demographic from 7-11p.m. Golf ran until 8:25 p.m. and was followed by "60 Minutes," "Big Brother" and a repeat of "Undercover Boss."
DRAWING A CROWD Fox got the number two spot with reruns of the cartoon comedies "American Dad," "The Simpsons," "The Cleveland Show" and "Family Guy" combining for a 1.7/5 average from 7-10 p.m. "Family Guy" was Sunday night's top show, with two episodes each posting a 2.3/6 score.
LAST LICKS Rounding out Sunday night's results, ABC got a 1.2/4 average and NBC finished last with a 1.0/3.