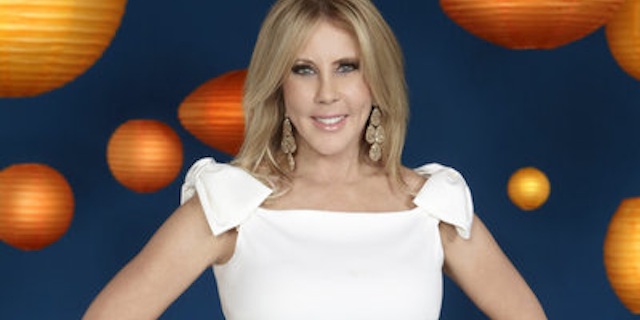 While Bravo is celebrating 100 episodes of "The Real Housewives of Orange County" with a special airing on Monday, it's only standing original cast member is still trying to wrap her head around the experience.
"I don't know if I'm still into it yet," Vicki Gunvalson told TheWrap. "I'm still trying to understand why the hell am I doing this?"
"There are days when I absolutely, 100 percent love it and there's days where I need to get my head examined. What sane person would ever allow millions of viewers to judge them question their looks, question every time they speak, question who they date? I mean it's annoying."
Also read: 'Real Housewives of Miami' Season 3: Karent Sierra Out, Marysol Patton, Ana Quincoces Demoted (Video)
The insurance company owner isn't in the mood to celebrate the show's big accomplishment. She's in the middle of great controversy surrounding former cast mate, friend and employee Lauri Peterson. Peterson left the show after Season 4, but returned this season accusing Gunvalson of cheating on her ex-husband along with a host of other sexual accusations, including a threesome with another woman.
"It just totally blindsided me," Gunvalson said of Peterson's accusations. "And then I got upset with the production company because I said, 'Why didn't you ask me before you aired that, because it's a lie?' They said, 'You'll come around, you'll tell your truth.' But now the viewers think that I sleep around with a woman, it was just disgusting to me. So, how do you combat things that are lies? That's where I go deep and dark."
Defending herself, Gunvalson said that the woman in Peterson's threesome story was actually her sister and believes that the returning housewife made the stories up in order to get camera time. "She's pretty boring in her own life," the 51-year-old said. "And if she didn't come back with something they wouldn't have aired her."
Also read: 'Real Housewives' Caroline Manzo Defends Her New Role as the Show's Messenger
Gunvalson said that the accusations have affected her business and said she didn't sign up for this kind of personal and professional attack.
"If I knew Lauri was going to come back like that, I probably would have never filmed again a day in my life because I wouldn't have allowed something like that to be out to the universe," she said.
"I mean we're talking stuff people will see 10 or 20 years from now; my grandchildren. It's gross, it's filthy, it's disgusting and I hate liars," she continued. "Now, I have to be the one that defends myself and that's not the person I want to be. I really am still very raw about it, still very upset about it, I don't understand it and I'm mad. I'm just very upset. Probably in time things will heal, but right now it's not good."
In interviews for Monday's 100th episode special on Bravo, Gunvalson was in a much better place. She opens the special and during it she declares that the show is like one of her babies.
Also read: 'Real Housewives' Tamra Barney Spinoff Gets Fall Premiere
Gunvalson had yet to watch the two-hour program when we talked to her, but after we informed her that there are plenty of touching flashbacks over the past eight seasons on the special that will probably counteract some of the drama this season, she said, "Oh, good."
"At the end of the day, it's business," she added. "I understand without that drama we wouldn't be on, so I'm smart enough to understand that. I will never tolerate just somebody coming on and lying about me. Pretty much, I'm going to claw her eyeballs out. But, other than that we're all good."
Bravo's "The Real Housewives of Orange County: 100th Episode Special" airs Monday at 8/7c.