I don't think anyone can say Russell is not the greatest player to ever tackle the game of "Survivor."
This man is brilliant. By brilliant, of course, I mean he is a lying, cheating snake. The only troubling thing about Russell is that I am oddly attracted to the little man.
Boston Rob was one of my favorite players, along with Rupert. I love these guys. They are endearing, and I became invested in them long before this season of "Heroes vs. Villains."
I wanted them both to win when they were on originally, but now it's all about Russell. Rob went home this week, and Rupert has lost his magic.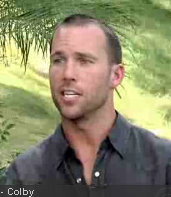 Colby has been a sleeping giant for weeks. He's very lucky that James got hurt last week or he would have been gone. This week he finally came back. The Colby we know and love returned just in the nick of time to bring his team back to life.
After 20 seasons, and 10 years, this show is predictable. Jeff Probst is still gorgeous but boring, the challenges are repetitious, the women are anorexic, and you can actually smell how bad they all stink through the TV. The one thing that stays exciting in this game is tribal council.
This week Russell worked his voodoo spells once again and ousted Boston Rob. One of them was going to go, and while I wish Rob had stayed longer, I'm glad it was he and not Russell who left. Love him or hate him, Russell is great television, and a master at the game of "Survivor."
On "The Real Housewives of New York," meanwhile, no matter how hard the "ladies" try to be ladies, they just can't. It's as if they now forget the cameras are there to provide proof of their ugliness. They are showing their true colors. It's bad for their reputations, but reality gold for those of us who watch.
Bethenny: You are a bitter, angry, grudge-holding, ungrateful woman this season. Get that under control, sweetie. You are pregnant and need to let it all go. Your feelings toward all the girls are toxic, and that's not good for you, for the baby or for business.
Jill: I get it. If my husband had cancer, and I told my best girlfriend, and she did not call me to see how he was doing, it would break my heart. It would be a deal breaker. I know it's all edited, but at the end of the day, regardless of what happened, she did not call Bobby and you are right on this one.
A quick note to LuAnn: You are not fancy — you just married well. You are not even married to the count anymore. Get over yourself. If I see you at a fashion show, I will not be able to control my foot slipping in front of you as you walk by. You're a meddling busybody and very un-countess-like.
This show is becoming a train wreck that is beyond my wildest reality dreams. The Housewives are imploding and while it used to be entertaining, it's almost uncomfortable to watch now. I'm looking forward to "Real Housewives of New Jersey" starting up soon, but I think it's time to put the ladies of NYC out to pasture.
We learned quite a few things last night on "Celebrity Apprentice." I love this show! Even though Sharon Osbourne has been dropping hints on talk shows that she is not the winner, I'm still watching even though she was my pick. I would like it to be her or Cyndi Lauper.
Cyndi Lauper is reality television perfection. Everything out of this woman's mouth is gold. Sharon has been sick and a little off her game, but she'll be back. Holly Robinson-Peete is a bully and a bitch. The other three chicks are forgettable, and lucky.
Goldberg is delicious. Bret Michaels is smarter than we ever thought, Michael Johnson is in over his head, Curtis Stone is spectacular-looking and Rod Blagojevich taught us the biggest thing. He showed us that someone could be stupid enough to go on TV to remove all doubt and seal his own fate.
No matter what you thought you knew about this guy, Blagojevich showed us that he is a complete idiot. He is a liar, a moron and a dumbass. You not only got the boot this week, but you are going to go to prison, Governor. Good luck with that. Can you take Schwarzenegger with you? He is guilty of being all those things, too.