Sounds like Rihanna could have used an umbrella-ella-ella big enough to cover her entire home.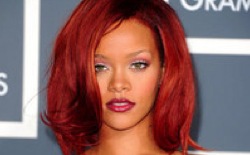 The "Rude Boy" songbird filed a lawsuit in Los Angeles Superior Court on Wednesday against Prudential California Realty and the former owner of her Beverly Hills home, alleging that they should have informed her of several construction defects that made the residence conducive to flooding — which is exactly what ended up happening.
Read the full lawsuit here.
The singer has also named a property-inspection service in the suit.
Rihanna, born Robyn Fenty, purchased the home in July 2009 for $6.9 million.
According to the suit, during the purchase of the home she was kept in the dark about several problems with the home — problems that came to light following a "moderate rainstorm" in January 2010.
"The rainwater pooled on the second floor balcony ad seeped into numerous rooms of the house, causing extensive water intrusion into various rooms," the suit alleges.
After the flood, the singer hired an engineering firm to assess the damage; during an inspection, the firm found "a host of defects in the property, including numerous waterproofing defects and evidence of water intrusion and associated damage."
Because of the defects, the suit alleges, the actual value of the home is "millions of dollars less" than the $6.9 million she paid.
Rihanna, who alleges professional negligence, negligence, breach of fiduciary duty, fraud, breach of contract and breach of implied warranty, is seeking unspecified damages, plus interest, court costs and attorneys' fees.
Pamela Chelin contributed to this report.