Jack Kerouac's seminal Beat Generation novel "On the Road" might revolve around the spontaneity of youth, but the film that it spawned certainly had more than its fair share of preparation behind it.
After TheWrap's screening of "On the Road" at the Landmark Theatre in Los Angeles on Wednesday night, director Walter Salles and star Garrett Hedlund — who plays iconic Beat Generation figure Dean Moriarty in the film — discussed the long journey that went into bringing Jack Kerouac's novel to the screen.
Also read: Leave Kristen Stewart Alone, Jodie Foster Says
In Salles' case, that included five years of retracing Kerouac's steps and tracking down surviving Beat Generation figures such as poet Lawrence Ferlinghetti for information. (Those efforts eventually yielded a documentary, "Searching for 'On the Road,'" which Salles hopes will be in a finished state "at the beginning of next year.")
For Hedlund, it meant driving from Minnesota to Los Angeles for his audition, capturing his thoughts in a road journal that would help cement his casting when he read it for Salles. (The journal "was so akin to Kerouac's vision, and it so echoed the spirit of the book," the director recalled during the Q&A after the screening.)
Also read: Toronto Film Fest Day 1: Bruce Willis' Magic Trick, Kristen Stewart's No-Worries Nudity
And for both of them, it meant a cross-country trip in a 1949 Hudson — the same model driven by Moriarty in the novel — to capture additional footage after principal photography had wrapped.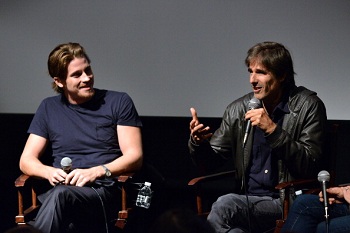 "We broke down eight, nine times across the country. We drove with no brakes from Cincinnati to Lexington," Hedlund noted.
Such are the perils of pursuing a labor of love. During the question-and-answer session, which was moderated by TheWrap's editor-in-chief Sharon Waxman, Salles and Hedlund repeatedly discussed their decades-long love for the source material. According to Hedlund, the respect for Kerouac's work extended throughout the cast, which includes Sam Riley as aspiring writer Sal Paradise; "Twilight" star Kristen Stewart, who plays Moriarty's libertine teenage bride Marylou; Tom Sturridge as Allen Ginsberg stand-in Carlo Marx; and Viggo Mortensen as Old Bull Lee, a character based on "Naked Lunch" author William Burroughs.
"We all shared a similar passion for the book," Hedlund said. "There wasn't a single person on this project who didn't feel completely holy and honored to be there."
Stewart, of course, has become known to screaming teenagers everywhere as Bella Swan, the conflicted lead female character in a little vampire movie franchise called "Twilight." The actress actually came aboard "On the Road" before the "Twilight" film series became a reality, with Salles becoming drawn to the actress via her part in the 2007 film "Into the Wild." While her performance in that Sean Penn-directed movie might have opened the door, it was her knowledge of the novel and insight into the Marylou character that sealed the deal.
(Stewart was scheduled to attend the screening but canceled at the last minute due to illness.)
"I met her and found someone who knew the book inside-out, and also understood that Marylou was 20 years ahead of her time," Salles recalled. "I think that Kristen in her life, she drifts toward these characters who expand or investigate territories that are forbidden a number of times, and she was very drawn to this."
Despite the unanimous reverence for Kerouac's book, Salles wasn't afraid to deviate from the novel. That included referencing the original, famously scroll-like manuscript that unspooled from Kerouac's typewriter.
"The published version in 1957 was quite different and tamer than the original that Kerouac had written," Salles noted. "Even that first line was different. The 1957 book starts, 'I first met Dean not long after I divorced my first wife,' and the scroll starts, 'I first met Dean not long after my father died.'" (The film version employs the latter.)
"[We were] trying to be faithful to the very freeform, jazz-infused quality of the text, but at the same time, try to find a complexity in each of the characters," Sallas said of the film adaptation.
Particularly challenging for the actors was the fact that "On the Road"'s characters are based on people who themselves became public figures. Separating the two could be particularly demanding, Hedlund noted.
"That was probably the most difficult part of this, the stripping-away process," Hedlund said. "[T]here's so many videos of Kerouac, or there's videos of Neal Cassady when he's older … It was Walter that said, 'Strip it all away, you're not playing Jack Kerouac, you're playing Sal Paradise,' and to me, 'You're not playing Neal Cassady, you're playing Dean Moriarty.' Because half of this was through life experience that Kerouac was writing, and half was through imagination."
That wasn't the only stripping-away process that might have tested the cast's mettle. Befitting the free-wheeling spirit of its source material, "On the Road" is rife with sex scenes, particularly for Hedlund's sexually omnivorous Moriarty. A particularly jarring coupling in the film occurs when Moriarty, hard-up for cash, partners with Steve Buscemi, who plays a traveling salesman who gives Sal and Dean a ride — and has a fondness for Dean.
As it turns out, Buscemi was as devoted to his role as the rest of the cast.
"Steve was wearing underpants the color of skin. In the rehearsal, in the camera they can see Steve's skin-colored underwear popping into the frame and they're like 'Steve, can you just slide them down a little bit?'" Hedlund recalled. "And he's like, 'Oh, no; I'll just take them off. You don't mind, do you?'"