Roman Polanski's "The Ghost Writer" was the big winner at Saturday's European Film Awards, where it won awards for Best European Film, Best European Director and Best European Actor (Ewan McGregor), as well as receiving honors for its screenplay, music and production design.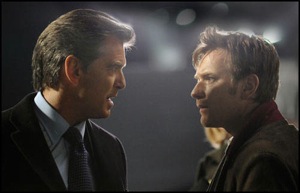 Polanski's political thriller is considered a longshot in the Oscar race, but its six wins at the ceremony in Tallinn, Estonia far outpaced "Lebanon," which won two awards. No other film won more than one.
The show was hosted by German comedian Anke Engelke and Estonian actor Mart Avandi.
The winners:
European Film: "The Ghost Writer"
European Film Academy Animated Feature Film: "The Illusionist"
European Film Academy Documentary – Prix Arte: "Nostalgia De La Luz" ("Nostalgia for the Light")
European Director: Roman Polanski, "The Ghost Writer"
European Actor: Ewan McGregor, "The Ghost Writer"
European Actress: Sylvie Testud, "Lourdes"
European Screenwriter: Robert Harris and Roman Polanski, "The Ghost Writer"
European Editor: Luc Barnier and Marioin Monnier, "Carlos"
European Composer: Alexandre Desplat, "The Ghost Writer"
Carlo Di Palma European Cinematographer Award: Giora Bejach, "Lebanon"
European Production Designer: Albrecht Konrad, "The Ghost Writer"
European Discovery – Prix Fipresci: "Lebanon"
The People's Choice Award for Best European Film: "Mr. Nobody"
European Achievement in World Cinema: Gabriel Yared
European Film Academy Short Film: "Hanoi – Warszawa" ("Hanoi – Warsaw")
European Co-Production Award – Prix Eurimages: Zeynep Ozbatur Atakan
European Film Academy Lifetime Achievement Award: Bruno Ganz