Roy Edward Disney, the nephew of Walt Disney, died Wednesday morning, according to Clifford A. Miller, a spokesman for Disney's company, Shamrock Holdings.
Disney, who had been battling cancer, was 79.
A longtime senior executive at the studio — which his father Roy O. Disney founded, along with Walt — he was currently director emeritus for the board of directors.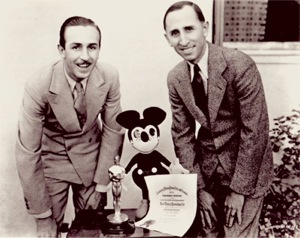 It was Disney who most famously clashed publicly with then-Disney CEO Michael Eisner in 2005. Increasingly embittered with the direction the company had taken under Eisner, he played a pivotal role in organizing the chief's ouster.
Ironically, it was Disney who put played kingmaker for Eisner two decades earlier.
In 1984, after resigning from his executive post and complaining that his family company was creatively stalled, h- orchestrated a coup that led to the replacement of CEO Ronald Miller with Eisner and Frank Wells.
That management shakeup is widely credited with bringing about the studio's creative resurgence which saw the release of several successful live action movies such as "Down and Out in Beverly Hills," "Ruthless People" and "Good Morning Vietnam," as well as the revitalization of the company's animated film division.
That resulted in such box office and critical hits as "The Little Mermaid" and "Beauty and the Beast."
Initially, Disney and Eisner got on well, with Roy being rumored as a possible replacement for Jeffrey Katzenberg as studio chairman when Katzenberg was forced out of in the early 1990s. Relations began to cool, however, when Disney's request for an extension as a member of the Board of Directors was denied in 2003.
In announcing his resignation, Disney blasted Eisner for neglecting the studio's animation division and theme parks and for failing to establish a succession plan. To further his goal of unseating Eisner, Disney started a website, SaveDisney.com, that was able to attract wide shareholder support and effectively bring about Eisner's departure.
Despite eventually rising to the position of the company's vice chairman and amassing a fortune believed to be in the $600 million range in the process, Disney initially resisted the pull of the corporate suite.
After graduating from Pomona College in 1951, he worked as an editor on the hit TV show "Dragnet." He later moved to the family studio to work on nature films throughout the '50s and '60s. Among the projects that he oversaw were was the 1959 Oscar nominated short "Mysteries of the Deep."
In 2003, "Destino," which he co-produced, was nominated as best animated short.
In 1967, a year after his Uncle Walt died, he was appointed to the Board of Directors, accepting a leadership mantle that had seemingly been pre-ordained for him by birth. Throughout his over three decades in and out of the company's leadership, he provided a tangible link to the studio's origins.
He bore an uncanny resembalance to Walt, sharing the same large ears, gently receding hairline, warm smile, and, even, occasionally sporting a similar pencil-thin mustache to the legendary animator's.
Though he grew rich from his shares in the Mouse House, Disney was financially independent in his own right. Throughout the 1980s, Disney's family investment firm Shamrock became a well-known corporate raider, successfully taking over Central Soya, a soybean processor to the tune of an $170 million profit. In 1989, despite attracting a great deal of attention, Shamrock failed in its bid to wrest control of camera manufacturer Polaroid.
In 1955, Disney married Patty Daily. The two had two sons and two daughters. They divorced in 2007, after 52 years of marriage, and the next year he married Leslie DeMeuse-Disney, a television producer.
UPDATE: Bob Iger, president and CEO of The Walt Disney Company, released the following statement regarding Disney's passing.
"On behalf of everyone at Disney, we are saddened by the loss of our friend and colleague Roy E. Disney. He was much more than a valued 56-year Company veteran – Roy's true passion and focus were preserving and building upon the amazing legacy of Disney animation that was started by his father and uncle. Roy's commitment to the art of animation was unparalleled and will always remain his personal legacy and one of his greatest contributions to Disney's past, present and future."