The Los Angeles County Coroner's Office released its report on "Real Housewives of Beverly Hills" husband Russell Armstrong Wednesday, determining that there were no drugs or alcohol present in his body at the time of his death, according to the Associated Press.
The report also notes that there were no signs of foul play.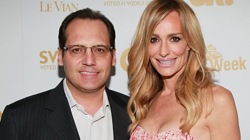 The report backs up the coroner's initial finding that Armstrong died of suicide by hanging.
Also read: The "Real Housewives" Legacy of Marital Destruction and Financial Ruin
Armstrong, a venture capitalist, was found dead in the Mulholland Drive home where he'd been staying in mid-August. He was 47.
According to the report, which was obtained by TMZ, Armstrong was last seen alive Friday, Aug. 12 by his roommate, and the reality star did not say anything about killing himself.
Also read: Russell Armstrong's Mother Accuses Bravo in Son's Suicide
Armstrong's body was found by his roommate Monday, Aug. 15, hanging from a wooden beam across the ceiling with an orange extension cord.
Shortly after his death, Armstrong's mother, John Ann Hotchkiss, told cable outlet HLN that her son — who had recently become estranged from his wife, Taylor, and had been under financial stress — had been concerned about how he would be portrayed in the new season of "Real Housewives."
Also read: Bravo to Stick With "Real Housewives" Premiere Date, Add New Cast Interviews
"'Mom, they're just going to crucify me this season,'" Hotchkiss recalled him telling her. "I don't know what to do. I'll never survive it.'"
The new season of the series premiered Monday, after Bravo had edited numerous segments following Armstrong's death.